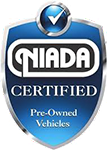 Watch for this seal when purchasing a Certified Pre-Owned (CPO) vehicle, you may thank us later. This seal signifies that the dealer is a member of the National Independent Automobile Dealers Association (NIADA) and certifies that the vehicle has passed an extensive 125-point inspection. The best part is that every NIADA CPO vehicle is covered against failure or breakdown, and includes additional convenience features should you and your car need assistance.
Every NIADA CPO vehicle undergoes extensive safety and performance testing. Only upon passing the inspection does the vehicle receive the NIADA CPO seal.
125-Point NIADA Certified Pre-Owned Vehicle Inspection includes:
Engine
Transmission
Air conditioning and heating
Brakes
Suspension
Belts and hoses
Major electronics
And much more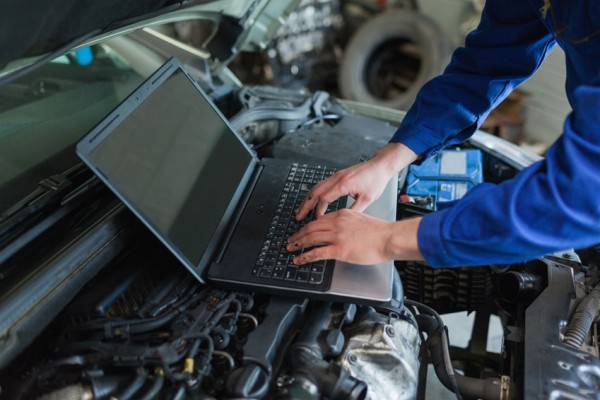 A NIADA Certified Pre-Owned vehicle is automatically covered against failure or breakdown for ALL of the following:
Engine and transmission
Seals and gaskets
Air condition
Transfer case
Drive axle (FWD/RWD)
Steering
Electrical
Certified Pre-Owned convenience benefits:
Rental car reimbursement
Towing/Roadside assistance
Trip interruption
Lost key/lockout services
Quick, reliable claims services should you need to address an issue
Nationwide coverage
The option to extend your coverage to keep your car in top operating shape for years to come
Browse our selection of NIADA CPO cars and trucks at http://www.ebay.com/rpp/motors-specials/NIADA
NIADA is a national industry-leading association with the strength of nearly 20,000 dealer members focused on one thing – providing the highest quality automotive buying experience.
NIADA's seal of approval ensures you are receiving the information you need to make a confident buying decision and the post-sales support and service you deserve. NIADA stands firmly behind a 66-year commitment to the America's vehicle buyers and the automotive industry. Their programs are solely designed to provide a high degree of protection for you and your vehicle.
For more information about the NIADA CPO program call 1-877-310-0288
Code of Ethics
Members of NIADA and its state associations are independent auto dealers that abide by a strict Code of Ethics for membership that will give you additional peace of mind. Among other things, NIADA dealers commit to operating with integrity, honor, and fair dealing toward the general public, comply with all city, county, state and federal laws, employ truth and accuracy in advertising and selling, and constantly strive to improve business methods to the end that the public is better served.
For more information about NIADA and the Code of Ethics, visit www.niada.com or www.niadacertified.com.