Porsche denies that its Taycan electric sports car is a challenge to Tesla. But the match-up with Tesla's performance EVs is plain to see. And now Taycans are available on eBay. A virtually new example of the Taycan 4S, with only 502 miles, is now bid to $90,000.
The 4S is the entry-level Taycan with a starting price of $103,800. That compares to the Turbo and Turbo S versions, which cost about $153,000 and $187,000, respectively. But this is not a 924 versus 944 situation. The 4S has plenty of moxie. Zero to 60 happens in 3.8 seconds, and top speed is 155 mph.
Luckily for its prospective buyer, the Taycan 4S getting attention on eBay was ordered with the Performance Plus package, which adds the larger 93.4-kilowatt-hour battery. It has 482 horsepower on tap (or up to 562 with over-boost and launch control).  
The 4S's standard 79.2 kilowatt-hour battery pack yields 203 miles of range. Third-party AMCI testing yielded 290 miles for the 4S Performance Battery Plus in Range mode. Porsche keeps 10 percent of its battery pack in reserve, which is fairly conservative. 
When the 4S was launched last April, Klaus Zellmer, president and CEO of Porsche Cars North America, said:
"It sits right at the heart of our electrified model line-up, delivering the effortless performance and engaging dynamics expected of a Porsche sports car with the space and connectivity that make it viable for everyday use."
Porsche didn't want to use its usual numbers in naming the Taycan. Instead, it hit upon a Turkish word that translates as "lively young horse," as seen on the well-known Porsche crest. And prance this equine 4S does. Motor1 got behind the wheel and described the experience as "an exciting new take on the traditional driving pleasure you'd expect of a Porsche."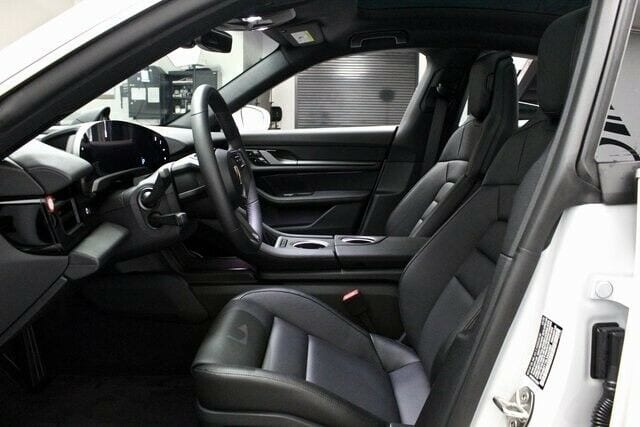 It's worth pointing out that Porsche began with electrified cars, including founder Ferdinand Porsche's Semper Vivus in 1900. It was the world's first functional hybrid car.
A combustion engine drove a generator, and that supplied power to the wheel hub motors. It was called the Lohner-Porsche system and extended the car's range without using batteries. Despite the innovation, the car wasn't a success. Porsche history—until now—is gas dominated.
A Porsche in Electric Form
The slippery Taycan sedan (a CD of just 0.22) is very recognizably a Porsche. It carries design echoes of the family-friendly Panamera. But as an electric car, it's a total departure for Porsche, achieving all-wheel drive with motors on each axle.
The car on offer comes with 150-kilowatt fast-charge capability, 20-inch Taycan Turbo Aero wheels shod with all-season tires, a Bose surround-sound audio system, LED headlights, an extra display on the passenger side, heated 14-way leather power seats, and both the Premium and Sport Chrono packages. It's loaded.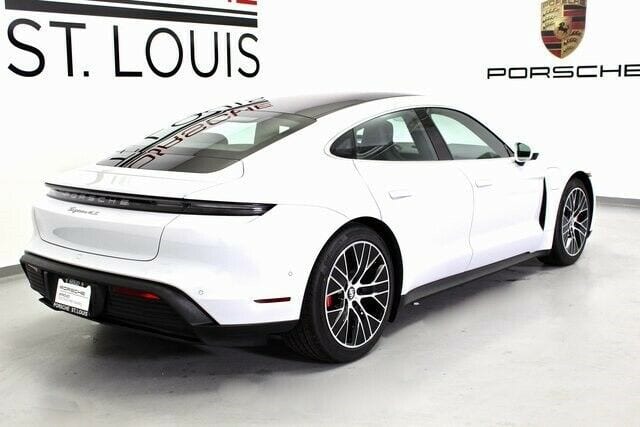 Bidding for the Taycan 4S at the moment is at $90,100, with the reserve not met (after 116 bids). Ownership of this car is hotly contested. Keep in mind that $103,800 is the starting price for the 4S, and this one is highly optioned. Bidders are hoping to secure a virtually new car at a bargain. They're poised, waiting for that reserve to be met.
The Taycan is a new, exciting, and exclusive car. So far, not many have come up for auction, but eBay has—count 'em—21 of them available. If you want a keepsake, here's a limited-edition Taycan model. eBay also has floor mats and a hardback brochure. 
Or consider this bumper crop of Model 3s available on eBay.