One giveaway I'm from the south is my love for football. As a diehard fan and season ticket holder, I would get grumpy on Sundays when my team, the New Orleans Saints, was losing a game. There were things that cheered me up though: beer, camaraderie, music playing in the background, and the Saints cheerleaders dancing and getting the crowd pumped.
So what does football have to do with motorcycling? Well, the first thing is that they are both well-known sports, and therefore a form of entertainment. Another thing they have in common is that there are pretty girls in tight fitting outfits parading around promoting the team.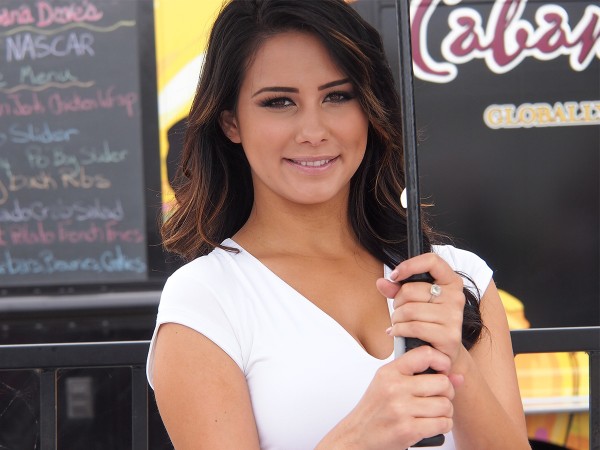 A recent opinion piece on RideApart addressed the question: Do we really need umbrella girls? The author argues that race teams and sponsors should be marketing to both sexes and having these sexy ladies could be a potential loss of profits. Budgets are getting tighter and racing isn't getting any cheaper, and having umbrella girls can potentially turn away women from the sport altogether since we are in the age of women's empowerment.
I do and don't agree.
Let me explain. Yes, road racing teams and sponsors should be marketing more towards women, but cutting umbrella girls isn't going to solve or help budget constraints. When you look at the grand scheme of things, having umbrella girls barely puts a dent in a team's cost.
I agree, budgets are tight and motorcycle racing in the US is struggling, but why cut out something that serves promotional purposes? If anything, it will do more harm than good to a sport that can use all the help it can get right now to attract new sponsors.
Also, let's say you're a racer coming in with a limited amount of sponsors and even footing your own bill to race. A lot of umbrella girls are the rider's boyfriend/girlfriend, or simply fans that want to get on the grid since that's a cool thing to do. This costs a total of zero dollars.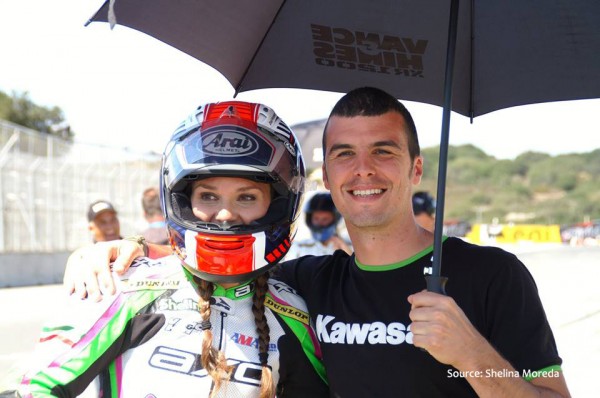 This brings up my next point, which are the differences between football and motorcycle road racing, and here is one major distinction between the two: I might be the female equivalent of Quarterback Drew Brees, but I will never get a chance to play in the NFL
The wonderful thing about motorcycle road racing is that both men and women can participate. And not only that, the women currently racing in the AMA aren't being rejected walking into a male-dominated arena. Oh no, if anything they are getting all the support imaginable. For example, Shelina Moreda, in a Positively Petaluma interview, said, "Mostly the guys are super supportive. They want to see me beating the other guys."
Elena Myers also backs up that statement in an AMA Pro Road Racing interview: "When asked whether or not she felt any added pressure being a female in a male-dominated sport, Myers responded with: 'The only added pressure I feel is the pressure I put on myself. I know that my guys are confident in me and I'm definitely confident in myself. I have the same goals as every other rider out there, and that's to win races.'"
It seems like umbrella girls don't hinder progression for women who want to race motorcycles. It's looks like an even playing field, and speaking of equality, the guys aren't the only ones to get sexy gals holding an umbrella for them on the grid. A lot of women racers also have umbrella boys. In fact, to go back to Shelina, she recently held an umbrella boy competition. If that isn't equality in a male-dominated sport, then I don't know what is.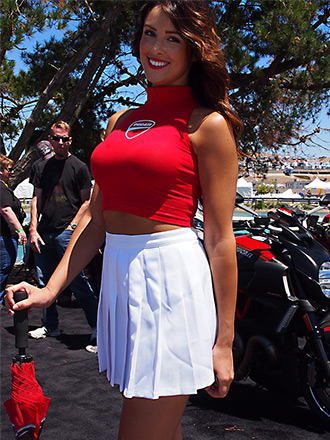 In a nutshell, umbrella girls are harmless and a non-issue. It's just like having NFL cheerleaders performing at a football game. And despite being shunned from playing professional football with the boys, women are actually helping the NFL grow.
So, in regards to marketing for road racing in the US, here's a thought: Take a lesson from the NFL and provide more merchandise that ladies can wear. Have your team's umbrella girls wear that instead of a handkerchief top and booty shorts that really have no every day use (well maybe for some, but not most).
Even if the t-shirt or tank top has a sexy cute/design, it doesn't matter as long as it's wearable. You want to make "Motorcycle Racing Team Bob Smith" bikinis? Go for it! I can wear that when I hit my cousin's pool in Sacramento next summer. Women make more than 80% of consumer decisions in this country so figure out how to capitalize with that figure in mind.
One final point, I picked football since it's one of my favorite sports, but you can compare it to any other male only pro sport. Look at basketball, baseball, hockey, etc. and you will see that some have cheerleaders and/or dancers, while others do not. All of these sports have a pretty strong female fan base. The moral of the story is whether having sexy girls or none—the female fans will support a male-dominated event or sport. Period.
Also (one more point I promise), I'm nowhere near as good as Drew Brees. I'm no quarterback, but potential running back? I think I can swing that.