The Baltimore-based Eshelman Motor Company produced a splendid collection of itty-bitty cars for children throughout the 1950s. The bright yellow 1956 Eshelman Child's Sports Car offered on eBay is a prime example.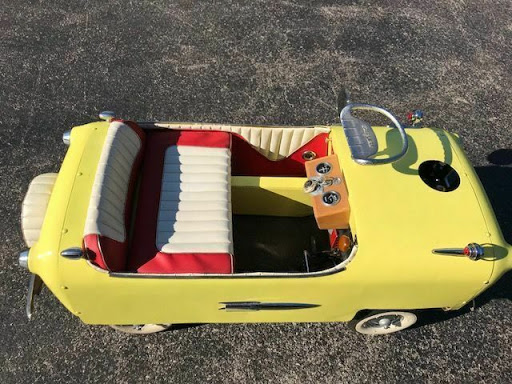 The kids' two-seater rolled out of the factory with a rope-start Briggs & Stratton engine that produced a heart-pounding 2.25 horsepower. The top speed was about 15 miles per hour. It was primitive, although very sporty from a kid's perspective.
The 1956 Eshelman kids' car on eBay could be described as a restomod. The Briggs & Stratton powerplant was replaced with a modern 6.5-horsepower Tecumseh engine. Tecumseh primarily supplies engines for lawnmowers and snow blowers.
The restoration process also added an electric starter, battery, and generator. The seller states that it "runs and drives well" and is "great for parades."
The interior features fresh upholstery and door panels finished in red and white. The spare tire cover matches the interior. The headlights and taillights are functional, with "period correct lighting."
Eshelman Cars Were Not Just for Kids
Eshelman sold just two models initially—one for kids and one for adults. The product line expanded to include a version for adults that could hit 30 miles per hour. The grown-up variant grew to about five feet in length and was offered with useful options, such as lawn sweeper and hauling cart. A community of Eshelman car fans keep the legacy alive via Facebook.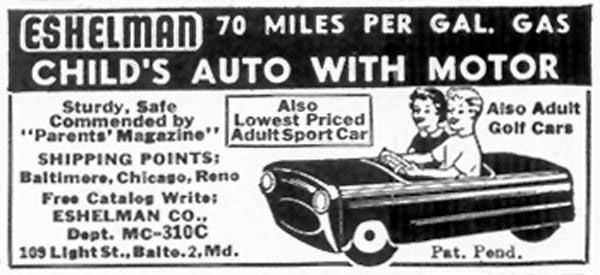 By 1959, Eshelman started making slightly upsized coupes, pickups, and delivery vehicles. It also re-trimmed and re-badged Chevrolet Corvairs. Later on, founder Cheston Eshelman tried to market an energy-absorbing front bumper made from a vehicle's spare tire.
The Eshelman Car vs. Other Tiny Vehicles
Eshelman's creations are more than go-carts or clown cars. They are attention-getting machines. Moreover, the Eshelman car is less common than other better-known tiny cars.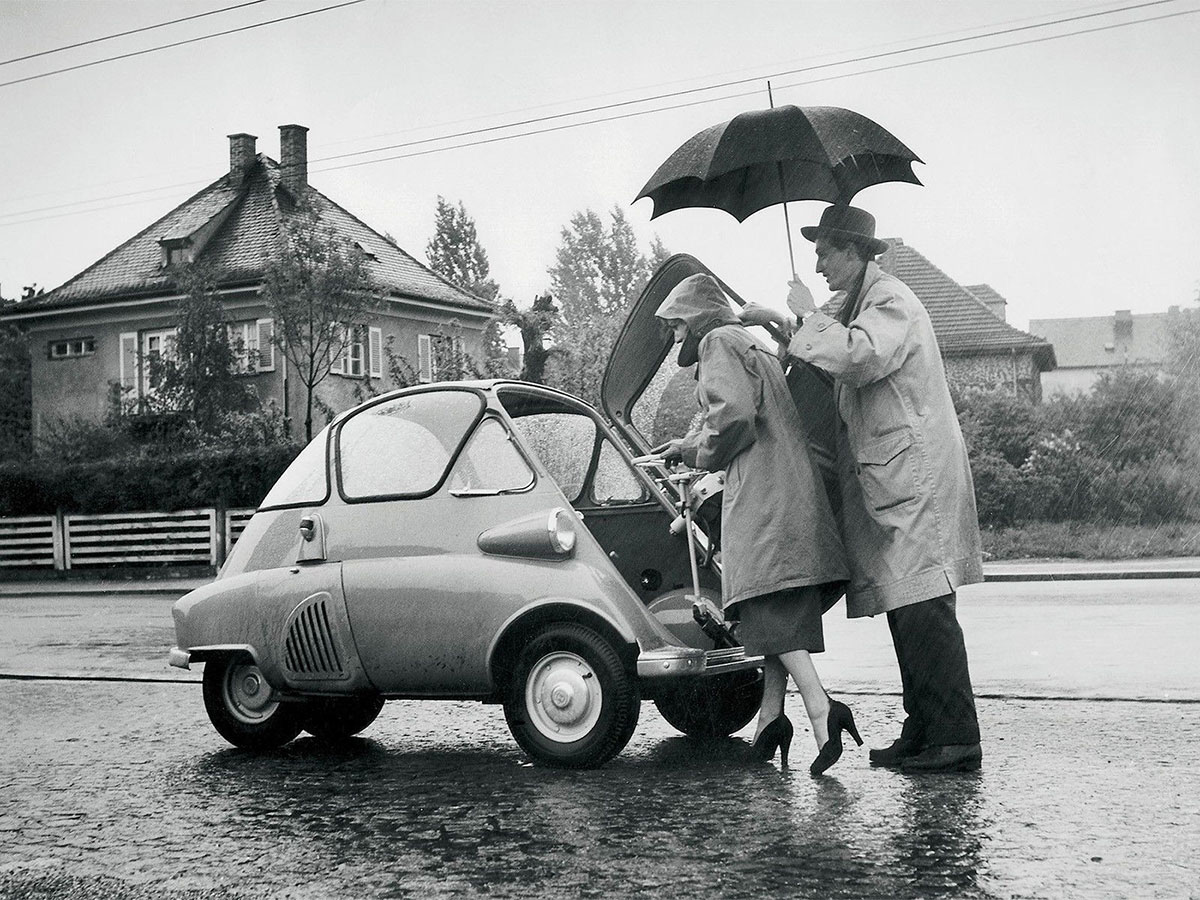 How Much Does an Eshelman Car Cost?
The Eshelman Sports Car is offered on eBay with a Buy-It-Now price of $10,600. Of course, it has value as a collector's item. Back in 1956, it sold for the princely sum of $295.
Way ahead for its time, Eshelman's kids' sports car was often shipped to its buyer in a crate.
Restoring an Eshelman Car
Remarkably, eBay is home to more than one Eshelman this week. If you yearn to build your own souped-up, classic 1950s kid's car, eBay has you covered. This rusty 1955 Eshelman small car is waiting for a new home.
The original Briggs & Stratton engine and belt drive look to be intact. The frame appears to be solid. All the bones are there, but trim pieces are missing, and there's no windshield. Alas, the front grille, headlamps, rear panel, and bumpers are also gone.
But take heart. Parts for Eshelman microcars also turn up on eBay. For example, there's an entire Eshelman front assembly available.
Can you imagine the delight of putting a grade-schooler behind the wheel of a fully restored mid-century kid's two-seater sports car? The scale is perfect for the knee-high, aspiring car builder in your life.