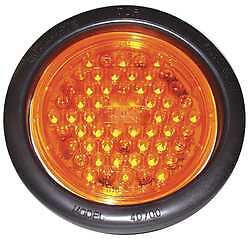 LED lights have emerged on the automotive scene as leaders in brightness, power savings, longevity, visual accuracy, and color variability. Because they are new, they cost more than standard halogen or neon lamps but they pay for themselves in time and can also add to the resale value. Truck owners can install LEDs as functional lights, such as the headlights and the decorative lights on the underbody. Lights installed on the interior cab and exterior lights are available with water resistant housing and cushioning for high impacts or vibrations.
Manufacturers provide all different sizes, colors, and features for truck owners. Major LED lighting manufacturers also provide warranties for lights and assurances of compliance with transportation laws. To find LED lighting, truckers visit auto part shops and browse online locations like eBay Motors. When browsing, consumers should know about LED technology including a comparison to other types of lighting. They should also know the different types of LED lights available including features, options, and installation methods.
Overview of LED Technology
LED lighting is a new technology and is quickly surpassing other types of lighting in many areas including televisions, indoor and outdoor lighting, and in motor vehicles. The technology works via a light emitting diode (LED), which is a semiconductor chip housed in a reflector. When electricity flows to the chip, it illuminates. Because LEDs emit photons rather than heat, they do not get hot. Instead, they shine brightly and can last for many years.
LED lights use one quarter of the energy of halogen lamps and can last up to five times longer. They are also brighter than halogen lamps, which is critical for normal driving conditions and hazardous driving conditions. Following is a chart outlining some of the differences between LED lighting and halogen lamps.
| Light Type | Watts | Lifetime (hours) | Color Temperature (Kelvin) |
| --- | --- | --- | --- |
| LED | 7 | 25, 000 | 4800 - 6300 |
| Halogen | 50 | 2,500 | 2800 |
The data indicates that LEDs offers power savings and longer life than halogen lamps. However, the color temperature is more meaningful for safety. LED technology in headlights and tail lights offer the driver better visibility, as higher color temperature lights are better for visual tasks. LED lights help the driver distinguish between the road, other vehicles, and pedestrians. They also induce less eye fatigue.
Common for decorative lighting in vehicles, neon lights require high voltage and get very hot. Neon does not offer the brightness of LED or the color nuances. Neon lights also break easily, so LED lights are preferable in moving vehicles.
Types of LED Truck Lights
LED truck lights are available for functional lighting and for decorative purposes. Functional lights are lights that are required by law and others lights that aid in illumination. They include the backup lights, headlights, turn signals, and fog lamps. Decorative lights are for looks only and include fender markers and wheel lamps.
Functional LED Lights
Most states and countries have laws regarding the required lights on vehicles. They include but are not limited to front, rear, and side lights. In the front, the headlights illuminate the path ahead. Bright headlights increase the viewing angle and intensity of the light. As part of the LED headlight assembly, truck owners can add turn signals, parking lights, and emergency flashers. Truck owners can also install LED fog lights and floodlights in the front.
On the rear of the truck, functional lights include the tail lights, reverse lights, turn signals, and flashers. Truckers may wish to install LED tow lights on the rear of the truck, or the vehicle or object being towed. Inside the cab, a dome light provides illumination to the interior. Optionally, people may wish to purchase handheld LED floodlights. When buying, people should be clear on whether the lights are for the interior or exterior, as waterproofing is necessary for outdoor lighting.
Decorative LED Lights
Decorative lights for the truck are intended to improve the look and style of the vehicle and express the owner's personality. Any area of the truck, including the interior and exterior, is available for decoration, depending on transportation laws. The prime areas for decoration are the underbody, wheel well, and passenger cabin. LED wheel light kits are available in different colors. In the interior cab, LED lights can be installed around the seats, in the foot wells, on the door handles, and on the dashboard. On the exterior cab, lights can go on top or on the front, rear, or sides. LED lights on the truck bed are available for the inside of the bed or on the Tonneau cover. Lights install on the bumpers, fenders, windows, and door handles.
LED Light Features
When browsing, truck owners should be aware of the different features found in LED lights including beam styles, options, and installation. Depending on the location and personal preferences, consumers can find different types of illuminating beams. Functional LED lighting like headlights and tail lights are simple bulbs. Decorative lighting offers strobe lights, blinking lights, and chasing lights.
Lights can be found in different sizes and shapes including several lights integrated into strips or bars. Some lights have a wide and diffuse beam, while others have a thin and focused beam of light. LED light options include single color, multi-color, and patterned lights. Light housings are available in different colors and finishes. Chrome LED lights are a popular option. Some lights offer a delayed shut-off or a remote control. When buying, a warranty is a valuable option and buying a major brand is advisable so the lights comply with transportation laws.
LED Light Installation on Trucks
LED lights for the truck have varying attachment methods and installation features. Consumers should consider the installation procedures when buying. LED lights are available to install into the existing light housing via a conversion kit, which avoids fitting new housings. The conversion kit allows the vehicle to interface with the LED lamp, as LED lights use less energy. This is particularly useful for the functional lights like headlights. These lights are usually termed "plug and play."
Alternatively, truck owners need to shop by year, make, and model in order to fit the new housing to the body, or they may need to adjust the housing and electrical components. For decorative lights, truckers can find units that bolt on, clamp on, and glue on. Truckers can also look for magnetic LED lights to make installation simple. Once the light is affixed, wires must be interfaced with the truck's electrical system. Alternatively, some lights are available with batteries. When installing, be sure that the truck's fuses are upgraded if necessary.
Wireless LED Lights
To eliminate the need for wires connecting the lamps to the electrical system, consumers can find wireless LED lights.. These are especially useful when affixing lights to the back of a trailer. Traditionally, the wires must pass from the trailer, through the hitch, and to the engine. With a wireless system, the lights contain a transmitter that communicates with a receiver in the lead vehicle.
Buying LED Truck Lights on eBay Motors
To find functional and decorative LED truck lights, you can head over to eBay Motors and browse through many different types of illumination. The main ways to search are to browse through the categories, use the refinement filters, or utilize the search box from any page. Using the search box may be the most efficient way as you can enter the parameters of your choosing. For instance, enter a general term like "LED lights" or a more specific term like LED underbody lights..
While shopping, use your browser's bookmark function to save favorite sellers and LED lighting items to come back and purchase later. You can also sign up for email alerts that let you know when a particular item is up for sale. To save on shipping expense, choose a local seller or find a seller that offers free shipping.
Finding a Seller
Sellers that offer reasonable return and exchange policies and communicate with you in a timely manner are more likely to earn your business. You can also choose to find a Top-rated Seller to do business with. These are merchants that have earned high marks and positive comments through customer feedback..
Conclusion
Bursting into the trucking history are LED lights, which are poised to outshine and outlast halogen and neon lights. LED lights offer better visibility because their color temperature is cool and preferable for a visual task like driving. They use a fraction of the energy of halogen lamps so the vehicle saves fuel. They also last much longer, which will pay for the initial expense over time. People that are more interested in the personality that truck lighting offers will enjoy the wide range of colors and patterns.
When browsing, truckers should look for warranties, stay in compliance with transportation laws, and consider the installation. The easiest lights to install are the plug and play lights that come with a conversion kit and fit into the existing light housing. Other convenient lights include magnetically-installed lights, battery powered lights, and wireless LED lights. To find lights, truckers could visit brick and mortar stores or browse eBay Motors' selection, as its sellers make it easy to brighten up the ride.