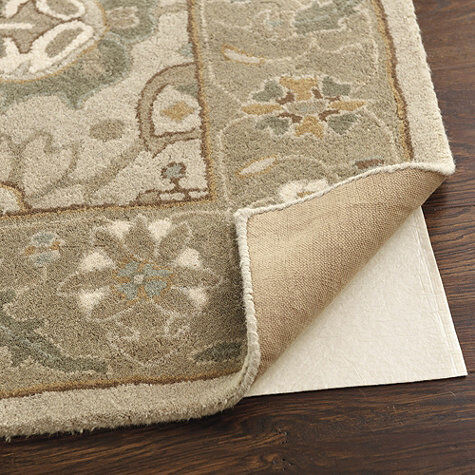 Along with purchasing a new carpet, the underlay is another factor to be taken into consideration. Underlay is a layer of spongy or fibrous material fitted beneath carpet with the intention of extending its lifespan. It does this by absorbing the majority of damage incurred from everyday use; from the wear caused by tracking feet to the indentations made by heavy furniture. Underlay also provides various benefits such as thermal insulation, sound proofing, and can even insulate against dust and drafts by reducing the flow of air up through floorboards. Lastly, as the majority of household carpets are fitted by stretching them onto gripper rods, underlay can help increase the aesthetic appeal of a room by effectively raising the level of the floor; preventing the carpet from buckling and giving an overall tidier finish. Investigation into the various options and selecting the best possible type of underlay for the situation will ensure a carpet is protected for years to come, greatly increasing its lifespan.
Choosing Carpet Underlay
When choosing an underlay for a carpet, function is all important. The first step is to determine whether the carpet requires an underlay at all. While it is advised for the majority of carpets, in some cases, it is not necessary or recommended.
| Type of Carpet | Description | Underlay Required? |
| --- | --- | --- |
| Woven | Woven carpets such as Berber which do not have any backing to them. | Yes |
| Secondary Backed | The most common carpet available, backed by either a polypropylene or hessian mesh. | Yes |
| Felt Backed | These carpets have a thin layer of felt backing them. Often when sold, they are described as having a 'built in underlay'. | Yes; even though this carpet is described as having underlay, the felt backing is often insufficient to protect the carpet. |
| Foam Backed | Carpets backed by a PU foam layer. | No; the foam layer provides sufficient cushioning. |
The next stage is to consider where the new carpet is to be fitted. This has a direct impact on the type of underlay that should be selected; in rooms where comfort and warmth are valued, such as in a bedroom, a lighter, soft underlay is preferred. However, soft underlay is not desirable in areas of the home that receive intensive foot traffic or that come under strain from heavy furniture. In this situation, a firm underlay is required that will provide sufficient support and protection to the carpet above. Environmental impact may also be a deciding factor in selecting which type of underlay to use; while most carpet underlay is created from recycled material and some use purely natural, biodegradable materials, such as wool, some are formed from synthetic materials, for example, polyurethane, which may pose problems when they come to be disposed of. There are also some additional, inherent qualities certain types of underlay provide that may be of benefit. Comfort and durability aside, some forms of underlay have a higher tog rating which lends them to being better thermal insulators. Others also aid in noise reduction. Lastly, the cost of the underlay should fit the outlined budget.
Carpet Underlay Material
There are three main types of material used to make carpet underlay; rubber, PU (polyurethane) foam, and felt.
| | |
| --- | --- |
| Rubber | The most common sources of rubber underlay come from either synthetic rubber, or from recycled car tyres. Rubber underlay has a higher aesthetic appeal than some of the other materials, as well as having sound proofing qualities and greater resilience against carpet wear. Rubber underlay comes either sponge textured, or as a rubber 'crumb'. The former is considered to be more comfortable, whereas crumb rubber underlay is much longer lasting and durable. |
| PU Foam | Made from recycled furniture foam. PU foam is one of the lighter types of underlay available, and offers both a softer feel as well as providing better quality thermal insulation owing to its higher tog rating. |
| Felt | Felt underlay is made from a high percentage wool fibre. Not as commonly used today owing to the invention of rubber and PU foam underlay, felt underlay usually finds use in commercial or industrial settings. Owing to its high wool content, felt underlay has good thermal insulation properties, as well as offering some sound proofing. |
Selecting the right type of underlay for the job
The properties exhibited by the three main underlay materials lend them towards differing purposes. Knowing what these are can help when selecting the best possible underlay for a carpet.
| | |
| --- | --- |
| Sponge Rubber | A firm underlay. Designed to resist the damage caused by heavy foot traffic, sponge rubber underlay either comes constructed as a 'waffle', with air pockets, or as a 'textured' flat profile sheet formed from a thick layer of synthetic rubber. Sponge rubber is the heaviest by volume, between 25-45kg per roll, and is typically considered the most comfortable form of carpet underlay second to PU foam. |
| Crumb Rubber | Another type of rubber underlay, crumb rubber, is typically formed from recycled car tyres. Rooms with heavy furniture will benefit from having this type of underlay, as it has the capacity to fully recover its shape, even after being compressed under any kind of load for a period of time. This inherent quality provides support to the carpet above, preventing the backing from becoming distorted and damaged. |
| PU Foam | PU foam is considered to be a 'soft' underlay, and, while it can be used in all areas of the home, is not recommended for areas of high traffic as it does not provide the support that a rubber underlay would. PU foam underlay best suits rooms such as bedrooms, where comfort and good thermal insulation is desired. It typically weighs between 15-20 kg per roll. |
| Felt | A 'firm' underlay. As the most hard-wearing of the three, it is recommended for use in areas that experience the most foot traffic. Felt underlay is also useful in rooms that are very cold, where there are updrafts between floorboards, or where noise reduction is required. |
Find Carpet Underlay on eBay
To purchase carpet underlay, first head towards the eBay homepage. From there, carpet underlay can be found in the Home, Furniture & DIY category, under Rugs & Carpets,, in Fitted Carpets & Underlay.. For best results, filter by Underlay;; which can be found under the type category. Various other filters according to material, main colour, brand, and condition can be applied to narrow the search further. Alternatively, it is possible to search for carpet underlay by entering specific terms into the search bar, which can be found at the top of any page on eBay. For example, to find rubber crumb carpet underlay, type 'rubber crumb underlay' into the search bar.
Conclusion
With most types of carpets, underlay is a functional and necessary addition. It is typically made from one of three materials; rubber, polyurethane foam, or felt; all of which hold certain qualities. A rubber underlay provides high durability and protection against foot traffic and furniture dents, as well as being the most adept at preventing carpet from buckling. Foam underlay offers greater comfort and thermal insulation. Felt underlay offers high durability, as well as thermal and sound insulating properties. However, it is often more difficult to obtain than the first two. Where a soft underlay such as PU foam is better suited for rooms where comfort underfoot and thermal insulation are required, a firm underlay like rubber or felt is required for areas that receive high volumes of foot traffic, or where the carpet is at risk from dents caused by heavy furniture. Firm underlay provides the necessary support to the carpet backing, preventing it from wear or warping when put under strain that soft underlay lacks. In conclusion, underlay is an essential component to carpeting a room; protecting it against wear, damage, and providing support to greatly enhance its lifespan.