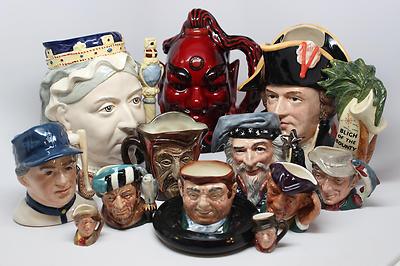 The Origins of the Toby Jug and Royal Doulton's Adaptations
The origins of the toby jug dates back to the 1700's. And while several theories exist about the origins of the name and where it came from the most colorful explanation entails an old English drinking song about a verbose drinker who could consume copious amounts of drink; the drink being responsible for his larger than life size and ultimately his untimely passing. Rumor had it upon his death that his huge body turned to clay and a potter came along and used it to create a large drinking vessel in his likeness including his whole body and head;-a testimony to the colorful character. Yet it was not the traditional style toby jug that brought English manufacturer Royal Doulton notoriety but their own adaptation of these jugs to focus specifically on the face and shoulders. While Royal Doulton were certainly not the first to create a "face jug" whose origins date back well in history; they did employ some of the most creative and dynamic modelers and artists in the business and as the "character jug" a term coined by Royal Doulton to describe their unique interpretation of the jug, progressed through the years it was adapted to the vision of the artists or modelers who created them and left their own personal style and mark upon them.
A Brief History of Royal Doulton
While Royal Doulton became a company who received the royal warrant in 1901, their origins dated back to 1815 when it was called Doulton Lambeth and focused on utilitarian self-glazed stoneware items like jugs and bottle. Headed by John Doulton, many of their early customers were commissions from local pubs or inn keepers and liquor distributors who wanted personalized advertising pieces.
It was really under the vision of Doulton's son Henry, that the company started to utilize local artistic talent and change its focus to creating more decorative and collectible items than useful. Henry opened an artist's studio in London getting the input and ideas from local artists in the 1860's. By 1877 he had obtained stake in a pottery company the created dinnerware that was located in "The Potteries," the area near Stoke On Trent in Staffordshire, England. Within a few years Henry had established an artist studio and china works to accompany the dinnerware factory at Bursalem, which would be an integral part of Royal Doulton until they closed their doors in 2005 when operations were moved abroad.
Charles Noke's Vision Brings Character Jugs To LIfe
A hugely inspirational and innovative talent for Royal Doulton was art director Charles Noke who joined the company in the 1890's. His vision of the company and his foresight to surround himself with the most brilliant of minds and talents allowed for some of Royal Doulton's most important lines to be created under his direction as director including the famous HN figurine line and character jugs. The first "character jug" was created by Noke in the 1930's; it was John Barleycorn. It was followed soon after by Old Charley. Noke's love of English literature, song and folklore was strongly apparent in the characters he chose to immortalize in jug form.
The First Models and Sizes
The first models made by Noke were made of ivory earthenware that was painted in neutral tones and used a yellow over-glaze to highlight features. The first size was 6 inches tall. In 1935 they added a small size that was just over 3 inches tall, a miniature size just over 2 inches tall joined the ranks in 1937, and by 1940, the tiny was also available. All jugs were issued with a D number that was four digits long and following a D. Noke was also responsible for creating a derivative line of products like tobacco pots, sugar bowls, and tooth pick holders because he felt the jugs needed to be useful as well as decorative.
Identifying Early Character Jugs
It is easy to identify jugs created in the early production days. Early produced jugs bore the name of the character inscribed into the back of the jug. The name was also written in inverted quotation marks on the base of the jug. Between 1939-1955 jugs were marked with a green A on the base to denote the type of kiln it needed to be fired in. This was discontinued in 1955 when coal burning kilns were banned. In 1927 the company had implemented a dating system to help identify the year a piece was made. The system simply consisted of a number placed to the right of their logo. If this number was added to the year 1927, it yielded the year of the item's creation. Unfortunately this dating scheme does not appear to have been in practice for long.
Character Jugs Evolve With Designer Fenton
Noke's assistant in creating the early character jugs was named Harry Fenton. Jugs created by Fenton adapted his impressionistic style and he designed many characters that had a more realistic than stylized appearance. Trademarks of his work include indented irises to make the eyes more life-like and the use of many wrinkles and blemishes to show the wear of life on his models. Fenton liked to model more rough around the edges characters. Following Noke's lead they were still fictional characters that were taken from English song, folklore or literature like Auld Mac and Paddy. Fenton was one of Doulton's most prolific modelers and to his credit he modeled 26 character jugs and 15 toby jugs and numerous derivative items; a record not broken by another modeler until the 1990's.
World War II Creates Highly Collectibles Jugs
The eruption of World War II interrupted production and forced many changes to models in existence at the time due to the economic constraints from the war. These changes created some of the most sought after of Royal Doulton character jugs for collectors due to the limited production time. Granny without teeth, the cavalier without a goatee, Drake without a hat, and the red-haired clown all became jugs that go for a hefty sum due to their rarity.
Another interesting phenomena created by the war was the creation of the white or undecorated jug. During the wear restrictions were placed on pottery. The only pottery allowed to be decorated was that which was being sent abroad for export to support the war effort. Pottery that was sold on the UK market or for home sale was left undecorated. This ban was in place from 1942-1952.
Max Henk Makes the Handle as Important As the Jug
The death of Harry Fenton in 1953 passed on the responsibility of the character jug line to designers Max Henk and Geoff Blower, who was Henk's assistant for many years. Fenton's style of impressionist creations was replaced with one which favored a more feature exaggerated approach. Henk's vision of the jugs included replacing the indenting of the irises, phasing out the engraving of the name into the back of the jug and began to make use of the handle as a significant part of the jug's design. Under Henk, the handles became as complex in nature as did the rest of the jug and often resulted in two or more artists collaborating on the jug and handle in terms of design and modeling responsibility.
Over thirty jugs that were designed by Charles Noke and Harry Fenton were retired while Henk was in charge which signaled the end of the era of character jug design as the company made way for the new and more modernized vision of character jugs Henk created.
China Translucent Body Goes Back to Earthenware
Designer David Biggs joined Royal Doulton in 1953 and modeled many of the handles for Henk's jugs. By the 1960's Royal Doulton had created a new body called China translucent which they felt would be a perfect body for the character jugs which were produced in earthenware. In comparison to the earthenware the china translucent was lighter, shorter and translucent when held to the light. Instead of bearing the burden of transferring existing designs and remodeling them in the new body, it was instead decided to end production on a series of jugs including Ard of Earing which created several jugs with short production lives that became very popular for collectors. Doulton changed back to the earthenware body when they moved to the Beswick studios.
Character Jug Production Moves To Beswick Studios
In 1971 Royal Doulton moved production of character jugs to the Beswick Studios, a former competitor that had been acquired two years earlier and absorbed into Royal Doulton. This transition was a hard one for character production which saw Henk retire soon after the move and Biggs move to another department of Royal Doulton. Put in charge of the department was Eric Griffiths with a young team of designers under him including: Peter Gee, Robert Tabbenor, Alan Manslawski and Doug Tootle. It took several years however for the character jug line to begin again and it was Eric Griffiths who lead the way with his creation of Henry ViII in 1975. For this jug he used the talents of Michael Abberley who up until this point in time was a figurine painter, to design the handle with all of Henry's wives. Finding character jugs suited him, Abberley produced his first jug in 1980 with Henry VIII wife Jane Seymour and continued to produce a number of jugs, his best noted works being the creation of double-sided jugs that featured two characters that were antagonists of one another and aptly called the Antagonists Collection.
Character Jugs Hit The Height of Popularity in the 1980's And Back-Stamp Changes
Character jugs hit the height of their popularity in the 1980's in particular within the US market. A cross country tour bus that promoted the character jug concept and collection, the release of the first detailed book about character jugs and the creation of the Royal Doulton International Collector's Club or the RDICC for short, a club that gave collectors a forum to discuss their passion with others and provided an avenue to release exclusive pieces to members only were pivotal events in solidifying the popularity of the Royal Doulton character Jug. The 1980's also saw many new color-way jugs issued by retailers of Royal Doulton. Colorways hold a higher value to their original counterpart in most cases as they are normally issued in limited editions which add to the rarity and therefore value of the piece. The 80's was the time period when the back-stamp was changed to: include the words hand-made and hand-decorated, they added the artist's facsimile signature to the base and the words UK Tableware were replaced with Royal Doulton UK.
Freelance Modelers Add To The Character Jug Line
It was during this time period two very important modelers joined the Doulton ranks as free-lance artists; they were Stan Taylor and Bill Harper. Their contributions to the character jug line were profound.
Huge Changes in Store For Royal Doulton
By the 1990's there were great changes in store for the character jug line including a huge scale back numbers-wise as the line went from 157 being produced to just 59. In addition, this time period also saw the discontinuation of all toby jugs and derivative tea pots and the elimination of the miniature size jug. In its place Doulton created the Character Jug of the Year which was produced in a limited edition in the large size only and came with a certificate of authenticity. This time period also saw the creation of character jugs that were created with the red flambe glaze produced in a limited number. These included the jugs: Aladdin's genie, Confucius and the Pharaoh.It was during this time period that Royal Doulton started using picture ciphers to denote the year of creation. The late 1990's saw Royal Doulton auction off many of the pieces in their archive collection. When the Beswick Studios closed in 2002 a few jugs were still created at Royal Doulton's factory at Nile Street before they closed their doors in 2005 when Royal Doulton ceased operations in England and moved overseas first to China and then to Thailand after merging with the Wedgwood Group.
How To Buy Royal Doulton Character Jugs on Ebay
While with many collectibles you need to be careful about counterfeit products, Royal Doulton character jugs seem to be a reasonably safer purchase then other collectibles. Royal Doulton, while not doing a great job of maintaining a consistent dating scheme through the years until more recently, did a fantastic job of marking their products. Their back stamps remained consistent for the most part for close to 100 years. While there was some minor alterations Royal Doulton back stamps at least until they were revised for the millennium, featured the well-known crowned lion over interlocking D's. These back-stamps were done in either
i
n a blackish green or black color. Things to watch out for are holes that are drilled through the back-stamp which means it was a factory second or rejected piece. These pieces often times are hard to tell there is a problem with but for whatever reason if the back-stamp is drilled or scratched through means it is a factory second which will lower its resale price considerably.
Realistically the most important thing to take note of when purchasing these delicate pieces is the reputation of the seller. Make sure to check their ratings and read them to see if they are a seller you feel you can trust. Using sellers that offer a return policy and better yet, a policy in place for returning items that are not as described or damaged where they cover the return shipping is even better. When purchasing items as delicate as porcelain or earthenware it is essential to have confidence in who you are buying from. Read about their shipping policy and their general customer service. Top rated sellers tend to be more trustworthy then others and they also have to adhere to faster shipping times and in general will provide better customer service.
With delicate pieces it is always best to error on the side of caution and to ask the seller any questions you have regarding the piece before purchase or bidding to safeguard yourself from getting an item that is not what you are looking for. Questions to ask if they are not stated in the listing are about the condition. Are there cracks, chips, crazing, repairs? Make sure that you also see a picture of the back-stamp and if they are not willing to send one, I would keep looking and not use the seller. The back-stamp is the best way to know it is a genuine Royal Doulton and any good seller will have no problem sending you a picture of it or better yet, would already have it in their listing. Better sellers will include many pictures of the piece from all different angles, inside the piece and the bottom and provide an accurate written description of the condition as you cannot always tell the condition of an item simply from pictures due to camera flash, people's vision, etc.
Keep in mind that each piece is hand-made and hand-painted so there are bound to be slight flaws in painting or manufacture that are given with a piece that is created by hand. The paint vibrancy can be different, the shading, etc. These are normal variations between pieces, but something to be aware of.
The Best Resource For Character Jug Information
The American Toby Jug museum based outside of Chicago, Illinois is an invaluable source of information and a must see for any true collector of character jugs. The people who run the museum are probably the best resource out there for information on the jugs and have also published books on the subject. Much of the information above was obtained using their books as resources. They also have a website which allows you to search the value of a particular character jug by name or D number. Keep in mind that a jugs actual value and the value it will fetch on Ebay can be considerably different.