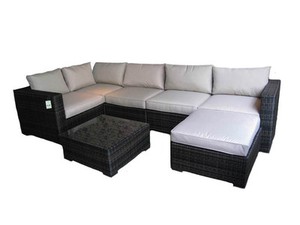 Outdoor furniture is made from a variety of natural and manufactured materials. Most buyers are looking for patio furniture that is built to last, looks fresh and new for years to come, stays attractive despite exposure to the elements, and is easy to maintain. Some materials are more durable than others and some withstand exposure to the elements better. In order to make the best purchasing decision when buying outdoor or patio furniture, one should investigate the characteristics of each type of material, paying close attention to the pros and cons of each. Some may be more resistant to wind or rain, while others will last longer in sunshine or heat.
One should also consider factors like available indoor storage space, maneuverability and weight, the amount of maintenance needed to keep the furniture looking good, and the look one wants for the patio when choosing a material for one's patio furniture. One can buy patio furniture from furniture or home and garden stores or online.
For more general info on patio furniture, check out this video:


Materials Used in the Manufacture of Patio Furniture
The four main types of materials used in the manufacture of patio furniture include plastic, wood, wicker, and metal.
Plastic
Plastic is usually the least expensive option. Plastic furniture is highly portable, can be made from recycled materials, and chairs can be stacked for storage. Unfortunately plastic is not always the best looking option and may not last as long as other materials if one buys flimsy furniture. More sturdy plastic furniture is available that is weather resistant and durable. One should store plastic inside to prevent pitting and fading, although higher end pieces tend to last longer without showing wear. It can be cleaned with soapy water and a scrubbing brush (if needed), making it easy to care for and maintain. Plastic can be shaped, molded, and colored into just about any design, making it a good choice for those who want something different.
Wood
Patio furniture comes in a wide variety of wood types that can be used if one wants a warmer, more casual and natural look. Popular wood types include teak, pine, cedar, eucalyptus, and redwood. Hardwoods tend to be more durable and long-lasting, with teak, jarrah, and shorea lasting up to 50 years, and redwood and roble lasting up to 25 years. Treating wood with special oils and sealants will increase its lifespan significantly.
Softwoods like cedar and pressure treated pine, although not as durable as hardwoods, do last for years outdoors. Pressure treated pine is treated to resist rot and water and will last up to 20 years. However, untreated pine has low resistance to rot and it is recommended that it be painted or sealed and stored indoors during winter months. Another advantage of wood is that it does not hold the sun's heat like plastic and metal do.
Wicker
Wicker can be natural or synthetic and gives an outdoor area a cozy or rustic look. This woven wood is durable, but lightweight. Wicker furniture can be made from cane, rattan, bamboo, or a number of other materials. Outdoor sets are usually made from synthetics in order to increase weather resistance and durability. Wicker furniture can be bulky and costly, but the use of synthetics has led to lower costs. Weather-resistant wicker can be hosed off and is designed to last outdoors. Some sets come with up to a 20-year guarantee.
Metal
Garden and patio furniture is made from a variety of metals, each with its own strengths and weaknesses.
Wrought Iron
Wrought iron looks best in a formal or classic setting. It is a strong, durable material, and furniture designs range from traditional to contemporary. It is very heavy and will not tip over or blow away easily, making it a great choice for windy environments. This type of metal does require some care to prevent rust and increase corrosion resistance. It can be painted to both create a different look and to improve its resistance to corrosion. Some disadvantages of iron furniture include iron's tendency to heat up and burn when left in direct sunlight. It can also be very cold on cooler days. Without cushions, iron is not the most comfortable choice, and using cushions with wrought iron furniture solves the problems caused by heat and cold. More robust fabrics should be used outdoors, and cushions should be put away after use. Wrought iron furniture can be left outdoors year-round, provided it is cared for properly.
Aluminum
Aluminum will not fade or rust, especially if it has been coated with a powder-coat finish. This metal is usually used in contemporary, streamlined designs. It requires less maintenance than steel or wrought iron and is significantly lighter and easier to move. It also remains cooler in the sun. Aluminum patio sets can be cleaned with soapy water, and applying a layer of car wax will help to keep aluminum look as good as new. Unfortunately this is a more expensive material and high-end sets can be pricey. However, aluminum is corrosion resistant and can survive outside for extended periods. One can find less pricey folding chairs for an inexpensive seating solution, but these should be stowed during bad weather. Costlier, heavier-grade pieces can be left outside.

Patio Furniture That Withstands the Elements
All patio furniture is designed for outdoor use and to withstand the elements to some degree. Nevertheless, some materials are more weather resistant than others. Weather-resistant plastic patio furniture can last for years and is an attractive option for those who are more budget conscious. Some types of wood are more resistant to rot, water, and sun damage than others, and if one chooses the right type of wood, furniture can last for up to 50 years. However, wood requires more maintenance than manufactured materials. Synthetic wicker is a popular choice as it is fairly weather-resistant, but it is light enough to be unsuitable for windy climates. Wicker furniture made from natural fibers may not be as hardy as synthetics. Metal is the longest-lasting and most durable material for patio furniture. While they do require care, wrought iron pieces can last for decades. Similarly, treated aluminum is exceptionally weather resistant.

Finding Patio Furniture on eBay
The Patio & Garden Furniture category is listed in eBay's Home & Garden department, in the Yard, Garden & Outdoor Living section. Browse the selection available, narrowing your search by clicking on the subcategories, or perform a search for specific items. For example, typing "teak patio furniture" in the search box will show all the listings for teak patio furniture. You can use the advanced search feature to control the number of listings shown. Additional listings can be found in the eBay Stores section. Don't forget to check these for more great deals.
Know Your Seller
Buying online can seem daunting to first timers, but eBay makes it easy to know your seller through the seller feedback function. Buyers are encouraged to leave feedback for sellers after all completed transactions. This way new buyers know what to expect from sellers. You should always take the number of completed sales and the types of products sold into account when viewing this information. To access it, click on the number next to the seller's username.
Take a few minutes to read the seller's terms and conditions of sale. Here you'll find information about shipping and handling fees, and any returns policies or customer satisfaction guarantees. If the seller does not offer free shipping, add the shipping fees to the selling price to calculate the item's final cost. Also, check the seller's accepted payment methods to ensure that the transaction will run smoothly. Never use Western Union or similar instant transfer methods to pay for items on eBay. If you want to know more about a listing, use the "Ask a Question" link to contact the seller.

Conclusion
Patio furniture is manufactured from a range of manmade and natural materials. Buyers are usually looking for furniture that is sturdy and durable, that ages well and looks good despite coming into contact with a variety of weather conditions, and is easy to care for. Of course, some materials are stronger than others and last longer when used outside. To choose the right patio furniture, one should take a closer look at each of the available materials, weighing up their advantages and disadvantages. Some materials, like wood and metal, have different strengths and weaknesses in different types. For example, teak is more resistant to rain and rot than untreated pine, and aluminum is lighter and less likely to absorb heat and cold than cast iron.
When choosing the more weather-resistant material for one's patio furniture, one should think of the climate, both in summer and winter. Some furniture, like wrought iron pieces, can be left outside year round. Others, like furniture made of natural wicker, will not survive cold, wet conditions. In addition, lighter furniture could blow away and cause damage in windy conditions. Treating furniture with wax, oil, sealant, or a corrosion-resistant finish could significantly increase its lifespan. eBay sellers offer a wide range of patio furniture, in a variety of weather-resistant materials.