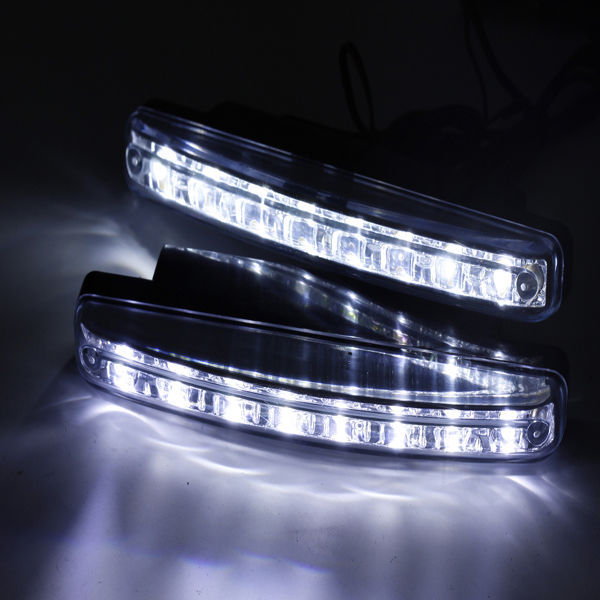 There's a good reason why cars and other vehicles are required to have headlights. Headlights are not merely an optional luxury auto part. Having appropriate and functioning light systems on a car are essential for a driver's safety. No matter how skilled one is at driving, it doesn't matter if they can't see where they are going. Without lights, men and women would be stuck at home when night falls or when it starts to rain, snow, or become foggy. Lamps and lights empower people by enabling them to drive their vehicles even when it is dark outside.
This guide aids buyers in selecting the headlights that are best for them. It will give a definition of a headlight and explain its primary function, as well as the purpose of headlights. It will enumerate the three main types of headlights: halogen, xenon, and LED. It will also discuss the lighting technologies behind these types of headlights. This guide will provide an overview of the various advantages and disadvantages of each kind of headlight. It will discuss what type of headlight may be suitable for buyers, based on their priorities and needs.

Definition of Headlight
A headlight, also known as a headlamp, is a light that is mounted in the front part of a vehicle, such as a car, van, or truck. It has a reflector and a special lens. The lamps purpose is to light up the road ahead so that the driver can see it even under dark and pitch black conditions. The term "headlight" may also be used to refer to the beam of light that is cast by the headlight or headlamp. A headlight must be able to properly illuminate the highway in front of the vehicle even during nighttime, overcast weather, and other situations where visibility is low. The beam of light should not cause a strong glare or temporary blindness to drivers of vehicles that are approaching from the opposite side of the road.
Headlights were first introduced during the late 1880s. Vintage car and truck headlights back then were fueled by acetylene or oil. Electric headlights came out in 1898. They were produced by the Electrical Vehicle Company of Hartford, Connecticut as an optional accessory for the Columbia Electric Car. The standardized seven-inch round sealed beam headlight came out in 1940. This standardized headlight became a requirement for the vehicles in the United States and it was popularly used in other countries as well, such as Australia, Japan, and Britain.

Reasons Why Headlights are Necessary
The headlight is one component of automotive lighting. Automotive lighting refers to the entire lighting system of a vehicle, such as a motor car, truck, or van. It is composed of various lighting and signaling devices, which may be integrated or mounted in different locations of the vehicle. The headlight, for instance, is located in front of the car, truck, or van. Other lighting devices, on the other hand, may also be found on the rear, sides, and sometimes, even on top of the vehicle.
Like the headlight, the main purpose of other components of the automotive lighting is to give light in dark situations so that a person may be able to drive a vehicle properly. Another role of automotive lighting is to enable other drivers to see the vehicle and to be aware of its presence. One more purpose of automotive lighting is to inform others about the intentions of the driver with regards to direction and speed. Last but not least, automotive lighting allows other drivers to see the size, position, and direction of travel of the vehicle. For example, other drivers will know that a vehicle is traveling from the opposite direction when they see its headlights.
Types of Headlights
All headlights have the same main function, which is to illuminate the road in front of the vehicle. However, they differ in terms of the specific bulb types that they use to provide light. The three main bulbs that are used in headlights are halogen, xenon, and LED. Headlights may be classified according to the particular lighting technology that they utilize.
Halogen Headlight
Halogen refers to a member of a certain group of five chemicals that are very reactive and poisonous. These chemicals are classified as non-metals. Halogen car lights are popularly used in headlights. Each bulb has a thin tungsten filament and a glass filament capsule filled with halogen gas. The gas routes back the tungsten to the filament so it regenerates the filament each time the headlight is turned on and used. A halogen bulb produces a bright, white light.
Xenon Headlight
Xenon is a highly unreactive gas that is colorless and odorless. It may be found in small quantities in the atmosphere. It may be extracted from liquefied air to be used for commercial purposes. Xenon is commonly used in headlights. It is utilized in some filament-based automotive lighting technologies. A xenon bulb emits a clean and white light and may also be used in HID (high-intensity discharge) lighting. An HID bulb does not have a filament; instead, it uses a xenon gas-charged, sealed system that generates light through an electrical charge that starts an arc between two electrodes.
LED Headlight
The acronym "LED" stands for "Light Emitting Diode." It is a semiconductor diode that gives off light when voltage is applied to it. LED is a popular display and lighting technology that is used in various kinds of electrical and electronic products. LED produces light in less than a hemisphere. This means that it needs to be cooled from the back. As a result, an LED headlight may require a different design from halogen and xenon headlights. An LED headlight may potentially come in different designs because its small size makes it versatile.

Which is Best: Halogen, Xenon, or LED Headlights
Each type of headlight has its own set of advantages and disadvantages. That is the reason why one cannot pick out a definitive winner among the three types. That's why the headlights that may be best for some drivers may not necessarily be the best for others. It depends on the particular priorities and needs of the buyer.

| Type of Light | Advantages | Disadvantages |
| --- | --- | --- |
| Halogen | Emits bright, white light; has a long lifespan; low replacement cost; popular type of headlight | Generates excess heat; wastes energy; cautious handling needed when replacing bulb; reactive to other substances |
| Xenon | Provides good illumination; more efficient compared to halogen; uses less power; longer life span than halogen headlights | Expensive; may potentially cause a harsh glare to other drivers because of its brightness |
| LED | Needs little power to work; low and efficient energy consumption; small size; may be designed differently because of its size | Expensive; generates heat and needs more cooling to run than halogen and xenon headlights |

This is just a summary of the respective pros and cons of halogen, xenon, and LED headlights. Halogen headlights may be best for buyers who are on a budget, as these types of lights provide good performance for a relatively lower cost than other types of headlights. Xenon headlights, on the other hand, may be ideal for buyers who value bright illumination because it emits a very strong light. LED headlights may be appropriate for buyers who prioritize efficient energy consumption. One type of headlight is not necessarily better or superior to the others, although it may be a more appropriate choice for certain buyers.
Conclusion
If it is difficult to walk in the dark without the aid of a flashlight, but it is practically impossible to drive in the dark without headlights. It is not surprising that headlights are a required car part, and not just an optional one. Headlights are necessary for the safety of the drivers and the passengers of a car. It enables drivers to see the road ahead of them even when it is nighttime, or when the weather causes the sky to be dark and overcast even during daytime.
Headlights also alert drivers that vehicles are approaching them or that there are cars behind them. They enable drivers to notice and avoid crossing pedestrians or animals as well. The main types of headlights are halogen, xenon, and LED, and each has its different pros and cons. There really is no one type that is better than another overall. Rather, buyers need to decide on their own, given their own particular preferences and needs. eBay Motors has a wide range of headlight options that buyers can select from, no matter what type of lighting technology they prefer.