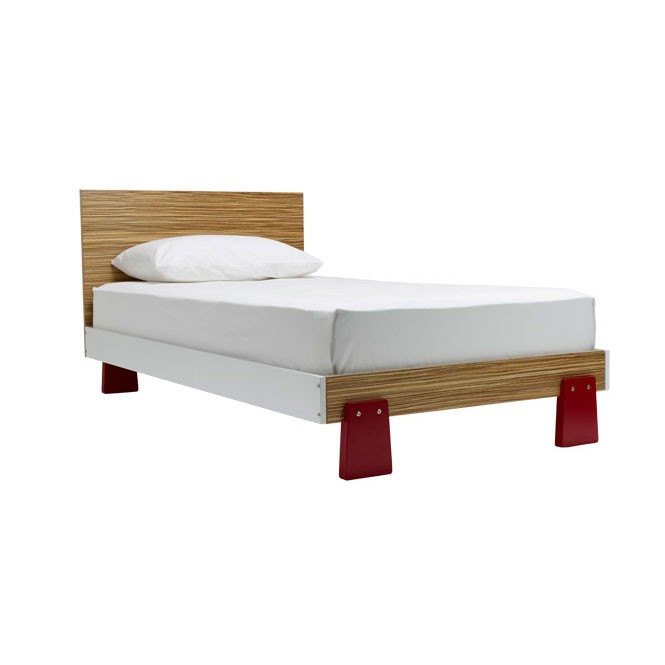 When it comes to buying a bed for a child, the consumer wants to make sure that the bed is not only the proper size to be the most comfortable, but that the bed will be safe for the child, too. Beds for children come in several common sizes, and there are many factors to consider when purchasing a kid's bed, such as budget, existing room décor, how big the child is, and how long the bed will be used for.
There are some beds that are meant specifically for smaller kids, such as toddlers transitioning from a crib to a bed for the first time, and beds that will grow as a child grows, such as a twin or full bed that can accommodate larger children. There are even beds that can convert from a twin to a full as the child gets older. Purchasing a bed for a child is a personal choice, but a high quality, sturdy bed that will be safe and will please the consumer's aesthetics are of utmost importance. Select a bed for a child according to what the specific needs are, and how big the child is as well as factoring in budget constraints and décor preferences.
What to Consider Before Buying a Bed For Kids
Before buying a bed for kids, think about what is most important. A wooden bed that will stand the test of time and still look great throughout a kid's childhood, or a small bed that is the perfect size for a child now, but will have to be switched for a bigger bed later? It's really all about preference, as some parents would prefer a small child to sleep in a smaller bed for safety reasons, and one that's lower to the ground. Once a child is school age, they can safely sleep in a regular sized twin or full bed without issues, if that's the parent's preference.
When looking for a bed for a kid, consider additional expenses that may be incurred along with the cost of the bed itself, such as a mattress and box springs, kids bedding, duvets, and blankets for the bed, which can extend the budget a bit but are necessary items.
Appropriate Bed Sizes For Kids
There are essentially three types of beds that are commonly bought for kids: toddler sized beds, twin beds, and standard full sized beds. Traditionally, the bed size reflects the size of the child, but other things may be considered too, such as making sure the bed will last for longer than just a couple of years, and the individual problems the sleeper has, such as a kid that needs more room, or falls out of bed sometimes.
Bed Size Chart
In order to gain a better understanding of the type of bed that one should purchase for a child, it helps to know the size and measurements of each bed. The following chart can help to determine which size would be best for children of all ages.
| Bed | Measurements (cm) | Age Range |
| --- | --- | --- |
| Toddler Bed | 68.58 x 132.08 | 1 year to 4 years |
| Twin Sized Bed | 99.06 x 190.5 | 4 years to 18 years |
| Full Sized Bed | 137.16 x 190.5 | 6 years to 18 years |
Being able to know the exact measurements to each bed size, as well as the age range for each can help to make the decision on which type of bed to purchase that much easier. When all the information necessary is known, it helps to make an informed decision.
Different Bed Sizes for Kids
In addition to knowing the measurements of each style of bed, it helps to get a general idea about how each bed could benefit a child. The different bed sizes such as toddler, twin, and full can be easy to choose from when all the information about them is known.
Toddler Beds
Toddler beds are a transitional bed that is best for small children, from the ages of one to four, or when the child reaches roughly 50 pounds. They are smaller in size than twin beds, and generally can be used with a crib mattress. They are low to the ground, so if the child falls out, he won't get hurt. Toddler beds also sometimes have guardrails along the sides to protect small kids and keep them from rolling off the bed altogether. A toddler bed is a good option for a smaller child that is going from the crib to a bed at a young age and is still very little.
The only downside to a toddler bed is that the child will outgrow the bed in a few years, but it can provide peace of mind during those years to parents that are worried about children making the transition. Toddler beds come in many styles, from classic wooden beds to beds with characters on them, or shaped like racecar beds, which may make a scared child feel better about sleeping in a bed.
Twin Beds
Twin sized beds, or single beds, are a good option for an older, school aged child that has had some experience sleeping alone and is not too wild of a sleeper. A twin bed can fit a child up to any age, and can grow along with a child until the teenage years, when he or she might need more room after taking a growth spurt. Twin beds are also a good option if the consumer is short on space and putting the bed into a smaller bedroom, or if siblings are sharing a bedroom.
If a smaller child is sleeping in a twin bed, parents can install guard rails on either the sides or bottom of the bed to ensure extra safety. Twin beds require a specific twin sized mattress and box springs, and beds come in many designs, some with headboards and footboards, and some with extra storage space or twin trundle beds, which is a good option for kids that have friends stay overnight sometimes.
Full Beds
Full beds are standard sized beds, and they are good for bigger kids that need more sleeping room, as well as rowdy sleepers that tend to roll around a lot and need the additional room that a full bed provides. If a child has the space in his or her bedroom, a full bed is a good option and also may be more affordable for parents that don't want the expense of moving from a smaller bed to a larger bed.
A full sized bed can make the transition from childhood to adulthood quite easily, and a good quality full sized bed can last for years if taken care of properly. A full mattress is needed, and if the bed is used for many years, the consumer should keep in mind that mattresses should be switched out every 8 to 10 years for optimal comfort and safety. Guardrails can also be installed on a full sized bed for a smaller child, if needed.
Convertible Beds
For the parent that wants their kid to sleep in a perfectly sized bed throughout the growing years without compromising, a convertible bed might be a good option. They can cost a little more than standard beds for kids, but some kids' convertible beds actually convert from smaller toddler beds, to twin beds, and finally, to a full sized bed, which can cover the whole spectrum of a child's growth, from leaving the crib to leaving the home.
These beds are usually durable and made of wood. Mattresses to accommodate the differently sized beds may be needed, but on the whole, it's a good option for an all inclusive bed for a parent that doesn't want to buy differently sized beds or put a smaller child in a bed that's too big.
Kids' Mattresses
The best mattresses for kids are mattresses that are supportive, comfortable, and flame retardant. Consumers should definitely consider spending the money it costs to get a good mattress, because kids are growing and their small bodies need a lot of support. A good mattress can mean a great night of sleep for a child, so shop for a kid's mattress carefully and weigh the different options. The mattress needs to be of high quality, and preferably new, since standards for mattresses change and the consumer needs to be sure the mattress meets today's safety standards.
For smaller children, parents may want to consider investing in a mattress cover, or mattress pad, to keep the mattress safe if there were to be any accidents or spills. These can be removed quite simply and thrown in the washing machine, which is much simpler than trying to remove stains from the mattress itself.
How to Buy Beds for Kids on eBay
When you look for a great bed for a kid on eBay, there are many options. It will help to know exactly what you're looking for. You can search beds, and many types will come up, but instead of weeding through those options, key in a tailored search based on what type of bed you need, such as a twin bed, or a toddler bed. These will bring up more options. See what comes with the bed you've chosen, such as mattress covers or a mattress itself, any bedding, or guardrails. Sometimes a seller can create a custom bundle of other items they are selling and offer them at a low shipping price.
When you shop on eBay for a kid's bed, buy with confidence from merchants that are Top-Rated Sellers, and look for those sellers that have a lot of positive feedback from other buyers. If you're buying used beds, ensure they are in great condition. Involve your child in picking out a bed, so he will have a choice in the matter, too, and sometimes that can help ease the transition to a different bed. It might be simpler to select a seller that's local, and go pick up the bed in person, if they allow. This can reduce or eliminate shipping costs and be more convenient for both of you.
Conclusion
Purchasing a bed for a kid can be a weighty decision. There are a lot of factors that go into determining what type of bed and what size bed is right for each child, and each child is different and may have different sleep needs, too. Consider the child the kids bed is being purchased for, and what his or her sleep needs are, as well as the child's size, which can be a large determining factor in what size bed is purchased. The best way to ensure a good night of sleep for a child is to purchase a bed that is the proper size, the right height for the child, and contains a comfortable mattress that fits the chosen bed properly.
Sometimes it's hard for small children to make the transition from their baby crib to a larger, 'big kid' bed, but by purchasing the right size bed for that particular child, the transition doesn't have to be difficult at all, in fact, it can be a great milestone and an important moment in the child's growing years.