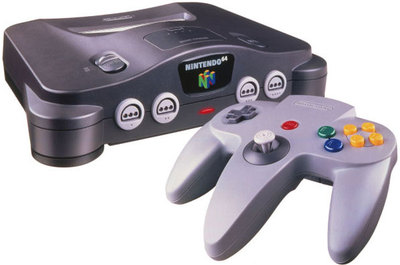 As times get tough and your wallet grows light, you may ponder over how to make big bucks in a short period of time. As you look around your room, you finally find your golden ticket. As you approach the 1990's it-system, you sigh. Memories stir and you are reminded of the nostalgia of playing N64 with your pals…Mario, Sonic, DK, even James Bond. While selling your former friends may seem cruel, understand that collectors and gamers alike are paying big bucks for Nintendo 64 games, consoles, and accessories. Following these tips can turn you from chump to champ faster than it took you to beat Legend of Zelda the first time.


Know Your Product
Do your research. Games that weren't popular even in the 90's obviously won't sell at a high price 20 years later. However, the always popular classics are a sure hit. As the games got better both in plot and quality, the money you can make also increases. While Mario Party 1 for N64 sells for about $20, Mario Party 3 can sell for $45. Before you sell, know what your product is worth. Know what your game is about. The better you can describe your game, the more likely it is to sell. Make sure there are no typos in your listing. How can people find you if you can't even spell your product correctly? HINT: The proper way to spell the game is on the front of the cartridge.


How to Price
Again…DO YOUR RESEARCH. Check out what others are selling for. Look at the pros and cons of "Buy It Now" versus "Auction." Consider how long you want to list the games for. If someone wants the game right then, they might pay more for a "Buy It Now" game than a game with a 7 day auction only listing. Check out various websites to see how the prices compare. If someone can buy the game for cheaper on a different website, why would they buy from you in a bidding war? However, be warned. While you may see your game as totally desirable because it represents your childhood, make sure to look at the condition. If the front sticker is peeling or faded, it won't sell for as much as a game that works the same with a brighter sticker. When you do your research, make sure to note if the cartridge you have is for the American or Japanese system. Japanese games won't play in the American system. Make that mistake and you will have some unhappy buyers. Additionally, include the box if you have it (or sell it separately!). Buyers love to have all components of their game (even if it costs more for shipping).


How to Ship
Look at what you are selling. I recommend heading to your nearest dollar store or mass supermarket to purchase some bubble envelopes. They are usually cheap and provide protection for your game as it heads to its new home. If you are shipping controllers, the console, and a million games, opt for a box. USPS and other shipping companies have flat rate boxes that can save you money.


How to Turn a Profit
Obviously, N64 games are going to turn a profit. If you only have a few games lying around the house, look at other eBay listings to see if there is an actual lot of games you could purchase to sell individually. In many instances, sellers will place a large group of games for sale all together. These are often times less likely to sell if a buyer doesn't want all of the games in the package. However, if you see that some of the games are selling on eBay for a good price, it could be worth it to pay extra for the whole set. Chances are, the games that aren't worth as much will still sell at a profit. Make sure you know the average selling price of each game so you can turn a profit.