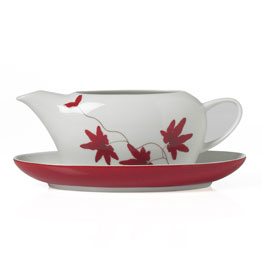 The difference between fine china and dinnerware is that fine china is formal and dinnerware is casual. While fine china may be used casually, and dinnerware may be used formally, their purposes are usually segregated. This segregation is due to the additional expense of china, the cost to replace if broken, the rarity of the pieces, the artistic value, and sentimentality, as fine china is often given as gifts; for example, as a wedding present from a gift registry at a department store.
Dinnerware in contrast, is less expensive to buy initially, is not costly to replace, is widely available, is not considered artwork, and often does not hold sentimental value. The other differences lie in the materials, craftsmanship, and often the age of the pieces. Dinnerware and fine china can be found at a kitchen store, department store, at an auction, estate sale, or online sites like eBay. When searching, consumers should know the main characteristics of both fine china and dinnerware so they can differentiate between the two and make educated choices.

Characteristics of Fine China
Fine china, also called porcelain or ceramic, is named for its country of origin, China. Due to the properties of its original Chinese materials, kaolin and feldspar, porcelain hardened when fired in a kiln and was white in color. Kaolin is a white clay, while feldspar is a mineral that produces a glossy sheen. European china developed later with clay as the base material and ground glass to produce the shine. Modern porcelain is made from a variety of materials. Kaolin is usually the primary clay with additives like bone ash, quartz, and alabaster. Colorants like blue cobalt or copper may be added as well.

Fine China Manufacturing
In the villages of ancient China, individual craftsmen constructed forges and kilns. The kilns produced extremely high temperatures of around 1000 to 1300 degrees F or more. The high temperatures produced a product that was hard and non-porous. These qualities are found in china even before glazing; however, glazing was common to add a decorative shine or special effect and to make porcelain more resistant to aging and staining.

Typically, the current manufacturing process is staged in two phases. First, the object is formed from the clay paste and fired in a moderately hot kiln. Then, it is coated with a glaze and fired in a hot kiln. Alternatively, the saucer and rim for example, is formed and coated with a glaze and fired in the hot kiln in a one-stage process. Modern porcelain artisans work their individual kilns and companies produce fine china in a group effort.

The Artisanship of Fine China
Originally, china was produced for common, everyday objects like dinner plates and cups. As the practice developed in China and other countries, artisans produced decorative items. Artisans and regions developed their particular style in china manufacturing. As trade developed with artists and merchants visiting other countries, artisans incorporated methods and styles from other villages, regions, and countries into their own china. When buying fine china, consumers can collect antiquities, antiques, vintage, and modern porcelain from different areas with their different styles, most notably Chinese and European.

Chinese Porcelain
Chinese porcelain antiquities span several dynasties. The earliest periods were the Shang, Eastern Han, and T'ang. Later periods found the Chinese exporting their wares and included the Sung, Yuan, Ming, and Ch'ing periods. Interested consumers can delve into the extensive history of Chinese porcelain and find many different styles, colors, and objects. While tableware like plates and bowls are common in Chinese porcelain, teaware was revered, and funereal decorative objects were in favor.

European Porcelain
European porcelain is derivative of Chinese porcelain, as European artisans became acquainted with exported porcelain from China. Chinese porcelain was so desirable that Europeans adopted the name "china" to mean porcelain. Europeans experimented with little success for many years in an attempt to make porcelain. Finally, the Chinese ingredients and manufacturing processes were discovered, and Europeans, most notably the Germans and the English, perfected the manufacture of fine china.

Modern Fine China
The practice continues today with artisans creating any number of porcelain objects, both utilitarian and artistic. Consumers can find fine china to collect, give as gifts, and use in the home. Tableware comes in varied colors and patterns, from floral to checkered, with different kinds of glazes, in different styles, and varied sizes. If used at all, fine china tableware is usually brought out for special occasions and can be complemented with sterling silver flatware and crystal glasses. Fine china is sold in sets, by the piece, and by the replacement piece.
Characteristics of Dinnerware
Dinnerware is for everyday use or for casual dining parties. It is mass produced in factories and assembly lines with inexpensive materials. The resulting products are therefore less expensive than fine china. Depending on the country and household, the table is set with a variety of pieces. In the United States, dinnerware usually consists of plates, bowls, and cups. Under a broader definition, dinnerware can include glasses, flatware, and even cookware like casserole dishes.

Dinnerware Materials and Styles
Dinnerware materials are inexpensive and capable of mass production. Common materials include plastic, stone, glass, and acrylic. Less common are wood, silver, and gold. Stoneware offers the consumer some of the characteristics of china, as it is fired in a kiln and is non-porous. It is dishwasher safe but can chip if handled roughly. Without metallic decoration, it is microwave safe. Earthenware is fired in the kiln at low temperatures and it is porous, which makes it vulnerable to staining. It is not dishwasher or microwave safe, and it is fragile.

Purchasing Dinnerware
Dinnerware does offer the consumer style options and sizes. Manufacturers no longer just create round plates, bowls, and cups. People can find dinnerware that incorporates sculptural elements so they can use their casual dinnerware for more formal occasions without bringing out their expensive china. Dinnerware pieces have square, rectangular, triangular, and oval shapes. They include color patterns and inlays of gold and silver.

Dinnerware is often sold in sets and this is an economical choice for consumers. Sets vary, but often people find sets sold by the number of people served, like dinnerware sets for four or eight. Some include the basic plates and bowls, while others include teacups and saucers or serving dishes like sugar bowls. Dinnerware can also be bought by the piece, but this is less common, and often people must contact the manufacturer or an online seller to replace a broken or missing piece.

Dinnerware Sizes
Casual dinnerware is sold by function and size. These sizes are standard with little variation from manufacturers, as diners have certain expectations when it comes to size. Following is a description of the most common plates and their sizes.

| Dinnerware Piece | Description | Size |
| --- | --- | --- |
| Charger | The dinner plate goes on top and both are cleared when the meal is eaten | 14 inches |
| Dinner Plate | The large plate on which the main course is served | 12 inches |
| Dessert Plate | A smaller plate that reflects the smaller portions of dessert; can be used for salads as well | 9 inches |
In formal situations, the charger is a decorative plate that is placed on the table before dinner is served. Some households prefer to keep their dining table set at all times with a charger plate, napkin, flatware, and glasses. The charger is not usually included with most sets. Most sets include both dinner plates and dessert plates.

Buying Fine China and Dinnerware on eBay
To find dinnerware and fine china, visit eBay and browse the wide selection of tableware. You can start from the main page and choose among the categories. From there, filters are available to refine the search. Common refinements include brand, material, price, and size, but there may be others. You can also use the search box from any page. The search box allows a quick and directed search with general or specific terms.

Most sellers on eBay offer a description of the product and photos. Some offer a zoom-in function on the photos so you can examine the pieces more closely. If you want to see the tableware in person, choose a local seller. If both parties are comfortable, you can inspect the items, take immediate delivery, and eliminate the shipping costs. Many sellers offer free shipping and otherwise make their shipping policies clear. To evaluate sellers, refer to their feedback, which are reviews from previous customers. Keep in mind that sellers often bundle items so look for china or dinnerware in sets or with extra items that add value.

Conclusion
Dinnerware and fine china are differentiated by their materials, manufacturing, distribution, and by their objective and subjective value. Fine china has a history, an artisanship, and a value that eclipses dinnerware. Because of its value, fine china is collected by museums and private collectors, given as gifts, honored for sentimentality, and used on special occasions in most households. Dinnerware is casual tableware that is inexpensive initially, easily procured, and cost effectively replaced, and does not often have artistic or sentimental value.
People find china and dinnerware in different places as well. China is usually purchased from individual artisans, niche kitchen stores, fine department stores, at auctions, trade shows, and estate sales. Dinnerware is found in drug stores, home stores, department stores, at garage sales, and thrift shops. Both china and dinnerware are found online at sites like eBay. Searching on eBay is a wise investment, as it has both fine china and dinnerware and its community of sellers makes it easy to add formal or casual tableware to a collection or a home.