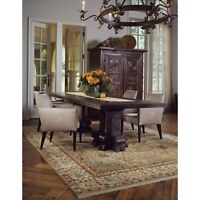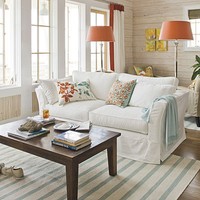 What Type of Rug Pad Do I Need?
A premium quality pad under your rug is very important. A quality pad will extend the life of your rug and protect it from wear and slippage as well as make vacuuming easier. There are all sorts of rug pad materials on the market but we have chosen two pads that we think are superior to all the pads we have tested and sold in the past. Our customers feedback backs up our claim. Here is information about our favorite pads.

The Most Effective Rug Pad to use for Hardwood, Laminate Wood, Tile, Vinyl and Concrete:
We recommend a rug underlay called "Cushion Grip" (pictured below). This pad material is made of carpet fibers that have been fused together and then needled punched to a waffled rubberized backing material that is non slip. This will hold well to a hard surface floor. It is about 1/4" thick and will retain its non-slip properties for at least 10 years with proper maintenance. This padding is a superior quality and will help preserve your rug from wear and slippage for many years. We custom cut the pad to fit your rug's actual dimensions for a perfect fit with no trimming necessary.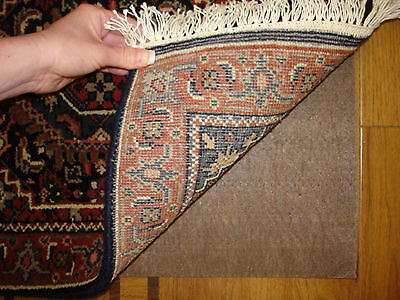 Premium Cushion Grip Cut to Fit Rug Pads












The Best Rug Pad on the Market for over Carpet:
For carpeted flooring we recommend the "Teebaud" rug pad underlay. (Pictured below).Teebaud rug pads are ideal when you want a rug to stay in place over carpet. This pad material is made of a high quality, unique non-skid, non-slip material. The thin, light, fluffy Teebaud underlay is made from two non-woven polyester fabrics that are permanently needle-punched together. The white fabric was developed specifically for application over carpeting, the gray for use on hard floors. These fabrics will not rot, crumble, flatten out, or shed fibers.
Both sides are lightly coated with a scientifically formulated clean-lift, water-based adhesive. The entire pad actually grips the rug backing and the floor or carpet surface, firmly anchoring the rug in place to eliminate all movement and buckling. Teebaud clean-lift adhesive is completely harmless to all floor and carpet surfaces. The clean-lift adhesive allows you to pick up and reposition your rug. The Teebaud pad is also great to use under a flimsy rug to add body and keep it in place. The Teebaud pad over carpet prevents your rug from rippling around the legs of your furniture. Hotels, restaurants, and other commercial establishments use the Teebaud rug underlay because it works better than any other nonskid underlay.

Teebaud Rug Pads for Over Carpeting
See All of our Non Slip Rug Pads Here! We've Got Your Size!