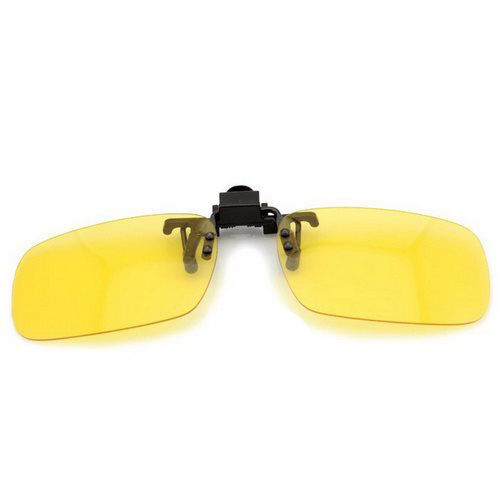 The effects of the sun and UV radiation on the skin are well-known. UV protection in the form of sunscreen is one of the most vital products that a person can buy, whether they are headed to the beach for a summer vacation or they simply need something to protect their skin on a day out running errands.

It is just as important to protect the other parts of one's body, especially the eyes. The eyes are particularly susceptible to damage from the sun. Many people may believe that as long as they never look directly at the sun, they are protected from potential damage; however, people are exposed to sunlight everywhere they go.
It is especially important to protect the eyes when an individual is in a situation where prolonged exposure to reflected sunlight is necessary. An example of this may be driving, as the sun's light can be reflected from the pavement and through a car's windshield. Other examples may include the sun reflecting off of snow or off of a large body of water. If an individual is not protected, they could be at risk for serious damage to their eyes, which can lead to a number of issues including cancers of the eye, vision loss, cataracts, and blindness. Having the best protection for one's eyes as is possible is crucial, and that is where UV 400 protection comes into play.

How UV 400 Protects the Eyes
UV 400 indicates an eye protection item that has been optimized to prevent eye exposure to both UVA and UVB radiation. One of the biggest differences between UV 400 protected items as compared to other items that protect against the sun's radiation is the fact that UV 400 protected items are capable of blocking light rays as small as 400 nanometers. This means that anywhere from 99 to 100 percent of the sun's harmful radiation is kept away from the eyes, which can make a big difference in eye protection.


Items With UV 400 Protection
UV 400 protection is offered with many different types of eye protection items, ranging from sunglasses to safety goggles. It is suggested that buyers choose UV 400 protection for all of their eye protection items, whether they are for casual wear or for use during sports and other activities.

UV 400 Sunglasses
UV 400 protected sunglasses come in a wide variety of colors and styles, making it easy for a buyer to find the pair that is best for their needs. Options are available for both men and women in colors including yellow, brown, blue, basic black, and much more. Additionally, options such as mirrored aviator sunglasses are available. UV 400 protected sunglasses are not necessarily expensive, so buyers should not feel as if they need to purchase designer sunglasses in order to protect their eyes. What matters is that the selected brand offers UV protection in a sunglass style that works for the wearer.

When shopping for UV 400 men's sunglasses, it is important to look at the area of the face that the lenses cover. UV 400 sunglasses are not able to offer the optimal amount of protection if there is room for sunlight to get in on the sides of the frames, under the eyes, or at the top of the eyebrow ridge.

Individuals shopping for UV 400 women's sunglasses should bear in mind that some fashion sunglasses may not offer adequate protection to the eyes. This is especially true if they choose light-colored lenses. While many UV 400 sunglasses are treated with various colors, not all colored lenses offer proper UV protection. It should clearly indicate in the product's listing that the item offers this protection.

It is important for parents to remember that their children need UV 400 protection for their eyes as well. Kids' UV 400 sunglasses come in the same range of styles as those made for their adult counterparts. Additionally, UV 400 protected goggles are available to protect babies' eyes from the sun, something that is especially important at this
early stage in their development.

For those who wear prescription glasses all day, a good option is to get a pair of glasses with photochromic lenses that transition from inside to outside by automatically darkening in sunlight. This provides UV protection in a single pair of glasses, so there is no need to switch pairs between light and dark environments. Another option is to choose UV 400 as one of the coatings for your regular prescription lenses, ensuring that the eyes are still protected even if the lenses are clear.

UV 400 Eye Protection for Athletes
UV 400 protection is also very important for athletes, no matter which type of sport they are participating in. From sunglasses optimized for use in sports to athletic goggles, there are numerous items to choose from when shopping for proper protection from the sun.

| Type of Eye Protection | What to Watch Out For |
| --- | --- |
| | Minimize glare from pavement |
| | Fit snugly, offer protection from the sun's reflection on the snow. |
| | Color can play a big part in how well the glasses work for your needs; choose the right shade for the sport |
| | In addition to UV 400 protection, quality hunting goggles should also offer shooting protection |
| | Swimmers need quality swim goggles that will protect them from the sun's glare on the water |
Since there are so many different types of UV glasses to pick from, it is important to choose the right glasses for each particular situation. Some colored lenses are more adapted for water sports, while some work better in the snow.
UV 400 Reading Glasses
Individuals who have especially sensitive eyes may also choose to purchase UV 400 reading glasses. Both prescription and non-prescription reading glasses are available for those who want to ensure that their eyes are protected, even if they are not wearing sunglasses throughout the day. These can also be a good choice for individuals who want a quality pair of glasses for driving, but who would prefer not to wear sunglasses
at all times.
UV 400 Clip-on Protection
In addition to standard sunglasses, goggles, and reading glasses, buyers can also choose to purchase clip-on UV 400 protection for their standard pair of glasses. This type of protection makes it easy to transition a prescription pair of lenses into a pair of sunglasses that protects the eyes from potential damage from the sun.

Buying UV 400 Protected Items on eBay
Once a buyer realizes the importance of UV 400 items, finding some that suit their needs, as well as their style, is easy. There are thousands of items available on the eBay marketplace, from fashionable sunglasses for a day out at the beach to UV 400 goggles for the toughest athletes.

The easiest way to find the specific items a buyer needs is to navigate to the section that contains the items you are looking for and to use the "UV 400" search term to narrow down your choices to items that offer this protection. Additionally, buyers can simply choose to include the item that they are looking for in their search string, such as "UV 400 cycling glasses" or "UV 400 ski goggles." Remember to also include in your search the color of the lenses that you want, or else seek out listings that offer multiple lens color choices.

Eye protection items, such as sunglasses and goggles, should come with a sticker indicating they have been tested for UV 400 protection. Occasionally, they are labeled as being able to prevent 100 percent of UV radiation. These labeling systems are used interchangeably among most manufacturers; however, it is still a good idea to check an item's listing, or even to contact the seller to ensure that the item offers full UV 400 protection.


Conclusion
Exposure to the sun's harmful UVA rays can increase the risk of developing macular degeneration, certain types of cataracts, and even cancer. Sunglasses with UV 400 help protect the eyes from this damage. Finding proper eye protection is a simple process. As more manufacturers have realized the importance of offering this level of protection, a majority of the products on the market, whether they are made by a high-end designer brand or are items for budget buyers, now come with UV 400 protection.