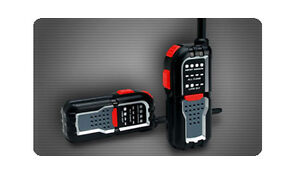 The first mobile two-way radio was developed in Australia in 1923 for the Victoria Police. The Victoria Police was the first agency or business of any kind to use wireless communication in vehicles. As the equipment evolved with technology and the transmission signal became more powerful, the more compact equipment was installed in vehicles and aircraft. This technology eventually evolved into the handheld versions, often called walkie talkies, which drastically improved military and law enforcement communication.
A walkie talkie can both transmit and receive content. The two-way radio is an efficient way to communicate quickly and efficiently to others on the same radio frequency. These radios operate in a half-duplex system, wherein the operator can either talk or listen, but can not do both at the same time on an open line, unlike a telephone which is a full-duplex method of communication. A variety of cell phones offer a walkie talkie feature in addition to operating as a phone.
Walkie talkies are available in retail outlets that sell electronics or cell phones. The higher end walkie talkies that are used for law enforcement or the military are typically not available for retail sale. Shopping online for walkie talkies offers more of a selection by which to compare various models. An online marketplace such as eBay includes a range of products from commercial grade to personal use.
Frequencies and Channels
Walkie talkies are manufactured to offer various options for number of channels. Some offer as few as two channels, while others include as many as 22 channels. More channels typically equates to a higher price. Multiple channels allow for multiple people to communicate either on the same channel or on different channels. Isolating specific channels is also a way for those with the device to keep from talking over each other.
The simplest walkie talkies only include a few channels on one frequency to make communication very easy. These walkie talkies can be used for very simple purposes, and do not allow for a great distance apart for communication. The more complex systems offer a range of frequencies with multiple channels on those frequencies. Users pick the best frequency with the clearest connection and then select channels on that frequency. For example, a delivery company may select a particular frequency with each channel designated for a particular fleet or delivery zone. The manager would be able to listen in to all channels, while the drivers could choose to only speak with other drivers in certain delivery zones on one particular channel.
Privacy Codes
Because anyone can choose to operate on the same frequency and channel and listen in on conversations, some walkie talkie models include privacy codes. Essentially a privacy code scrambles the signal, so that anyone not on the same privacy code will not be able to participate in the conversation. If keeping a conversation private is a concern, purchasing a model with the capabilities for privacy settings is an important factor.
UHF vs. VHF
If purchasing additional walkie talkies for an existing set, it is important to remember that UHF radios will not be able to communicate with VHF radios. When other radios are not a consideration, a UHF set may be the most practical choice, for most circumstances.
UHF
Ultra High Frequency walkie talkies operate on frequencies from 400 to 512 MHz. UHF radios are typically the most adaptable choice, because the waves are shorter; therefore, it is more effective at getting around or penetrating areas of interference. For walkie talkies that will be used exclusively indoors or both indoors and outdoors, UHF is the better option.
VHF
Very High Frequency walkie talkies operate between 136 and 174 MHz. This frequency is advantageous when covering a longer distance that has little interference from landscape or buildings. Aviation and marine communications use VHF signals because the signal is traveling across massive bodies of water or between ground and sky. VHF walkie talkies are better at penetrating trees and foliage and often have a longer antenna than a UHF version.
FRS and GMRS
Those radios that are not UHF or VHF will either be FRS, GMRS, or both. Family Radio Service units are made for recreational and family purposes. The FRS is a specific band of frequencies reserved by the Federal Communications Commission (FCC) for family and recreational use; therefore, there is a limitation on power wattage and frequency. These radios will not be durable enough or effective enough for constant business use.
As an alternative, GMRS (General Mobile Radio Service) operates on 23 frequencies, seven of which are shared with FRS frequencies. GMRS is also intended for family use and work well over a short distance to facilitate activities amongst families. The GRS is for communicating amongst this specific group near the area of residence or during recreational activities such as hiking. A license is required for a GMRS radio.
Compatibility
As previously mentioned, UHF radios are not compatible with VHF radios. It is important to check this frequency first, before making a purchase, to ensure the radios will be able to transmit and receive with each other. Consumer grade walkie talkies (typically built for FRS and GMRS) will be able to communicate with each other regardless of the manufacturer. Additionally, older model radios will not be able to produce the same tones as newer radios. Always check frequencies between all types of walkie talkies purchased to ensure that they will be able to communicate.
Range
Most walkie talkies are limited to a range of 1 to 2 miles. This is not to say that communication at that distance will always be achieved, particularly when there is interference. Any walkie talkie that extends beyond this distance exceeds the maximum wattage allowed by the FCC and will require a license for use. Manufacturers typically list the range and will indicate if a license is required for use.
Features
The following details some of the most common features that can enhance the walkie talkie experience. While these features are not required for operation, they can make a difference in efficiency and effectiveness of communication.
| Feature | Description |
| --- | --- |
| Channel Saver | Saves channels for easy communication |
| Talk Confirmation | Signals the beginning and end of a transmission |
| Incoming Call Alert | Will ring or vibrate instead of broadcasting communication |
| Channel Recall | Will recall the last channel used |
| Scanning | To quickly see which channels are being used |
| Speaker/Mic Jack | Hands free use |
| Weather Radio | Receive weather channels |
| Lock | Lock on a channel and lock a keypad |
| Display | Expanded LCD display to include more than just channel and frequency read, but battery life, timers, alarms, a compass and various other indicators |
The various features listed should be considered with the walkie talkie purpose in mind. For example, campers or hikers may find the weather feature critical to maintain safety, while hands free use may be critical to someone with a job requiring communication while hands are busy, such as a logger.
Usage Time
Some walkie talkie models are manufactured with rechargeable batteries, while others may require single-use batteries of various sizes. The specifications should indicate an estimate of usage out of one charge or one set of batteries, i.e., amount of talk time. In the description for battery life, a manufacturer typically estimates 5 percent transmission time, 5 percent reception time and 90 percent standby time.
How to Buy Walkie Talkies on eBay
When shopping for a walkie talkie, you may want to begin in an electronics store or a specialty radio communication store. Depending on your needs for a walkie talkie, the selection in a retail store may be limited. Venturing to an online marketplace such as eBay, which is essentially a wide variety of sellers with merchandise categorically organized, will help with side by side comparison of a variety of products.
To find walkie talkies on eBay, simply select the Car Audio, Video & GPS store from the list of all of the eBay categories. Once in this part of eBay, select All Categories and then Radio Communication. From here, select Walkie Talkies, Two - Way Radios to review all of the listings for walkie talkies. All of the listings can be further categorized by type, brand, frequency, or service.
Should your purchase be to add to a collection of walkie talkies, it is important that you check to make sure that your radio will be compatible with other radios. By choosing a seller that offers a return policy, you have the option to return the walkie talkie should you have trouble communicating with it on your existing radios.
Conclusion
When purchasing a walkie talkie, it is important to first consider its intended purpose. Consumer grade radios that are for family and recreational use are easier to find, but do not have the durability or range of a commercial grade radio. An evaluation of the needs it will serve and the specific features that you may require to effectively operate the radios will determine what type you will want to purchase.
Most walkie talkies for consumer are limited in range and frequencies. Any walkie talkie that would extend past a certain range or wattage will require a license from the FCC. If you are unsure of what type to purchase, you can start simple with an FRS radio and work up from there. A business, however, should not be operating on an FRS, as these frequencies are not for commercial purposes.
There are a range of walkie talkies available in electronics stores and specialty radio communication or car audio stores. The available selection online, however, makes it easier to compare specifications and requirements. An online marketplace such as eBay allows for specific searches of particular walkie talkies or a more broad comparison by brand or price range.