Have you ever wondered about the letters, numbers or pictures on the back of Mexican Sterling Silver Jewelry? These marks are referred to as hallmarks or trademarks. They can help you identify where the piece was made, the identity of the silversmith and the approximate age of the piece.
The hallmark identifies the quality or the purity of the silver- i.e. .925, .999, .980, sterling or sterling silver. The hallmark may also include the date and location of the assay, the maker's mark and any import tax or duty. The maker's mark is used to identify the silversmith- generally their name or initials.
In 1980 Mexico silversmiths initiated a letter and number system to register silversmiths. The first letter indicates the city and the second letter is the first letter of the silversmith's last name. The most common cities are Taxco and Mexico City.
Examples:
TF-83 might be a piece made in Taxco by Fernandez who would be the 83rd smith to be registered as TF in Taxco.
MP-36 would indicate the piece was made in Mexico City by perhaps a smith named Perez who was the 36th smith registered as MP in Mexico City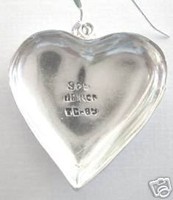 The piece above is stamped with 925 indicating it is sterling silver, Mexico and TC-85. So we know this is a sterling silver piece made in Taxco by a silversmith who last name begins with a 'C' and whose registration number is 85. We also know that this piece is no more than 25 years old or that it could be brand new. The owner of this piece indicated it was purchased in Mexico in the early 1980's.
From 1948-1980, Mexican silversmiths used an 'eagle mark' along with other markings, letters, names and logos. There are a variety of different styles of eagle marks- left facing, right facing, forward facing, some with a great deal of detail and others are simple line drawings. Each eagle has a number stamped on it which may indicate the location or the identity of the maker. We know that a #1 was for Mexico City and a #3 was for Taxco. There was great variation and exceptions to the eagle numbering system. Because there were so many exceptions, the eagle is not a reliable dating or identification system. We do know however that it was in use roughly from 1948-1980. Some sources beleive the eagle mark system was in place as early as 1946.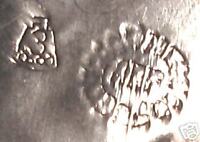 From 1900 to 1948 there were no eagle marks and the marks were more simple and generic- indicating the location and the silver purity- i.e. Taxco 980 to Sterling Mexico.
Some pieces may be marked "Alpaca" or "Alpaca Silver". Alpaca is an alloy of copper, nickel, zinc and sometimes iron. It does not contain any real silver, however, it may be plated with sterling silver. Due to its nickel content, alpaca silver may cause contact dermatitis in sensitive people.
Sterling silver is an alloy containing 92.5% pure silver and 7.5% other metals, usually copper. The copper makes the alloy harder and suitable for jewelry making. Sterling silver will retain its shape and resist wear and tear. On most sterling jewelry, the mark is usually '925' or 'sterling'
Fine silver is 99.9% pure silver and usually too soft for pieces that will have a lot of wear. It will not hold its shape and show signs of wear quickly.
Silver tarnishes when exposed to air. When not in use, a plastic bag provides the best storage for your sterling silver jewelry. The best cleaning method is a simple rub with a silver polishing cloth- this will maintain an attractive patina on your valued pieces.
Locating Mexican sterling silver and dating it can be an exciting challenge. Often you will find amazing pieces for next to nothing. eBay is a wonderful source of Mexican Silver Jewelry. Those pieces with hallmarks are often listed as 'signed' as the hallmarks are the silversmith's signature on his or her artwork.
Another place to find great bargains on Mexican Sterling Silver Jewelry is in Taxco, often referred to as the silver capital of the world. It is a great place to vacation and many Americans retire there. It is located about 1 1/2 hours drive to the west of Mexico City. The National Silver Fair occurs annually near the end of November. This would be a wonderful time for a visit.
We hope that you have found this guide helpful. Please cast your vote for our guide below.
Happy hunting!
Cheryl and the SparkleBiz Staff