For both longtime collectors and new fans of Louis Vuitton, eBay is a wonderful place to find vintage and discounted authentic Louis Vuitton pieces! Louis Vuitton opened shop in 1854... so that means 152 years worth of Louis Vuitton history are hidden in closets and attics around the world! Every day, many of these pieces make it out of storage and onto eBay... The problem is that everyday, 1,000's of counterfeit items do too. How do you discern between the vintage gems, and the worthless fakes? I'm here to help you try. In this guide, I'll be focusing on items manufactured for Louis Vuitton here in the United States from the mid 1970's through the mid 1990's- by a company called "The French Company". While I really hoped to be able to fit this all on one guide, for the sake of using more than 10 pictures, I'm splitting it up into PARTS !!!
A little Louis Vuitton History
Louis Vuitton opened his first trunk shop in Paris, France in 1854 when he was only 33 years old. He began with Trianon Grey Canvas pieces, and added Damier Canvas in 1888. Louis Vuitton actually passed away in 1892.
In 1896- fueled by an increasing number of counterfeits- Louis Vuitton's son George introduced the traditional LV Monogram Toile Canvas that has since become a timeless fashion icon. During these earlier years, most LV items were large trunks and traveling bags with hard and thick surfaces. LV specialized in flat, stackable trunks- perfect for traveling. Even though the Noe was created in 1932, as a carrying case for four or five bottles of Champagne... the supple canvas monogram canvas (soft and suitable for use in smaller personal handbag style bag) was not developed until 1956. The introduction of these items ignited the fire of popularity that Louis Vuitton has enjoyed ever since.
Louis Vuitton really was the first- and pioneer, name brand designer.
The French Company
Louis Vuitton's worldwide popularity grew even more rapidly in the 1970's in the United States. Until this time, their factories had always been in France... but Louis Vuitton simply couldn't keep up with its growing market in the US. For this reason, in the 1970's Louis Vuitton developed a relationship with a US Luggage Maker- The French Luggage Company. During a period from around 1976 through 1991, The French Company manufactured bags under a special license from Louis Vuitton. These items were made here in the United States, and were sold here in the United States. They were sold in more exclusive department stores like Saks Fifth Avenue and Neiman Marcus.
How do French Company pieces differ from Louis Vuitton factory items?
Good question! The French Company pieces actually look quite similar to their Louis Vuitton factory pieces, although there are some interesting differences...
1. Labeling...
Vintage French Company items
will not have the date code
that more recent model Louis Vuitton items have. The embossing will also be different. Much French Company handbags and luggage will have labeling that says that notifies the buyer that the item was made under a special license and that it was made in the USA. Most often, the tag is an almost paper-like tyvek tag sewn into a side seam of the bag. The problem is that this was/is a relatively easy tag to remove or damage, and often vintage French Company Louis Vuitton items that originally had the tag- no longer do. So that authentic vintage bag would appear to have no tag or embossing at all (when it originally had the tyvek tag). This tyvek paper tag will look like this: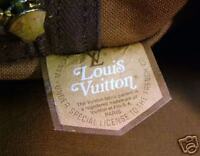 Luggage and larger pieces may also have a label that looks like this: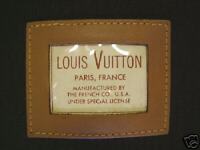 Small leather goods (wallets, cosmetic cases etc) often have embossing with similar wording to the tags above, like this: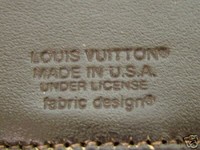 Some of these items actually may have none of the markings above, but just have a simple embossing from the highend department stores where it was sold, like the one below.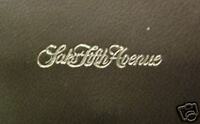 2. Hardware...
French Company Louis Vuitton hardware is quite different from the hardware used today. It is mostly plated nickel (versus goldtone and brass)... and was not embossed with the Louis Vuitton name or Logo. This really worries some people who regard the embossing of hardware as an important feature in an authentic bag. Authentic French Company Louis Vuitton rivets didn't have this embossing. A FC rivet will be plain and smooth and will look like this:

The zipper pulls also did not have the LV logo on them. Instead, the French Company used zipper pulls by Talon or Eclair and luggage pieces may have C & C.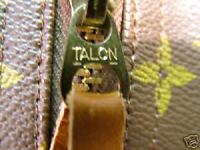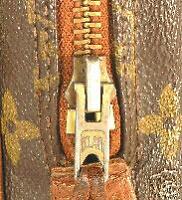 The zipperpull on a French Company Speedys and Keepalls actually used a Tucky, tuck lock system often in conjunction with a Talon zipperpull. It looks like this:
3. Leather...
The French Company also did not use the natural untreated vachetta leather that we all associate with authentic Louis Vuitton today. They used varying shades of
coated
leather. This coating was intended to protect the naked vachetta and make it more hardy. Some people really like this treatment (both the way it looks and wears)- and others prefer natural, untreated leather. The patch below is on an absolutely mint condition garment bag. The leather is a caramel color, but not because of a patina of the leather. The caramel color is actually the treatment that the French Company used. The French Company used this color as well as, a more orange-y shade, a really dark brown, and a light brown.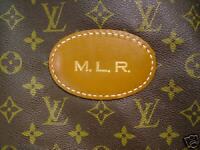 4. Patches...
There is a common mis-conception that authentic Louis Vuitton bags don't have patches... and this is partially true. However, Louis Vuitton has used patches in a limited number of circumstances. Some authentic Louis Vuitton French Company pieces did incorporate patches into their designs. The French Company incorporated smooth, oval plain (not embossed with LV or Louis Vuitton etc.) patches for the purpose of personalizing or customizing your piece. The patch above is an example of this... This FC garment bag was purchased brand new sometime in the early 80's- with a plain oval patch on it. The original owner had his or her initials heat stamped into the leather for a really fabulous custom look.

Please refer to PART 2 of my Guide to buying authentic Vintage Louis Vuitton French Company pieces. I'll go over linings and give some examples of differences in popular Louis Vuitton styles.
Please check my store for new (well, new to you!) Authentic Louis Vuitton items listed weekly!