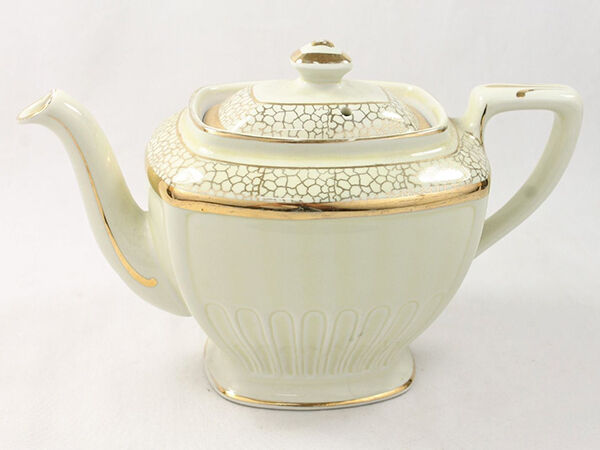 Collecting vintage pottery can provide a window into history and add charm to any home decor. Retro aficionados who love classic serving pieces may enjoy adding a vintage Hall teapot to their collections. These beautiful teapots come in an array of vivid hues, which makes them eye-catching display pieces. Although collectors may score lucky finds at antique or thrift dealers, they often need to search online for those hard-to-find must-have Hall teapots. Experienced collectors know that eBay is a reliable resource with a selection of vintage teapots at competitive prices. Before building a collection, individuals should get to know Hall teapots, learn how to date them, and get expert tips from experienced vintage pottery collectors.
Key Facts about Hall Teapots
Hall teapots first made the mark in the pottery world in the early 20th century. The innovative heir to The Hall China Company, Robert Taggart Hall, sought to devise a way to bring back the single-fire method, which was prominent during the Ming Dynasty. At the time, pottery producers used a two-step firing process, with the first to harden the piece and second to set the glaze.
Working with the company's ceramic engineers and chemists, Hall and his team created a new glaze recipe for the single-fire process. The new process allowed for many vivid new colors, which were previously unseen, in United States pottery manufacture.
Teapots were a long-standing staple of the hall business. In addition, Hall teamed with the Jewel Tea Company in the 1920s to manufacture an exclusive dinnerware line, including teapots, which are highly collectible. Ultimately, teapot sales diminished in the 1940s and depleted to almost non-existent in the 1960s due to widespread adoption of coffee drinking. The Hall China Company is still actively producing china and has reissued some of its popular early teapot designs.
Dating Hall Tea Pots
Knowing how to date Hall teapots can help collectors determine a value for each item. Although features, such as patterns and shapes, have varied over the years, a trained eye can easily gauge the manufacturing era of any Hall teapot.
Feature

Details

Backstamp

Examine backstamp marking on bottom of teapot

Look for the word "Hall" depicted in one of several formats

Compare backstamp to an authorized Hall collector's guide

Backstamps with a simple circle and the words "Hall China," and occasionally "Made in the U.S.A." between them, indicate a piece made in the 1920s

A backstamp with a circle and the single word "Hall" indicates a piece made between the 1930s and 1970s

Shape

Some novelty Hall teapots, such as the automobile or birdcage shapes, had short production runs

Other novelty teapots, such as the Manhattan, had longer production terms

Patterns

Certain patterns, such as Blue Garden, featured limited production runs

Other patterns enjoyed greater longevity
Without question, a good quality Hall collectors guide is an essential item for any Hall teapot aficionado. With a guide book, Hall collectors can learn about the company's production history and accurately determine the production date range for specific teapots they own.
Tips for Collecting Vintage Hall Teapots
Hall teapots first hit the marketplace in 1919 and have been a mainstay of the Hall china line. Serious vintage teapot collectors should create an at-home library of reference materials to learn all they can about Hall's lengthy production history.
Collectors should avoid pieces with fine lines or chips, since these imperfections diminish their quality and value. A piece in good condition also produces a ringing sound when struck lightly with the thumb and middle finger. If a dull sound occurs, this means the piece has a repaired crack or some form of damage.
Careful backstamp review is one key to identifying an authentic vintage Hall teapot. Some reproduction teapots issued in the 1980s use the original Hall teapot molds, so they mimic the look of vintage pieces. The newer teapots have a rectangular style backstamp with the word Hall in the center. They also featured new glazes with different colors than original Hall teapots.
How to Buy Vintage Hall Teapots on eBay
In the early 20th century, Hall teapots gained attention from china lovers due to their standout colors. In 2014, collectors still enjoy owning these special vintage teapots, which hold an important place in pottery history. Whether you are looking for a single special piece or want to build a collection of vintage Hall teapots, you can find these desirable collectibles on eBay. You can start with a search on any eBay webpage. A broad term such as "vintage Hall teapot" gives you the most results. You can easily narrow your choices by adding more keywords, like a color or style of Hall teapot you desire. Take time to review a seller's history, including star ranking and prior purchaser comments. By following these eBay shopping tips, you can find great deals on authentic vintage Hall teapots.