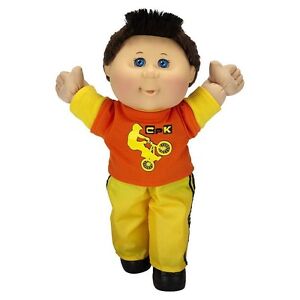 Cabbage Patch Kids were one of the biggest toy fads of the 1980s with more than 65 million dolls sold by the year 1990. It was also one of the longest-running doll franchises in America. Interest sparked and reached an all-time high when doll creator, Xavier Roberts,, opened a doll factory known as BabyLand General Hospital where he marketed and sold dolls in a recreated hospital-like setting. Employees dressed in maternity ward attire to fully play the role. It was here that these Cabbage Patch Dolls were "born" and adopted by families. Since the 1980s, the target audience for Cabbage Patch Dolls has shifted from young boys and girls to a wider spectrum of not only children but also collectors interested in buying these vintage items because the dolls hold a special sentiment to past memories and have an investment value. The passion of collecting these dolls has led to a continued frenzy as buyers shop marketplaces such as eBay searching for the perfect addition to their family.
A Brief History of the Cabbage Patch Kids
In 1978, Xavier Roberts created a doll line called "Little People," which stemmed from a German fabric-sculpture technique known as "needle molding." He started selling these dolls at craft fairs across the southern United States and later created a doll factory known as BabyLand General Hospital where he continued to make and sell hand-sewn original works. The popularity of these dolls took off after Roberts was featured on the documentary TV show "Real People," and in 1892, Roberts entered into a licensing deal with a major toy manufacturer, Coleco.. It was at this point that Coleco changed the name of Roberts' doll line to Cabbage Patch Kids. By the end of 1983, more than 3 million dolls had been adopted. In 1985, a Cabbage Patch Kid by the name of "Christopher Xavier" became the first doll to travel aboard a NASA U.S. space shuttle, and in 1992, the doll became the mascot of the U.S. Olympic team, further confirming the dolls' popularity. The dolls were featured on a wide range of memorabilia ranging from clothing, figurines, and DVDs. In 1990, the Cabbage Patch Kids made their way onto a United States postage stamp commemorating the 1980s. After Coleco went bankrupt, the dolls' rights were transferred to Hasbro,, Mattel,, Toys R Us,, and most recent licensee, Play Along..
Major Success
The unique marketing concept of the Cabbage Patch Dolls line helped make its claim to fame. Developing a marketing ploy which allowed buyers to "adopt" their doll from a doll hospital, complete with an adoption certificate, made these dolls a hot commodity. Each doll came with a unique name and buyers were able to customize their dolls hair, eyes, and skin color. The Cabbage Patch Kids were featured in popular reading material such as on the cover of Newsweek and in the Wall Street Journal.. The dolls flew off the shelves at major retailers faster than they could be stocked, making it the most successful doll introduction in toy history. Sales grew from $60 million in the first year to more than $600 million by the year 1985.
Problems with Fame
When Coleco went bankrupt in 1988, Hasbro took over the production rights of the Cabbage Patch Kids. Hasbro marketed the dolls with various gimmicks including dolls that played kazoos and a small version of the doll marketed towards a younger age group. In 1995, Mattel took over the brand name and production of Cabbage Patch Kids. The company altered the cloth bodies to dolls made from vinyl, hoping to make the dolls more durable for play. The newly marketable dolls also performed functions such as the brushing of teeth, eating, and swimming. Cabbage Patch Kids sales continued to decline as Toys R Us and later Play Along tried to do their best to come up with different advertising techniques to boost doll sales. Because of the great quantity of these dolls produced, most do not sell for very high prices. Ultimately, the dolls were unable to sustain the long-term popularity seen in earlier years. After the original line was released and then discontinued, the high-priced dolls quickly lost their trend and value not long after people had waited hours in line to get their hands on one.
Cabbage Patch Kid Features
The Cabbage Patch Kids in the classic vintage Coleco form were 16 inches in size, had soft bodies, vinyl heads, decaled features, yarn hair, and came in a wide range of ethnicities and races. These slightly differed from the pre-Cabbage Patch Xavier Roberts dolls, which were all cloth with cloth-sculpted faces. Each Cabbage Patch Kid came with a "birth certificate" which contained a unique name and birth date.
Vintage Cabbage Patch Kids Collectors' Market
The Cabbage Patch Kids collectors' market contains a wide range of vintage Cabbage Patch Kids that fit different budgets. The cost of these products directly depends on the condition, manufacturer, and demand for the doll. Buyers should be on the lookout for dolls exhibiting wear and tear, damage to the eyes, missing stitching, and alterations to the hair. Some issues such as stitching can be repaired while others such as stains on the doll's surface are difficult or impossible to remove. The condition of the box also adds to a dolls worth. Dolls that have never been removed from the box have added value as a collectible. When buying a vintage Cabbage Patch Kid, find out if the doll comes complete with the original outfit, ribbons, socks, and shoes.
Certain dolls are considered more valuable than others because of their exclusivity. These dolls consist of what are known as "Baldies" and "Red Fuzzies" because of their rare, red yarn-like fuzzy hair. Pre-Cabbage Patch Xavier Roberts dolls also tend to sell for a higher value because these dolls were only made during certain years.
The value of a Cabbage Patch Kid can depend on the doll's characteristics including head mold and hairstyle. Age and authenticity can be determined by the color of the Xavier Roberts signature, which is found printed on the left butt cheek of every doll. The signature on the earliest dolls is printed in black and often adds to the value of the doll. Each year has a different color associated with it. Manufacturer's markings, clothing logos, tags, and the material each doll part is made from will help to identify the type, brand, and age of the doll.
Buying Vintage Cabbage Patch Kids
When purchasing a Cabbage Patch Kid, there are many different sales avenues available. Buyers can acquire a doll through a private collector, local antique shops, online retailers, or an online auction-based marketplace. Sites such as eBay offer buyers reasonable pricing and a broad range of listings.
Buying Vintage Cabbage Patch Kids on eBay
If you are interested in buying a vintage Cabbage Patch Kid, eBay offers the best value and selection. Buy bidding on items and following the current bid, buyers can often purchase vintage Cabbage Patch Kids for less than retail cost. Once registered on the eBay website, buyers can search the Collectibles & Art portal and narrow their search to the Dolls & Bears category. Then, browse the Cabbage Patch Kids by Brand, Company, Character.. The site offers a wide spectrum of doll conditions that range from those still in original boxes to ones that look like they have been used as a dog toy. Buyers should ask sellers for pictures and inquire if they still have the birth certificate for the doll.
Researching eBay Items
When buyers find a prospective purchase, it is important to review the product listing and perform background research on the item's seller. Product listings should be extensive and communicate the condition and authenticity of the Cabbage Patch Kid along with other information buyers find important. By using the feedback rating system,, buyers are able to get a better sense of how trustworthy and reputable the seller is by reading ratings and comments from past buyers. In addition, eBay's Buyer Protection Programmmakes eBay a safe and secure option when buying vintage Cabbage Patch Kids. Because this protection program protects customers from misrepresentation, eBay allows buyers to feel comfortable and confident throughout the purchasing process.
Conclusion
Cabbage Patch Dolls continue to be a lasting and influential presence in the doll world. The pudgy-faced vinyl and cloth dolls maintain their likability as many people still flock to visit the BabyLand General Hospital in Cleveland, Georgia, to adopt their own original cloth Cabbage Patch Kid. Buyers hoping to purchase a vintage doll should become familiarized with the doll's manufacturer and condition before making a decision. Once equipped with the necessary background knowledge, buyers can begin their search for the perfect vintage Cabbage Patch Kid by utilizing online resources such as eBay to aid in their purchase.