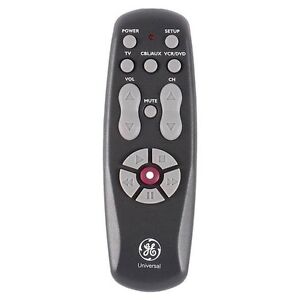 For VCR owners, the remote control is one of the most important accessories to accompany the unit. A high-quality, reliable remote control greatly enhances the movie-watching experience, eliminating the need for users to have to get up to rewind, stop, or pause the video. Additionally, a remote control is sometimes essential for the access and customization of certain features and functions within the VCR. When looking to replace an existing remote control or upgrade, there is a variety of options to choose from. Universal? New, refurbished, or manufacturer original? This guide will provide buyers with information about specific features and different types of remote controls that are available, as well as covering how-to topics, such as programming. Whether choosing a remote for a standalone VCR or a newer DVD/VCR combo, users can use this guide to assist them in their search for the ideal remote control.

Universal Remote Controls
Eliminate the clutter caused from having several individual remote controls with a universal remote control.A universal remote allows users to control multiple devices, including a VCR. Universal remote controls are possible because nearly every remote control operates using the same type of infrared signal. Different manufacturers use different infrared signal sets, commonly called remote control codes. Universal remote controls have all known codes built in and are easily programmed for a specific VCR or other device.
A universal remote can be a replacement for a lost remote or can offer enhanced features, such as extra large buttons for ease of use. One highly advanced style, called a universal learning remote features programming options through a computer interface, and may include built-in digital displays. The full-featured universal remotes can control an entire home theater system.
Programming a Universal Remote Control
Programming a universal remote control is a quick process; however, it is important to closely follow the instructions provided with the new universal remote. The first step is to put the remote in programming mode. How to do this is in the instructions, and varies by brand, but usually involves holding one or more specific buttons for a few seconds. The second step is to enter the code, usually four digits, for the device to be controlled. The instructions for the universal remote will include a lookup table matching the device make and model to the corresponding code. The third step, after entering the code, is to exit the programming mode. This varies by universal remote, but is specified in the instructions. Now that the universal remote is programmed, it will work with the corresponding device. Keep the instructions so the remote can be reprogrammed at a later time, if needed. Advanced computer-programmable universal remotes are set using special computer software and may be upgraded to support newer devices.

Choosing a Remote Control for a Standalone VCR Player
Finding a remote control that is compatible a standalone VCR is easily accomplished with a universal remote or refurbished manufacturers remote. If possible, identify the model number of the VCR when searching for a remote. Because there are so many different models of VCRs, compatibility with universal remotes may only be listed by manufacturer. Carefully follow the programming instructions included with a universal remote to achieve proper functionality.
Refurbished or Repaired Remote Controls
When seeking to replace a remote control for an older unit, a refurbished remote control is one option. In this case, the remote control is identical to the original, all buttons and functions are the same, and no programming is required. This option may be especially desirable if the remote control to be replaced had unusual or unique functions that were not common across multiple manufacturers.
The Importance of Model Numbers
When a remote for an older unit is needed, it is especially helpful to know the manufacturer and model number of the unit. The name of the manufacturer is usually prominently displayed on the front of the unit. The model number may be located on an information tag on the bottom or rear of the unit. Sometimes the model number is also displayed on the front. Most manufacturers use the same remote control codes for a product family, but may change or upgrade the codes for later products, usually to add support for additional features.

Remote Controls for Combination Units
Finding a suitable VCR remote control to operate a combo unit involves finding a remote that supports the functions of each component of the unit. The key to using a universal remote with a combo device is to use a universal remote that supports multiple devices. This kind of universal remote has additional buttons on the top and can be programmed for any combination of supported devices.
DVD/VCR Combination
Combination DVD/VCR units require more careful consideration when searching for a replacement remote. Because the device is essentially two devices in one, a simple universal remote would not be able to distinguish between play for the DVD and play for the VCR, for example. The most straightforward approach is to search for an original replacement remote. This guarantees proper functionality with no programming required. Alternatively, a universal remote that specifically lists support for the make and model number of the combo device is a good alternative, though button placement will vary. The third approach is to program a multi-device universal remote with codes for the DVD and VCR separately. This approach would require switching modes to access specific functions. Consult the universal remote device compatibility matrix whenever possible.
TV/VCR Combination
With TV / VCR combo units, it is often difficult to find a replacement remote control that will properly operate the unit. In such cases, searching for a refurbished or original replacement for the manufacturers remote is the best option. An alternative is to use a multiple device universal remote and to program the appropriate device code for the TV and VCR separately. This approach would require switching the universal remote between TV and VCR devices to access functions. Refurbished original replacements guarantee functionality without programming. Use the specific model number of the combo device when searching for the replacement.

The Importance of a Remote Control
A remote control can provide more than just convenience. With many VCR units, a remote is required to access special functions and programming settings. Early VCRs had all functions accessible on the front panel and only a subset of controls available on the remote. That paradigm shifted rapidly to one where the remote is the primary control and the front of the unit can only access basic functions. On screen menus, numerical entry for programming recordings, and even setting the clock must be done by the remote. Most VCRs require a remote control for full functionality. The chart below briefly highlights the benefits and limitations among the remote controls discussed in this guide.

| Type of Remote | Programming | Features |
| --- | --- | --- |
| Original replacement remote | No programming necessary. | Restore full capability of original remote, including special functions. |
| Basic universal remote | Program remote codes specified in instruction manual according to brand and model. | Compatible with almost any device; easy-to-use, low-cost. May limit access to advanced user functions of VCR. |
| Oversized universal remote | Program remote codes specified in instruction manual according to brand and model. | Extra large size buttons are ideal for increased visibility. |
| Advanced universal remote | Program remote codes through Internet-enabled software. | Customizable "macros" automate multiple settings with one button press. |

How to Buy a VCR Remote Control on eBay
Finding a VCR remote, even for an older unit, is best accomplished by first identifying the specific model number of the device. You can usually find the model number on the back of the VCR. If you are unable to determine the model, include the brand of the VCR. Once you have determined which VCR remote control to purchase, start by browsing relevant categories such as Electronics. Continue browsing while narrowing your search according to the desired category. To search across multiple categories, enter specific search terms into the eBay search box. To receive more specific results, search for the brand and model number of the VCR. Before committing to a purchase, browse a variety of listings and check out eBay Stores. Remember to read the item description carefully and double-check information such as the model number and compatibility information, if listed. Make sure that the instructions are included with the remote control, to ensure proper setup, especially with a universal-style remote.

Conclusion
Whether looking for a replacement for a lost or broken remote, or just upgrading for improved features, eBay is an ideal choice for purchasing a new or refurbished VCR remote control. From inexpensive, basic multi-brand universal remotes, to high end models that feature PC and Internet compatibility, eBay offers a variety of listings to suit any need and budget. The importance of a properly functioning, reliable remote control is essential to getting the best performance results from a VCR. Whether it is a brand new, high-end universal remote with PC compatibility, or a twenty-year-old factory original, start searching with eBay to find the ideal remote control solution for a VCR.