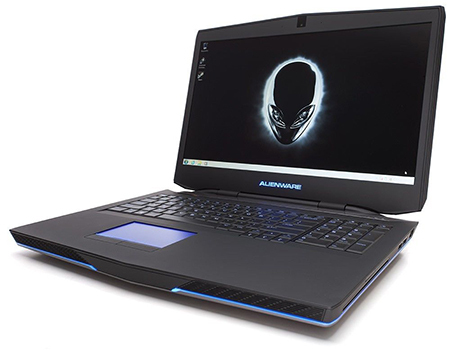 Alienware laptops offer premium gaming performance. They come equipped with advanced graphics cards and powerful processors. Alienware laptops also boast sleek upscale finishes and feature some of the latest advances in gaming ergonomics. Because of these factors, Alienware laptops are more expensive than the average work or personal laptops. The latest Alienware models sometimes cost twice as much as everyday laptops. An effective way of resolving this problem is to opt for a used system. Fortunately, eBay and some secondhand retailers offer a selection of used Alienware laptops.

Alienware Displays
The display is a key part of any high-tech gaming experience. Video games generally look better and offer a more immersive experience when viewed on high-resolution screens. Alienware laptops boast some of the best screens in the tech industry. For some gamers, the size of the screen and its specific features are very important factors.
Choosing the Right Screen Size
Alienware laptops come in three distinct size ranges. Each of these builds comes with slightly different features that offer different levels of gaming performance.

Small Laptops

Mid-size Laptops

Large Laptops

Size (inches)

11 to 14

15 to 17

18

Weight

Less than 4 pounds

4 to 5 pounds

More than 6 pounds

Gaming Performance

Strong

Powerful

Top of the line

Ideal Purpose

On-the-go gaming

Suitable for business professionals and students

Somewhat bulky for on-the-go gaming

Desktop replacement unit

Too bulky for on-the-go gaming

Desktop replacement unit

Popular Models

Alienware M14x

Alienware M11x

Alienware 17

Alienware M15x

Hardcore gamers who do not frequently take their gaming on the road often enjoy the dual graphics capabilities of the Alienware 18. However, only the Alienware 17 offers 3D graphics capabilities.
Graphics Cards
Alienware laptops rely heavily on the graphics processor for the strongest, most efficient gaming performance. Because more efficient graphic processing units come out every year, newer Alienware laptop models are usually more powerful than older generation laptops. Nonetheless, the difference in gaming performance between an Alienware laptop released this year and one released two years ago is often minor. Shoppers can cut costs by purchasing older used models. However, extreme age does sometimes affect capabilities, and used Alienware laptops that are five or six years old may struggle to handle recent high-tiered gaming titles because of advanced graphics requirements.

Alienware Battery Life
Laptop batteries do not last forever. Even the most advanced batteries eventually lose their capacity and do not charge well. One of the core attractions of an Alienware laptop is the portability it offers, but this feature means nothing without a fully functional battery. When searching for used Alienware laptops, it is advisable to confirm the condition of the laptop battery. In most cases, buyers can simply swap out old batteries with replacement batteries, but some Alienware laptop models come with built-in batteries. Shoppers who buy these options need to consider alternative ways to extend battery life, such as using external energy banks.

Gauging Laptop Damage
It is common for used Alienware laptops to come with some degree of wear and tear. Issues like light scratches on the outer shell and keys worn from regular use are not relevant to most buyers. Aesthetic damage of this nature is superficial and does not affect the performance of the laptop. However, used laptops sometimes have more severe damage that could affect the overall computing performance. Common examples include damaged motherboards, faulty ports, and overheating graphics cards. Repairing these types of issues can cost shoppers hundreds of dollars, which makes these purchases unappealing unless the price is unbelievably cheap. Buyers should familiarize themselves with the ways to distinguish superficial damage from severe damage.
Screen Repairs
Some used laptops feature sharp discounts because they have faulty or damaged screens. Before making a purchase, a buyer should make sure the screen works properly and does not have any cracks or unsightly scratches. Common screen issues that could occur include screen burn-in or screen flickering. Shoppers who opt to buy laptops with damaged screens to save money should make sure the faulty screens are repairable. If it is not possible to quickly and affordably repair a screen, other options are probably better choices.

How to Buy Used Alienware Laptops on eBay
eBay offers a wide range of used Alienware laptops, including recently used models and refurbished options. Older generation Alienware laptops are typically more affordable, depending on the specs included with the unit. To find a specific model, use the search bar provided on each page. You can refine the results of your search by including the exact model name in your search phrase. For instance, use a non-generic phrase like Alienware M18X laptop to find a particular model. In addition to buying used Alienware laptops, shoppers can find gaming accessories such as ergonomic mice, laptop coolers, and wireless headphones.