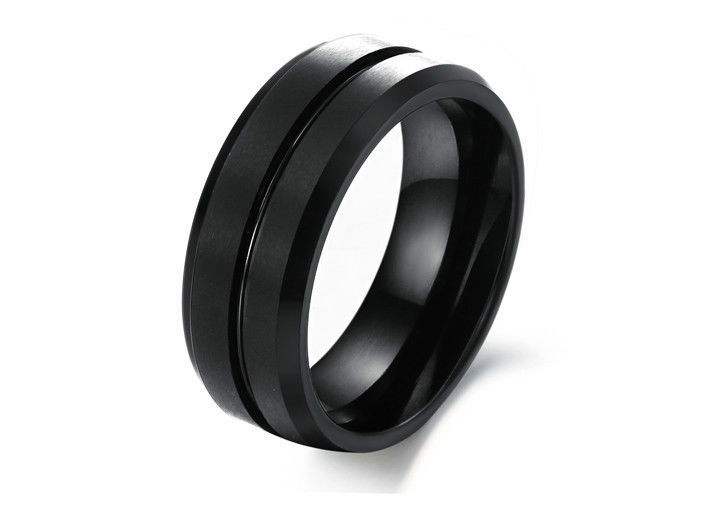 Tungsten is one of the most recent crazes in men's fashion accessories, especially rings. Many men are getting tungsten wedding bands because they are heavy, harder than steel, and keep a high shine. In fact, because tungsten is so strong and has a very high melting temperature (6,000 degrees Fahrenheit), it is typically used as filament wire inside light bulbs. Couples often choose tungsten wedding rings because their durability symbolizes permanence and "forever."

Benefits of Tungsten Rings
While tungsten's main benefit is the hardness of the metal, ensuring the ring will last for many, many years, its vivid shine is widely appreciated. The shine on a tungsten ring is almost mirror-like and is difficult to reproduce. It will also resist scratching because of its toughness. Tungsten is approximately four times as hard as titanium and ten times as hard as 18 carat gold.

How Are Tungsten Rings Made?
If you are thinking of purchasing a tungsten ring, you may wonder how they are made. Tungsten is extracted out of Wolframite ore. Wolframite ore, carbon, and other elements are ground to a fine powder. The powder is placed into a ring blank and compressed tightly in the mold.
The blank with the powder is fired in a furnace that is oxygen free and has a temperature of about 2,500 degrees Fahrenheit. Once fired, it will look like a solid black blank. The blank is then sent for grinding in multiple stages to transform it into a ring. This is then polished until there is a high brilliance and luster.

Types of Tungsten Rings
Even though the process is long and sometimes difficult, there are actually quite a few times of tungsten rings available on the market. This is because of the popularity and uniqueness.

Tungsten Ring Type

Specifics

Classic Dome

Considered to be a traditional wedding ring
Ring sizes range from 2 mm wide to 16 mm wide
Comes in different finishes, including Florence, satin, colorful, shiny, double-coat

Classic Bands Court

Simple style
Flat on the finger

Colored

Typically black or gold, but can also include platinum, silver, or bronze
Color is down the middle of the ring

Carvings

Different varieties
Carved down the middle, where color would go
Generally used in conjunction with color

Faceted

Center looks three dimensional

Brushed/Grooved

More depth and artistic value
Can be many varieties, but typical the typical groove is one line down the center of the ring.

Any of these types can be for men and women, though women generally prefer faceted or carved features.

Are There Any Things to Consider?
There are a few things to keep in mind for the tungsten ring style. First and foremost, the ring cannot be resized. Because of the process of making the ring, there is no way to resize. Therefore, it is important to know your exact ring size before purchasing. You may also want to consider the size of your knuckle and weather changes.
Many people have larger knuckles, and it may be difficult to put the ring on. If your knuckles are larger than the base of your finger, consider getting a higher size ring. Weather changes can also make a difference. If your fingers swell in summer months because of the heat, you may want to take this into consideration when purchasing. Many people choose the size of their finger during the summer months, ensuring it will fit all year round.
Tungsten rings made with nickel or cobalt may not be the right choice for you. Many people have some sort of allergy to nickel, whether it is slight or severe. Slight allergies may not be a problem, but if you have a severe allergy, ensure your tungsten ring does not include nickel. Tungsten rings made with cobalt may not hold up if they are run over by vehicles or hit with a hammer (though this is not generally a problem for most people as they are wearing their rings, not hitting them with heavy objects).
The style of the ring is not for everyone. These rings are large and shiny. People will always be commenting on the ring itself and the wearer. If you dislike being the center of attention, this might not be the choice for you.
One last consideration is that the tungsten ring is expensive when compared to other rings. Simple bands with no engravings or stones will still be more expensive than a ring with many stones. This can be turned into a positive by remembering that these rings will last a very long time with no significant wear to them. Gold and silver rings will become scratched and dull over time.

Caring for Your Tungsten Ring
Once you have purchased your tungsten ring, you will want to ensure you care for it properly, so it stays brilliant and beautiful.
If you have a ring that you can remove, you should remove it every night before bed. This will prevent scratching; even though the ring is scratch-resistant, it is still a good idea to do your part to prevent scratching. If the ring cannot be removed, it is okay to leave it on at bedtime.
Wash the ring with soap and water. This will be done while wearing the ring throughout the day, but at least once per day, you should make sure to get between the band and your finger, as well. This will help prevent corrosion from chemical and oils on your hands. These oils and chemicals can alter the composition of the ring over time.
Do not use hot water or strong soap, including anti-bacterial soap. In most cases, you can use the same soap as you would for your face, as these are gentler. Though tungsten rings are tough, it is still wise to place them down gently on surfaces, especially if the tungsten ring is older.

How to Find Tungsten Rings on eBay
Searching for tungsten rings on eBay will provide you with thousands of listings - too many to look through without narrowing down your options. You can use the filters to the left to help narrow down searches.
Common filters include brand, metal, style, ring size, stone, material, and color. For example, if you want tungsten ring that also has titanium and is in band form, you can use filters to find these. The most important aspect is the size, so ensure that you know your ring size and that the ring you choose on eBay will fit.
When you click on a result, you will want to view the description (scroll down) and ensure that the main metal is tungsten and that the main material is tungsten Carbide. This ensures an authentic tungsten ring.
If you are allergic to cobalt or nickel, you might also consider checking to see if those are included in the making of the specific tungsten ring. Some results will have another description area below the first that will include "Cobalt free" or "nickel free." If it does not, you might consider sending a message to the seller and asking them specifically.

Conclusion
Whether male or female, if you have a high sense of fashion, you will want to consider a tungsten ring, whether it is a wedding band or just an any-finger ring. These are stunningly shiny and brilliant and will last an incredibly long time, due to the tungsten metal.
The styles and varieties seem endless, so you are sure to find one that fits your specific style and that will be almost unique.
The tungsten ring is not a style for everyone. It is bold and big and will definitely make a statement no matter where you go. However, if you consider yourself bold and enjoy being the center of attention, this ring could be the right choice for you.