Portable heaters are essentially small, electric space heaters designed for use in cars and other vehicles. For quick window defrosting and added warmth in the car on cold winter days, a
12-volt portable car heater
is the ideal option. With a wide range of options, many top car heaters have useful features, like instant heat, multi-directional positioning, heating and cooling options, and long power cords. These features make these portable heaters more convenient than the typical space heater, which usually sits plugged in on a floor and is sometimes moved from room to room. With a portable in-car heater, a driver can simply plug it in, direct the heat at a specific target, such as a windshield, and watch the frost melt away.
Top brands include ThermTec, Rally, Peak, Roadpro, Schumacher, Wagan, and Koolatron. They offer great features, making them a good choice for those who need extra heat in their vehicle. When looking for a specific model, keep some key tech specs in mind, such as the wattage. Most portable heaters are 300 watts. The more wattage you have, the more powerful the heater is, and the faster it is able to warm a space. To give an example, a 1,000-watt heater is much more effective than a 100-watt heater. Some manufacturers do make heating pads that go directly over seats, and this would be a better option if defrosting the windshield is not a concern and buyers only desire warm seats on a cold morning. On the other hand, a direct hook-up heater attaches directly to a car's battery and can provide more power than a 12-volt portable car heater. However, the 12-volt, portable car heaters plug directly into the cigarette lighter for easy use without a complicated installation process. Available from specialty automotive stores and select electronics stores, buyers also have the option to shop for portable car heaters on eBay from the comfort of their own home.
The ThermTec 6000C 12-volt portable car heater offers spot heating for keeping warm in the car and for quick window defrosting. With an easy connection into any vehicle's cigarette outlet, the ThermTec 6000C gives a constant heat flow with a power consumption of 180 watts to produce 600 BTUs of heat. It features a 6-foot power cord, and its dimensions are 3.5 by 10.5 by 11.5 inches.

---
For fast, portable heat, the Rally 7426 portable car heater allows for quick defrosting of car windows, both inside and outside. Its rotating base and useful folding handle enables users to direct the warm air in any desired direction. The heater connects into the vehicle's 12-volt outlet and comes with options to mount the device using mounting screws or tape. One benefit of the Rally 7426 is its brushless motor offering silent operation.
---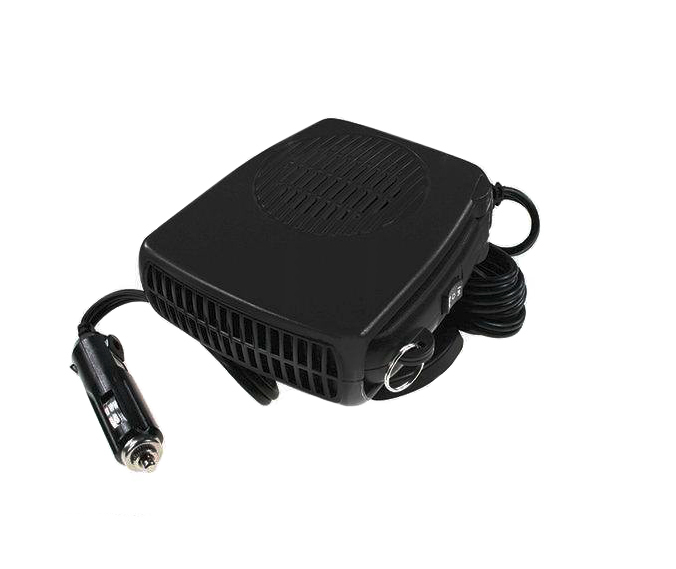 When requiring fast and efficient heating and window defrosting, the 12-volt Peak PKC0J5 portable car heater is a popular choice with consumers. With a 6-foot long cord that plugs into the car's cigarette outlet, the PKC0J5 has a moveable base and handle for multi-directional positioning of the heat. Useful features include instant heat, adjustable airflow, and automatic temperature control. Its small dimensions of 10.2 by 7.5 by 3.5 inches allow for easy use and storage.
---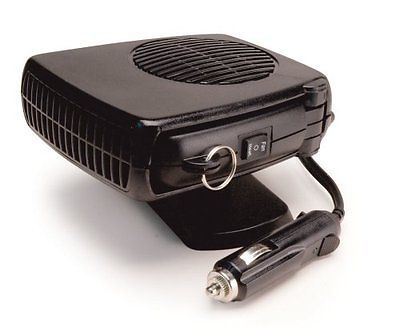 Designed to work as a fan or heater, the Roadpro RPAT-858 has a 7-foot fused cord and a retractable handle for mobile use. The appliance comes with mounting screws and adhesive tape. Its multi-positional swivel base lets users point the heat in any direction as needed. Powered by a vehicle's 12-volt accessory outlet, the Roadpro RPAT-858 has a brushless motor for nearly noiseless operation.

---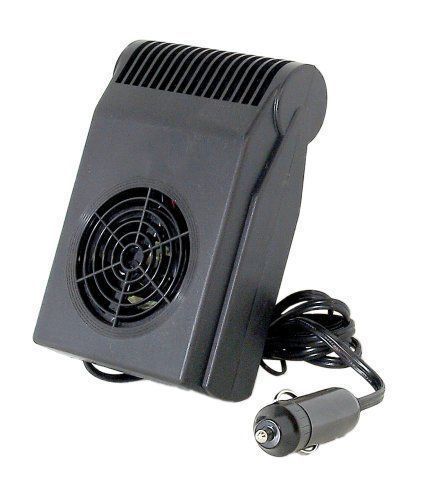 A small heater weighing less than 2 lbs. and with dimensions of 11 by 8.5 by 2 inches, the Wagan EL9933 is a visor-mounted portable car heater that runs off the vehicle's 12-volt accessory outlet. A powerful fan heater, the Wagan EL9933 defrosts and defogs windshields quickly and efficiently, and warms the vehicle's
interior as well.

---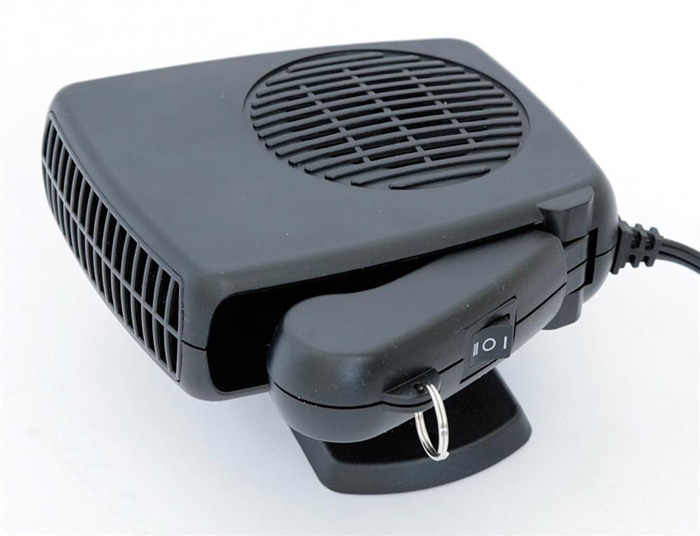 An instant windshield defroster, the Koolatron 401-060 portable car heater features a durable black plastic casing. Plugged into the 12-volt accessory outlet with its 6-foot power cord, the Koolatron car heater is adjustable both horizontally and vertically for ease of use. It has a lightweight design, weighing only 1.5 lbs and measuring 9 by 9 by 4 inches. It also features an auto-safety limit switch.

---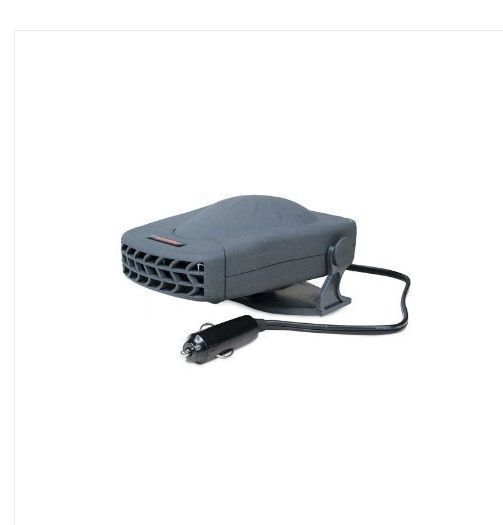 Designed for use in summer and winter, the Roadpro RPSL-581 portable car heater also works as a cooling fan on those hot summer days. This 12-volt unit is powered by the car's cigarette outlet. With its 6-foot power cord, the unit works in the front or rear of the car and its swivel base is multi-positional for ease of use. The Roadpro RPSL-581 is the perfect choice for professional drivers, campers, RVs, and those looking for instant heating or cooling on those extreme temperature days.
---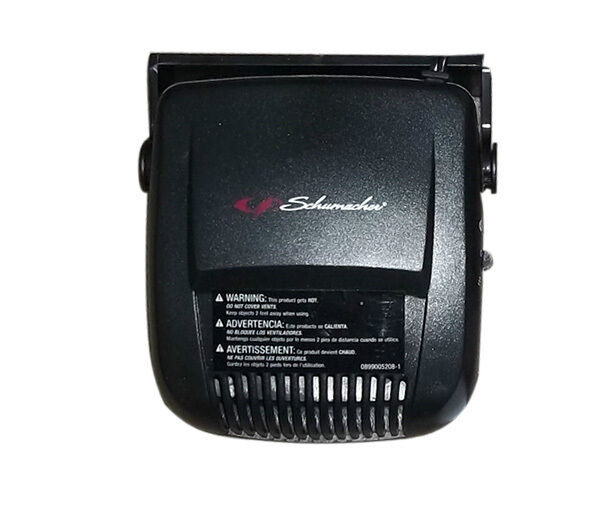 Another top-performing 12-volt portable car heater is the Schumacher 1225 ceramic heater. Defogging windows or keeping the car warm is easy with this compact unit, weighing only 1.2 oz. and measuring 8 by 6.1 by 2.8 inches. Mounted on the dash, the Schumacher 1225 heater has an adjustable swivel base. Its 150-watt power output quickly heats or cools, and it runs off a standard car accessory outlet.

---
How To Buy Portable Car Heaters on eBay
Portable car heaters are a useful way to quickly and efficiently defrost windows and warm a vehicle's interior. Twelve-volt car heaters plug directly into the vehicle's accessory outlet and many of the most high quality, affordable heaters come from brands like ThermTec, Rally, Peak, and Roadpro. Choosing to buy
portable car heaters
on eBay is a good way to find the best heater to meet your budget. Type "portable car heaters"into the search bar on any eBay page to see all the top-rated products available for sale. With
eBay
, buyers can take advantage of the simple search options, secure online payment methods, and reputable sellers.