A sharp knife is vital to successful cooking. To keep knife edges sharp at all times, cooks need a good-quality
knife sharpener
in their line-up of kitchen accessories. Because knife sharpeners vary widely in price and capabilities, cooks should get to know key facts about top brands and products before they buy. After narrowing down their choices, cooks can seek out knife sharpeners at home-goods or kitchen retailers, both online and brick-and-mortar. However, cooks who are also savvy shoppers know they can rely on
eBay
for a wide selection of knife sharpeners at competitive prices and also enjoy the convenience of at-home shopping.
| | |
| --- | --- |
| 1 | Chef's Choice 15 Trizor XV EdgeSelect |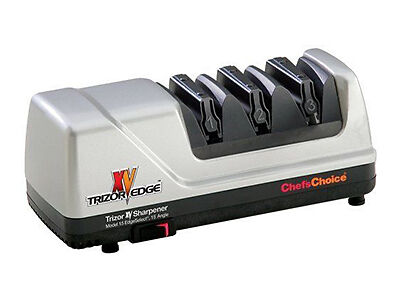 An electric sharpener, the Chef's Choice 15 Trizor XV EdgeSelect can sharpen both straight-edge and serrated knives. The tool has three stages of sharpening, diamond abrasives, and patented stropping disks to sharpen traditional European and American knives, along with single or double bevel Asian-style knives. It applies the Trizor 15-degree arch-shaped edge, which dulls more slowly than conventional hollow-ground or V-shaped edges. In addition, the device has flexible springs that allow better control of sharpening angles for precision sharpening of both thick and thin knives.
---
| | |
| --- | --- |
| 2 | Messermeister Ceramic Sharpening Rod |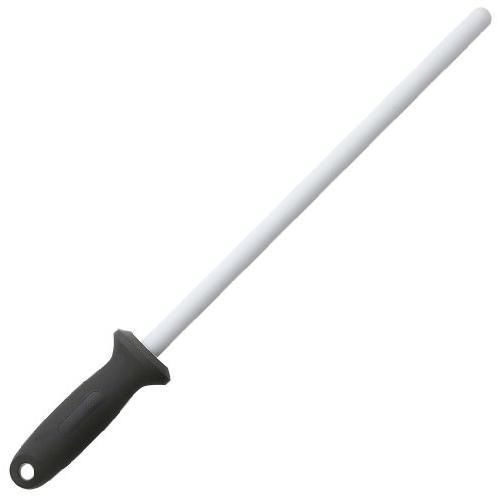 Featuring a classic rod shape, the Messermeister Ceramic Sharpening Rod aligns edges and sharpens simultaneously. Made of ceramic and a honing steel, this rod also has a 1200 grit with an abrasive characteristic. Available in both 10-inch and 12-inch lengths, this tool has a soft, ergonomic handle, which provides a secure grip for safe and comfortable sharpening.
---
| | |
| --- | --- |
| 3 | Smith's 50185 Jiffy-Pro Handheld Sharpener |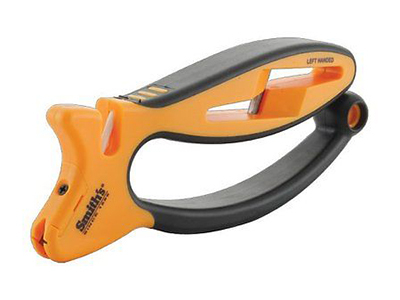 As a sharpener, the Smith's 50185 Jiffy-Pro Handheld Sharpener works well with all types of straight-edge knives. With just a few pulls, owners can gain quality sharpening that lasts for an extended time. Other value-added features include a large slot in the sharpener's handle to accommodate larger blades on handles or other accessories, and pre-set sharpening angles for consistent results with each use. This sharpener also has an easy-grip handle and can clip easily to a backpack for use outdoors.
---
| | |
| --- | --- |
| 4 | Chef's Choice 130 Professional Sharpening Station |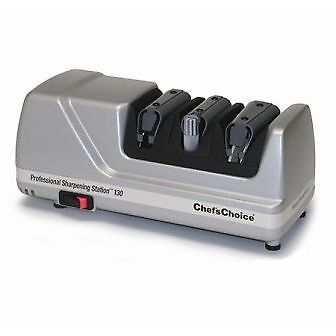 The professional-grade Chef's Choice 130 Professional Sharpening Station has built-in tools for sharpening, stropping, and steeling. In addition, this device has precise angle guides to let users keep their knife edges in factory condition. Not only does this versatile device sharpen all types of kitchen and household knives, it also sharpens sport and pocket knives. A true multi-use sharpening tool, this three-stage sharpener has 100 percent diamond abrasive in stage one, miniature hardened steel in stage two, and flexible stropping disks for stage three.
---
| | |
| --- | --- |
| 5 | Zwilling JA Henckels 32601-003 TwinSharp |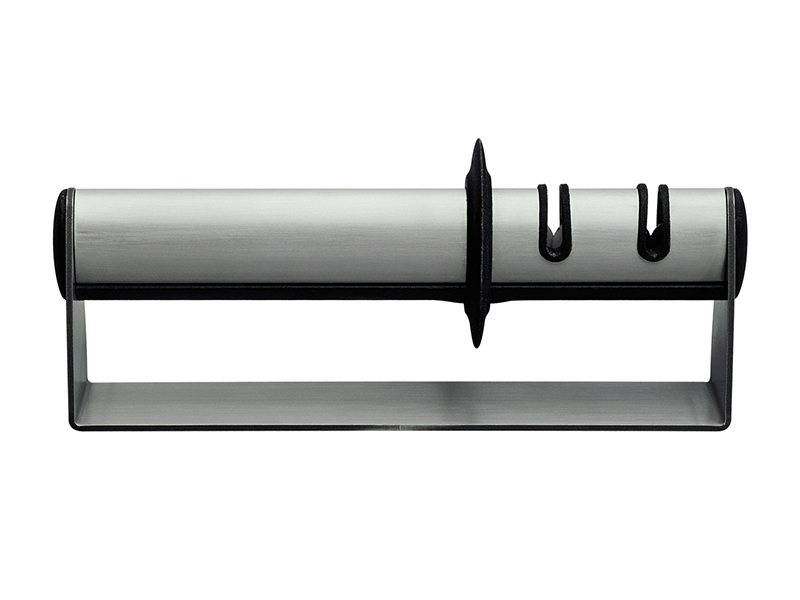 The Zwilling J.A. Henckels 32601-003 TwinSharp can be used by both left-handed and right-handed owners. At 8 inches across and 3 inches wide, this sharpener fits on any countertop and also has rubber feet to guard against skidding. This sharpener has two modules. The first features steel wheels for coarse sharpening, while the second has ceramic wheels for fine sharpening. Users can opt to use one or both modules based on the unique sharpening needs of each knife.
---
| | |
| --- | --- |
| 6 | Lansky 4-rod Turn Box Crock Stick Sharpener |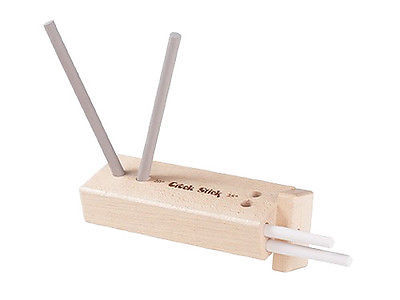 The Lanksy 4-Rod Turn Box Crock Stick Sharpener is a compact kitchen tool, which breaks down easily to fit in a drawer for convenient storage. In addition, this sharpener is a great option for hunters, or others who may need a portable sharpener for out-of-home use. It has two built-in sharpening angles: a 25-degree angle, which works well for the majority of kitchen and household knives, and a 20-degree angle, which provides a sharper edge when needed. A two-stage sharpener, this tool has four 5-inch-long aluminum ceramic rods, which tuck neatly into its wood base after use.
---
| | |
| --- | --- |
| 7 | Presto 08800 Pro EverSharp Electric Knife Sharpener |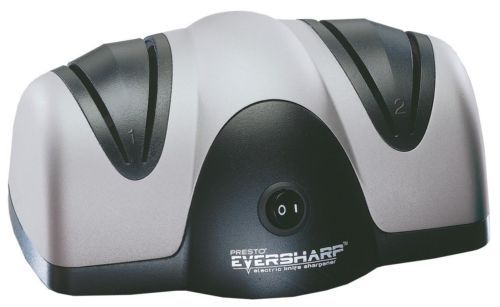 A two-stage sharpening system, the Presto 08800 Pro EverSharp Electric Knife Sharpener sharpens alloy, stainless steel, or carbon knives with ease. The tool has precision sharpening guides that ensure the perfect sharpening angle every time. In addition, this sharpener features professional-quality, ultra-hard Sapphrite sharpening wheels, which quickly create sharp edges. The tool is a great choice for straight-edged knives, along with non-electric knives that have serrations on one side only.
---
How To Buy
Precision cutting is necessary for quality cooking, so investing in a
knife sharpener
is a must for anyone who cooks at home. Shopping on
eBay
is a great way to get great bargains on top-quality knife sharpeners and other kitchen appliances. All you need to do to start your search for the perfect knife sharpener is to visit any eBay web page and fill the provided search bar with descriptive keywords. After you get your result set, you can click on the title or photo of any sharpener listed to get more details about that specific item for sale. Without question, a knife sharpener is an important kitchen tool to have on hand, and purchasing via eBay can let you get one of the top-rated options at a fraction of the cost of buying retail.