Keyboards are essential accessories for any computer system. They are obviously needed for desktop computers, but they are also an essential accessory for tablet computers and even Smartphones. Though the first few generations of Smartphones incorporated keyboards, these soon left the market.
The main drawback with physical keyboards was their size and the fact that they were solid and inflexible, which made them impractical for the mobile userso that is how the flexible keyboard came about.Users can now just roll up their keyboard and put it in their bag or even their pocket. When they need a full keyboard to type on, they can pull it out and unroll it when needed.
There are a lot of different types of computer keyboards on the market today. One unique variation is the flexible keyboard asthese types of keyboards can be rolled up when not in use.It is important to know that there are some flexible keyboards among those that are currently on the marketthat outperform other options and are much better buys than the competition.
| | |
| --- | --- |
| 1 | INSTEN Wired Roll-up Foldable Keyboard |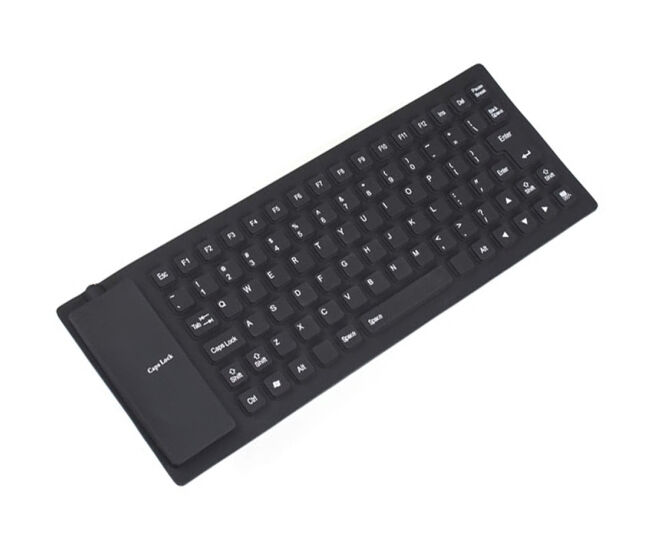 INSTEN makes a lot of foldable products, including their line of foldable keyboards.This item is a no frills foldable keyboard that plugs right into the USB port of a computer. This can be one of the preferred choices in foldable keyboards for the person that wants a basic item at a low price. It is ultra thin, lightweight, and simple to clean with a damp cloth. It features verysoft keys for discreet and silent typing.
Specifications
Connectivity: USB 2.0
Keyboard Color: Black
Warranty: One year limited warranty
---
| | |
| --- | --- |
| 2 | Tripp Lite Noteables Wireless Multimedia Flexible Keyboard |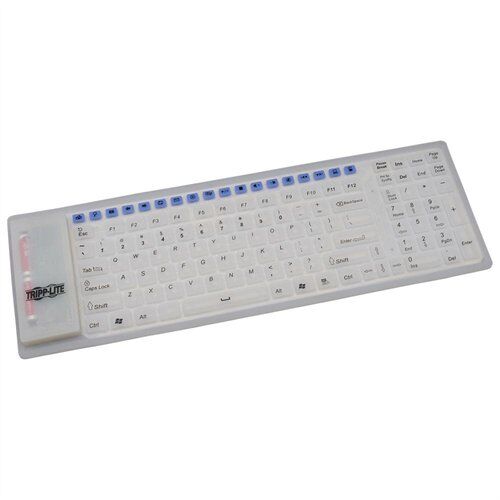 The Noteablesseries of products from Tripp Lite includes this nifty wireless multimedia flexible keyboard. The first feature that sticks out is that it isa wireless keyboard with a wireless range of up to thirty feet. The other feature that stands out is that it comes with eighteen multimedia keys that are preprogrammed shortcuts for any multimedia and Internet functions that you need to access.
Specifications
Connectivity: Wireless 2.4 gigahertz and USB 2.0
Keyboard Color: Translucent White
Warranty: One year limited warranty
---
| | |
| --- | --- |
| 3 | Tomtop Flexible Mini Keyboard |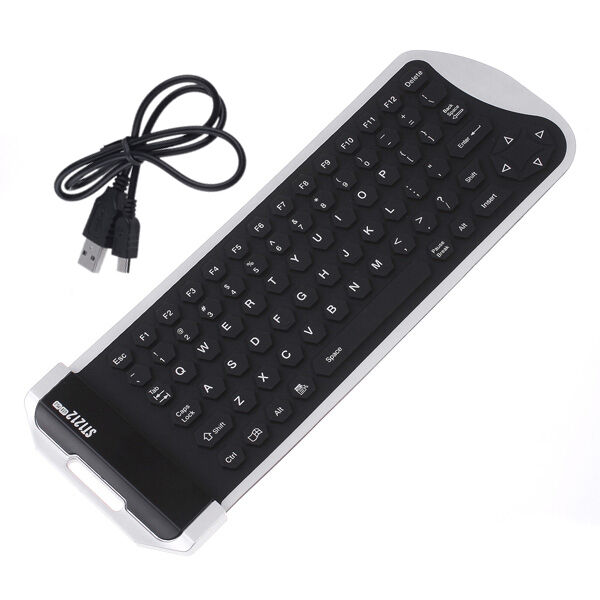 This flexible keyboard is a little different from the rest.The Tomtop keyboard is classified as a mini keyboard with just 79 keys instead of the standard 101 keys, making it a very attractive accessory for use with tablet computers and Smartphones since it is not nearly as wide as a standard keyboard. The only feature missing is the number pad on the right.It is lightweight, compact, and perfect for travel.
Specifications
Connectivity: USB 2.0
Keyboard Color: Black
Warranty: Three month warranty
---
| | |
| --- | --- |
| 4 | Manhattan Wired Full Key Rollup Up Keyboard |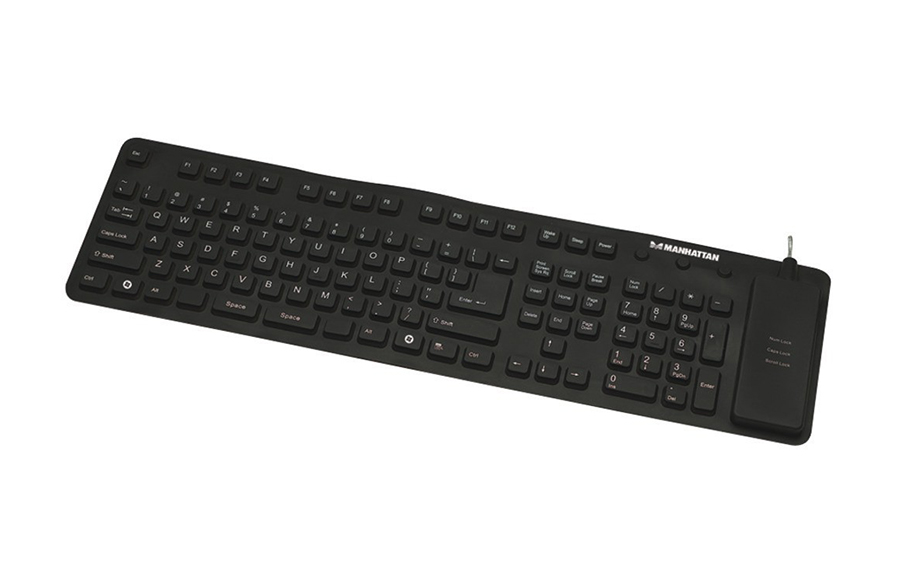 This flexible keyboard from Manhattan features 108 keys, including the number pad, arrow keys, a full set of function keys, and the sleep, wake, and power keys. What is more impressive is that it is 100 percent silicone and latex free soit is able to resist spills and cleanup is easy with just a damp cloth, making it the perfect travel accessory.
Specifications
Connectivity: USB 2.0 and PS/2
Keyboard Color: Black
Warranty: limited lifetime warranty
---
| | |
| --- | --- |
| 5 | Grandtec FLX-2000 Virtually Indestructible Keyboard |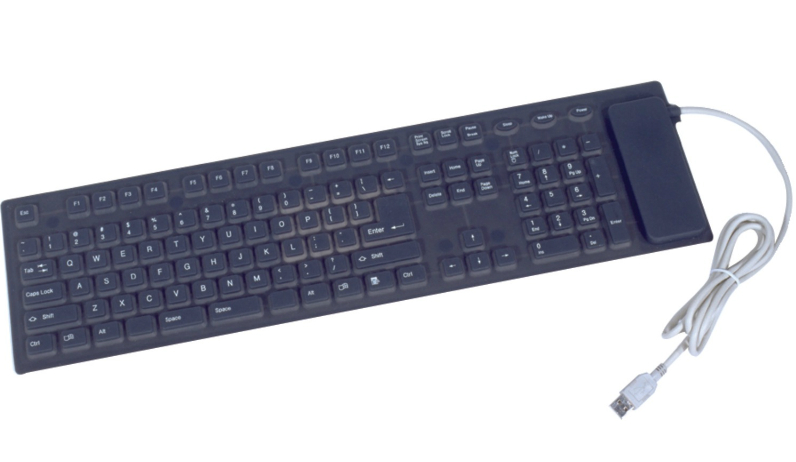 Grandtec touts this keyboard as being virtually indestructible, made out of a silicon based material that is both durable and soft soit can be rolled, folded, and even washed. It is impervious to virtually any type of spills. The keys utilize a reflexive action that makes it easier on the fingers and more sensitive. The soft keys in its design make for silent usage. This is a full keyboard that features all of the 109 most used keys and functions.
Specifications
Connectivity: USB 2.0
Keyboard Color: Black
Warranty: One year limited warranty
---
| | |
| --- | --- |
| 6 | Supcase Foldable Flexible Waterproof Keyboard |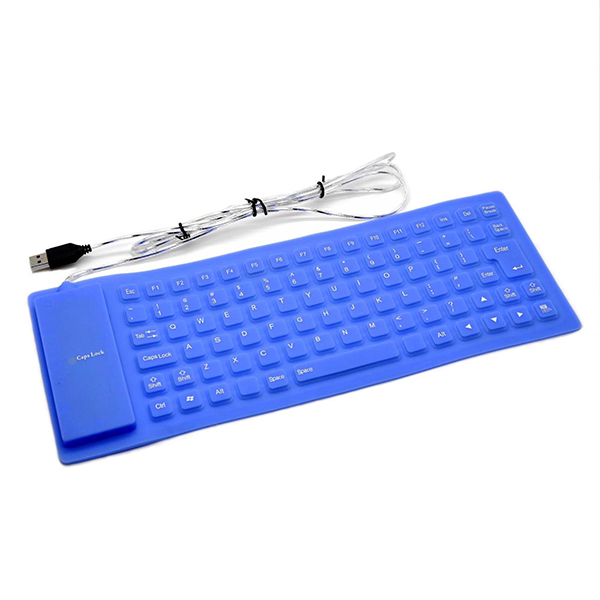 The flexible keyboard from Supcase is designed for those that want more than an ordinary keyboard. For starters, they are sold in six different colors and they are dustproof and waterproof. Another nice thing isthe keys are silent sothere is no soundto be heard when typing on this keyboard.
Specifications
Connectivity: USB 2.0
Keyboard Color: Six different colors
Warranty: One year limited warranty
---
| | |
| --- | --- |
| 7 | Adesso AKB-220 Compact Waterproof Flexible Keyboard |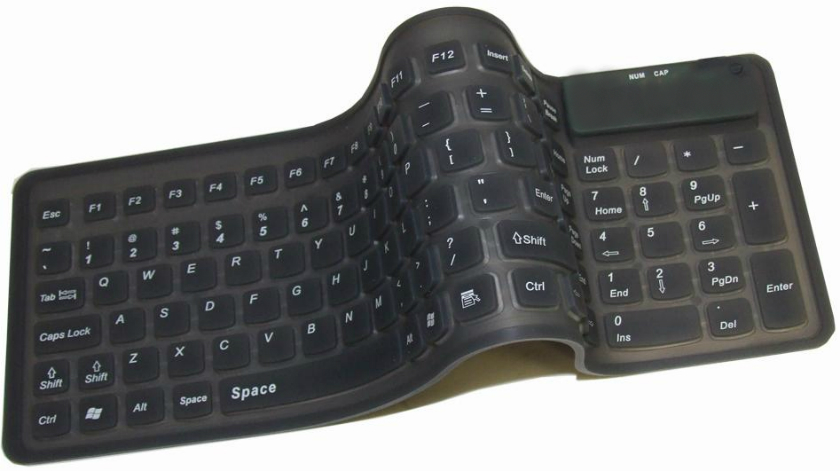 Adesso is known for making a wide range of input accessories for computers, tablets, and Smartphones. These flexible keyboards from Adesso are no exception to their standard of quality and reliability. It is compact, meaning it is well suited for mobile devices. Despite its compact size, nothing is sacrificed as it has a full set of 104 keys. It is impervious to dust and waterproof.
Specifications
Connectivity: USB 2.0 and PS/2
Keyboard Color: black
Warranty: One year limited warranty
---
How to Find Flexible Keyboards on eBay
You can shop for
flexible keyboards on eBay
. For such a simple accessory, there are actually a lot of different options available; making it imperative that you do a thorough searchwhen you are looking for flexible keyboards on eBay. There are a variety of features to search for, but the most common theme that most people search for is whether the
keyboard is wired
or wireless. The wireless option is popular because there are no wires needed for operation andmost use a standard transmitter and receiver setup, but a few of the newer wireless flexible keyboards use the new Bluetooth technology. If this is a desired feature,then just search for the Bluetooth wireless flexible keyboard instead.
A wired keyboard typically uses either a
USB 2.0 connection
or a PS/2 type connection. Most computers and electronic devices use the USB 2.0 connection, but some still accept the older PS/2 type connection. Just remember to determine which connection your computer supports before finalizing a purchase.
Another way to search for flexible keyboards on eBay is by the item's number of keys. Most standard keyboards have 101 keys, butthis number can vary pretty drastically, ranging anywhere from 79 keys to 108 keys or more. More keys mean more functions, but it means a larger keyboard. If a compact keyboard is desired, then just perform a search for a mini flexible keyboard.Other people may need a
flexible gaming keyboard
or an
ergonomic keyboard
.
A third way to search for flexible keyboards on eBay is to search by the keyboard's features. The most common type of feature to search for is waterproofing asthese types of keyboards are not affected by spills. Another feature that is related is the washable feature soif something is spilled on this type of keyboard, all a person has to do is place the keyboard under running water to wash away the spilled liquids or other debris.
Conclusion
Flexible keyboards are a
relatively new technology
, springingfrom the wave of powerful mobile devices,such asSmartphones and tablet computers. More and more people are enjoying the convenience of having everything they need in the palm of their hands. The only missing element for some is the keyboard astyping on touch screens is not nearly as quick and efficient as typing on a keyboard. The flexible keyboard lends flexibility where it is needed and the the technology will continue to grow.
With each generation of flexible keyboards, the technology just seems to get better.Many flexible keyboardscome with
full wireless capabilities
. For the mobile user, there have beenadvancements to produce compact sized keyboards that have the full accompaniment of keys on the keyboard. Some even roll up so completely that they fit in your pocket. This type of technology is here to stay for the long haul so find all the best selections of flexible keyboards for your needs on eBay.