Automatic cat feeders
convenient, reliable, and require little maintenance after the initial setup. There are two distinct categories of pet feeders: Gravity feeders and timed feeders. Gravity feeders dispense food via gravity from an open container whenever there is room in the food bowl. Timed feeders are electronic and release food from a normally closed container at set intervals. Pet owners should select a model that is programmable to their cat's eating habits, unless they are free feeders, in which case they can look for a feeder that is unlikely to clog. Regardless of which type of feeder the consumer needs, researching the product helps to make an informed decision before committing to a purchase in pet stores or on eBay.
| | |
| --- | --- |
| 1 | Qpets AF-100 Large Automatic Pet Feeder |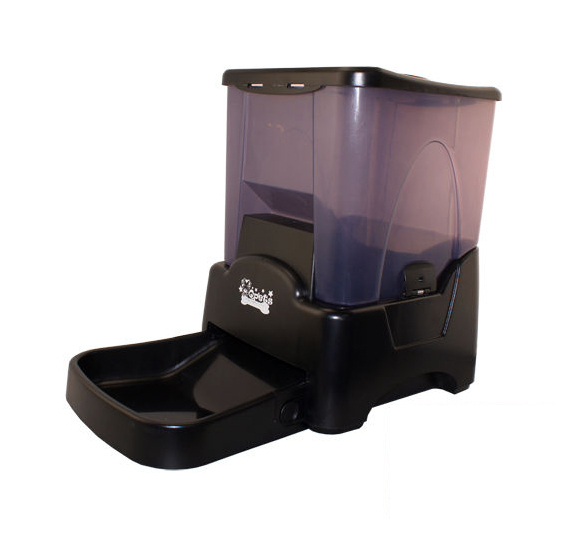 The Qpets AF-100 dispenses 1/4 to 2 1/2 cups of dry cat food up to four times daily. A built-in sensor detects food that is already in the feeding tray, preventing overfilling, and the locking top stops bored cats from breaking into the stored food. The feeder's design reduces the chances of clogging, allowing pet owners to set and forget the feeder without a worry. Doting kitty owners can also record a six-second personal message for their feline friend. With fresh "D" batteries and enough food, the Qpets AF-100 is programmable and good to go for three months.
---
| | |
| --- | --- |
| 2 | Bergan Feeder Petite Gourmet Combo |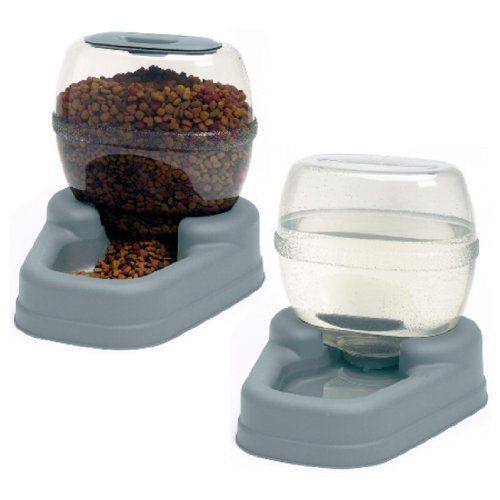 Unlike the Qpets feeder, the Bergan Petite Gourmet Combo is a free or gravity feeder, which means it always provides a full bowl, assuming it has enough food to dispense. It does not require batteries. It is usable for either dry pet food or water, but not at the same time. This feeder is quite simple, inexpensive, and convenient for cat owners who do not measure their pets' food.
---
| | |
| --- | --- |
| 3 | Crown Majestic Diamond Series V2 Automatic Pet Feeder |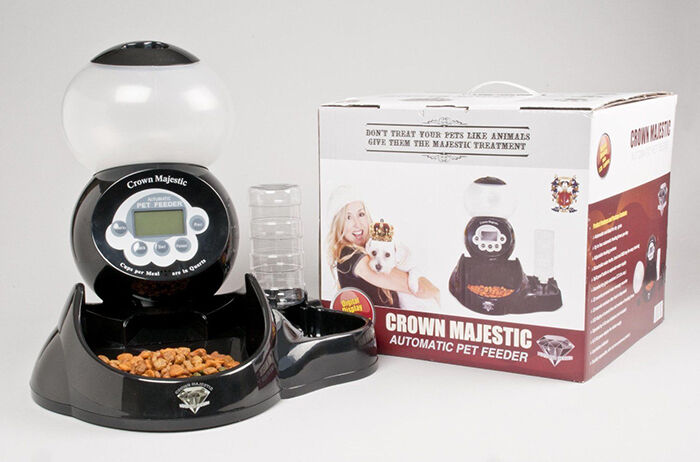 The Crown Majestic Diamond Series V2 is a combination dry feeder and water bowl. Its water bottle is detachable for easy refilling. The feeder holds up to 4.4 lbs. of pet food and dispenses it in 1/4, 1/2, or 3/4 portions. For larger and more active cats, the Crown Majestic Diamond Series V2 also has 1- and 2-cup settings. The feeder is highly programmable; for example, pet owners can feed their cats once every 12 hours or every 24 hours. They can also record a 12-second message that automatically plays when food dispenses. A snap-on paw guard prevents tiny paws from stealing undispensed kibble from the holder, but this accessory is only available for free by contacting the manufacturer.
---
| | |
| --- | --- |
| 4 | Pico Perfect Dinner Automatic Pet Feeder |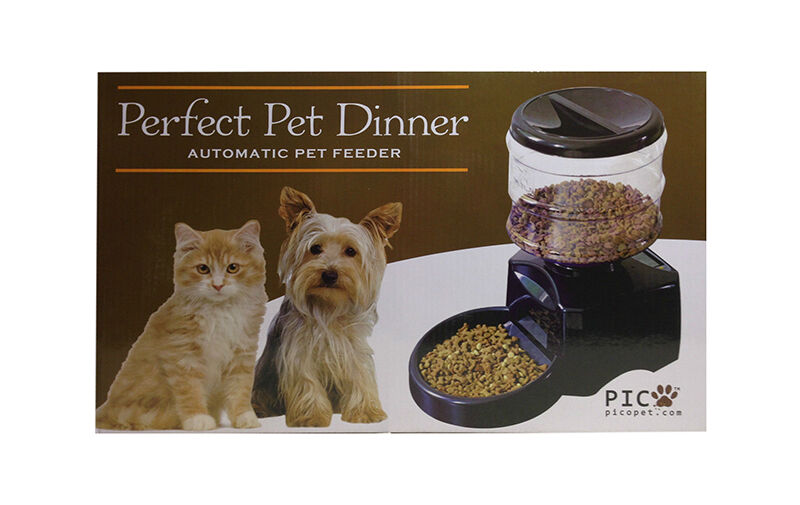 Programmable to dispense anywhere from 1/4 to 3 cups of cat food up to three times a day, the Pico Perfect Dinner feeder holds up to 7 lbs. of food. Like with most automatic feeders, pet owners can record a short message to call kitty to dinner.
---
| | |
| --- | --- |
| 5 | PetSafe Healthy Pet Food Station Gravity Feeder For Pets |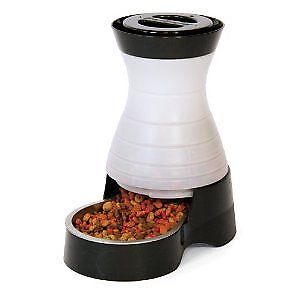 The PetSafe Healthy Pet Food Station is another gravity feeder for cats. It features a removable stainless steel bowl and a spill-proof design. Even if a cat manages to knock it over, this feeder should not spill anymore than what is in its bowl. Its tall and narrow design minimizes the feeder's physical footprint, and better allows the homeowner to stash it out of sight.
---
| | |
| --- | --- |
| 6 | Petmate LeBistro Portion Control Pet Feeder |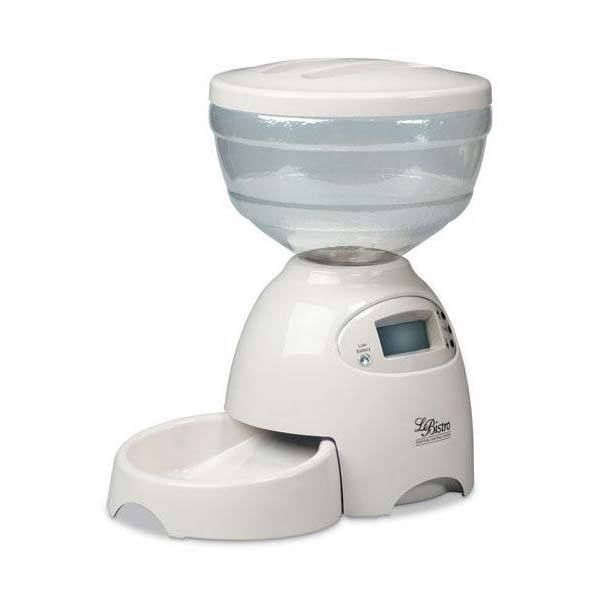 Petmate's LeBistro Portion Control feeder holds up to 10 lbs. of cat food, depending on the chosen model. It dispenses between 1/4 to 2 cups of food up to three times daily, although the manufacturer states that it cannot replace human care while the owners are away, so pet owners should hire a sitter to check up on the cat. The feeding bowl is removable and dishwasher safe.
---
| | |
| --- | --- |
| 7 | PetSafe 5-Meal Electronic Pet Feeder |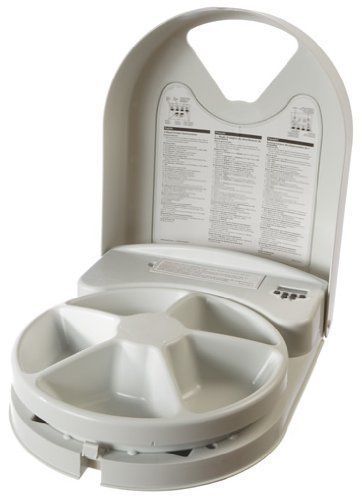 The PetSafe 5-Meal features a unique sliding chamber design, doing away with the typical drop food dispenser. Its dishwasher-safe food tray has five 1-cup chambers. The feeder rotates through these chambers up to five times per day, depending on how the pet owner programs the machine.
---
How To Buy
To buy an automatic pet feeder on
eBay
, look for the search bar and enter relevant keywords, like "
cat feeder
" or "
pet food dispenser
". Remember that gravity feeders are much different from electronic feeders. Not only do electronic feeders require batteries or access to an electrical outlet, they are vulnerable to power outages or dead batteries. However, gravity feeders have their own problems; for example, they give virtually unlimited access to food, allowing cats to overeat out of boredom. Choose an automatic cat feeder that best suits your pet and promotes healthy eating habits. After reading the product description on eBay, add the item to your cart and checkout.