Wireless external
hard drives
are in great demand and rightly so. These gadgets provide high-end storage and backup solutions for computer users, giving them the peace of mind that comes with knowing that their most important business files, as well as movies, MP3 tracks, and videos are safe from unexpected damage or data loss.
Wireless
external hard drives
come in different storage capacities and levels of speed, and it is up to you to find the best one to meet your needs and budget. If you are seriously looking to invest in a wireless external hard drive, it is vital to invest in one that gives you the best functionality to meet your computing requirements.
| | |
| --- | --- |
| 1 | Kingston Wi-Drive 128GB Wi-Fi |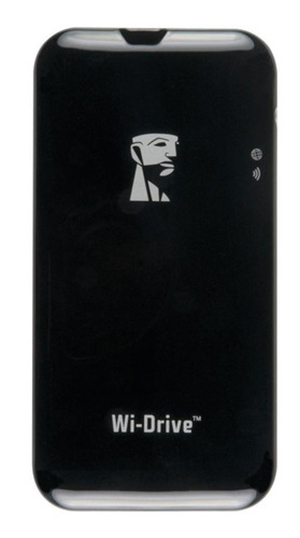 Kingston Wi-Drive 128GB Wi-Fi gives you the ability to carry your media library with you where ever you go. It is compatible with all Apple gadgets on the market, including the MacBook and iMac computers, as well as iPhone, iPad, and iPod Touch.
It gives you unlimited access to your personal media like never before, while enhancing your ability to share it with others. It is easy to use and comes with the latest wireless technologies to ensure easy backup of your computer and online files, regardless of your location, as long as you are connected to a Wi-Fi hotspot. It is extremely portable and easy to carry around. It eliminates the need for an external AC and gives you easy access to your files as soon as you plug in with your USB cable.
Features
* 128GB storage space
* Downloadable App from the Apple App store
* Portable and easy to carry
* Compatible with Apple gadgets such as iMac, MacBook, iPhone, iPad, etc.
---
| | |
| --- | --- |
| 2 | Patriot Memory PCGTW320S 320GB Portable Wireless Drive |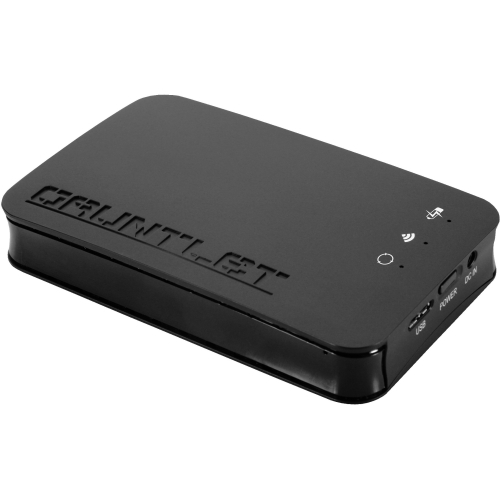 The Patriot Memory Gauntlet 320 is an effective all-in-one portable storage solution that gives you access to an impressive media collection, while eliminating the storage limitations of gadgets, such as laptops and Smartphones, as well tablets and e-readers.
It allows you easy connection to up to 8 devices, in addition to streaming of videos, music, and photos to up to 5 of those gadgets. It comes with innovative apps for Android and iOS, as well as Kindle Fire and a host of portable gadget platforms.
This wireless portable external hard drive comes with USB 3.0 connectivity for blazing fast multimedia transfers and a rechargeable lithium-ion battery that makes it easy to access your files while on the road.
Features
* 320 GB storage memory
* Wireless streaming of multimedia content while on the go
* Apps for Android, Kindle Fire, iOs, etc.
* Rechargeable lithium-ion battery
---
| | |
| --- | --- |
| 3 | Seagate GoFlex Satellite Mobile Wireless Storage 500 GB USB 3.0 External Hard Drive |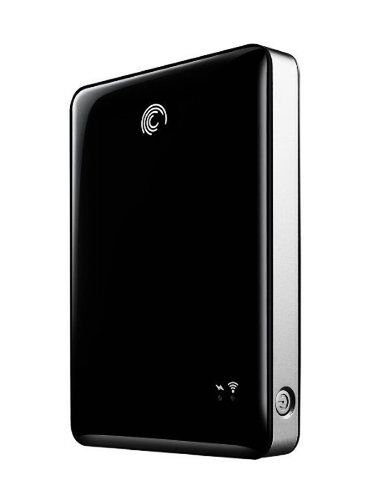 Seagate GoFlex Wireless delivers wireless streaming of your documents and multimedia files, such as pictures, music, and videos on your Smartphone or iPad while on the go. It gives you the convenience of carrying your digital media library in your pocket.
Transfers of files to and from your Windows or Mac based PC is ultrafast as a result of this gadget's USB 3.0 and 2.0 connectivity. You will never have to worry about exhausting the storage space on your Smartphone or iPad as long as you have this impressive hard drive.
It comes with a rechargeable battery that allows you to stream as much as 5 hours of video while on the go.
Features
* 500GB storage space
* Stream 3 different movies on 3 different iPads
* Gives you unlimited space for a pocket media library
* Easy to set up and use
---
| | |
| --- | --- |
| 4 | Seagate Wireless Plus 1 TB |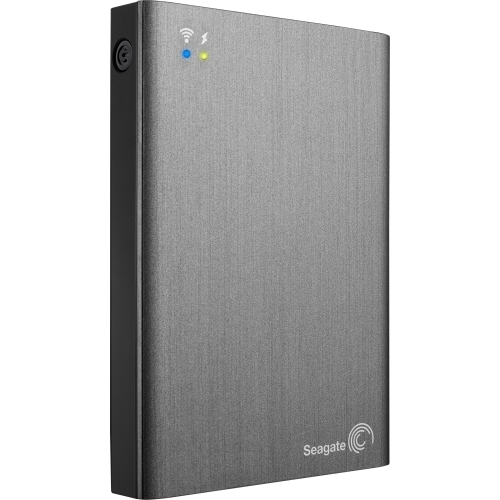 Seagate Wireless Plus 1TB offers unlimited access to your media files from your Smartphone or tablet seamlessly without the need for any connecting wires or an internet connection. Wireless connectivity is powered by a free Seagate Media app available in the Google Play and Apple App store for easy and wireless streaming of your files on the go.
It comes with an incredible built-in 1TB of space that gives you unbelievable storage capacity for storing hundreds of movies, as well as thousands of mp3 tracks and tons of documents. It comes with an integrated Wi-Fi network that gives up to 8 Smartphones or tablets access to your fully-packed media library at the same time without the need for an internet data plan.
Features
* Integrated Wi-Fi network for easy streaming of your files without the internet
* 1TB storage space
* Free iOS and Android Seagate Media App for easy navigation
* Grants up to 8 Smartphones or tablets access to your media library
---
| | |
| --- | --- |
| 5 | Apple Time Capsule 2TB ME177LL/A |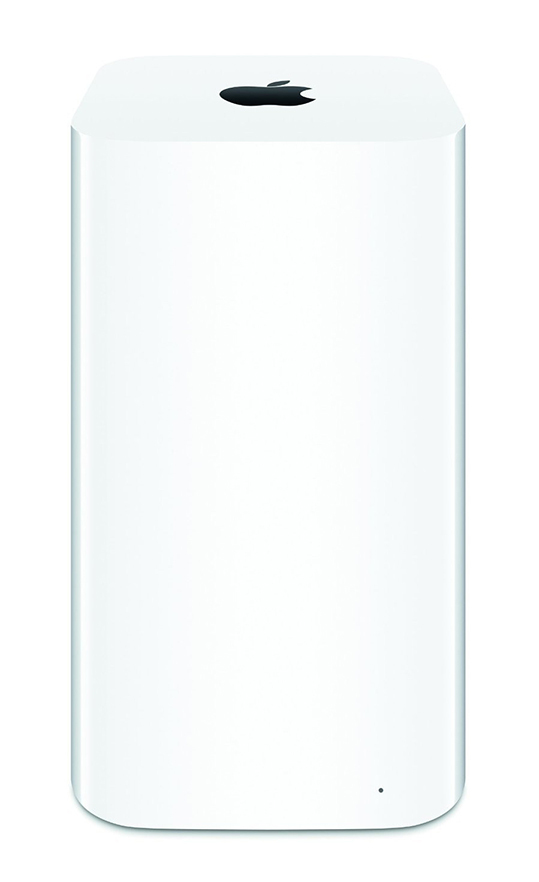 The AirPort Time Capsule provides innovative storage and backup solutions that reinforces the reasons why lots of business professionals, students, and leisure computer users continue to vouch for the Mac platform.
It synchronizes with the Apple Time Machine technology to automatically back up your computer files without any wired connectivity. It comes with a turbo 2TB memory for storage of more and more files.
It is easy to set up and comes with everything you need to make it your reliable Wi-Fi base station, thanks to the latest wireless technologies it comes integrated with. This ensures super-charged speeds during backups or transfers of your media files.
Features
* 2 TB hard drive storage
* Wi-Fi base station
* Easy setup and usage on iOS and Mac OS X platforms
* Compact design which ensures convenience in your workspace
---
| | |
| --- | --- |
| 6 | Seagate Central 4TB Wireless Hard Drive |
The Seagate Central 4TB Wireless is designed for the lifestyle of those whose digital lives are spread across a range of multiple computers, hard drives, and flash drives by offering wireless solutions that allow them to backup all their documents and multimedia files into a single location on their network with an unbelievable 4GB of storage space. The fact that it is built with a hard drive interface compatible with both Windows and Mac computers means you enjoy the full compliments of a shared digital library, while on the go.
It gives you unlimited possibilities when it comes to accessing files on your computers, as well as smart TVs, game consoles, and more. It comes with a special Media App that gives you seamless access to your files on a Samsung Smart TV or Blue-ray player via its remote control.
Features
* Unbelievable 4TB of storage space
* Seagate Media App for wireless backup of your multimedia files
* Backup content from multiple sources into a centralized location
* Compatible with simultaneous backups from Windows, Mac, and Android devices
---
Wireless External Hard Drive Accessories
These accessories will enhance your user experience and ensure that you explore the full capabilities of your wireless external hard drive.
| Accessory | Description |
| --- | --- |
| | Connects your wireless hard drive to your desktop computer |
| | Stream content from your wireless drive on the go |
| Internet Data Plan | Required for creating backups and transferring files online |
Finding Wireless External Hard Drives on eBay
eBay
is one of the best spots for finding the latest innovative wireless external hard drive gadgets released on the market. Remember to
buy a wireless hard drive
that is compatible with the operating system of your electronic gadgets. If you own multiple gadgets across different platforms, it is wise to find a wireless external hard drive that is compatible across all those platforms. The eBay search box is a great resource for finding exactly what you need, but keep in mind that you can also use the search refinements feature available on the sidebar of every listings page to narrow down your search by any number of features, including a minimum and maximum price and free shipping.
Conclusion
Wireless external hard drives are a great choice if you lead an action-packed digital life with a range of multimedia files across multiple gadgets and devices. These portable hard drives come with the added advantage of not requiring any form of cables or wires to connect to your gadgets for saving files and creating backups.
eBay
is a great location to shop for all your wireless external hard drives and accessories.