Wireless dog fences
allow consumers to keep their dogs in a safe, confined area without the need for an actual, physical fence. Many dog owners are used to a pet that runs out the moment a gate is opened. With a wireless dog fence, your furry companion receives valuable training through behavior correction about how far they are allowed to roam within a set parameter. They are portable, so you can try setting up a variety of parameters before settling on one, and very easy to install as there are no wires. Dog owners install the receiver and place the
collar
around the neck of their dog, ensuring the contact points sit against the skin. Rounding out the pet containment system are flags, which are erected to help the dog establish its boundaries. It is important to understand that the training collars work by providing alerts to the dog when it is approaching or straying too far beyond its boundaries. In these instances, collars apply static correction, which refers to a mild shock intended to surprise them into interrupting their behavior, but not to punish them. For owners not fond of this form of training, most collars offer a beep-only option, providing only audible alerts.
Using the flags and the collar, consumers can then train their dogs to stay inside their safe zone. When purchasing a wireless fence, consumers must ensure the fence provides a large enough area for their dogs to explore.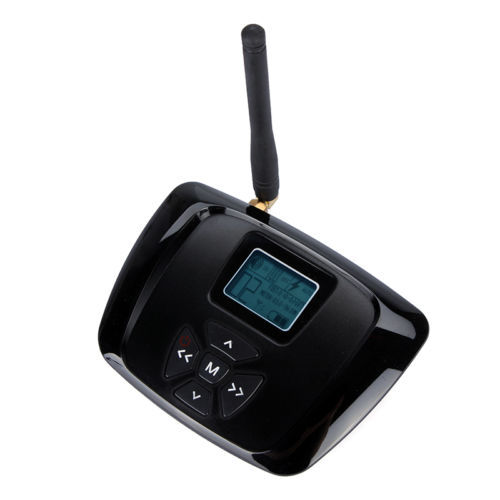 The
Aetertek
AT-216F is a high-quality, wireless dog fence with 0-55 yard wireless control range, allowing consumers to control how close their dog can get to the perimeter. The wireless system is very easy to set up, with no wires or complex installation processes. It works with dogs between 15 and 150 lbs. For convenience and durability, the rechargeable receiver is waterproof and offers three levels of static correction. The correction levels are: a warning beep, a vibration, and 10 differing levels of electric shocks, giving the user greater control when training.
---
| | |
| --- | --- |
| 2 | Havahart Radial-Shape 2 |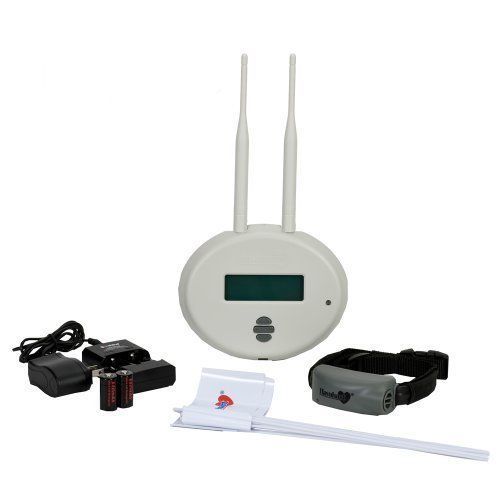 The Havahart Radial-Shape 2 provides a circular boundary with a wide trigger zone. The wireless receiver senses when the collar approaches the trigger area and sends a signal to the collar, which in turn provides an audible warning to the dog. Alternatively, consumers can set the collar to provide a pulsing, adjustable shock to the dog as it approaches the boundary. Suitable for dogs over six months of age, the Havahart Radial-Shape 2 is appropriate for all breeds weighing over 8 lbs. with a neck size between 14 and 26 inches. It is a popular choice because of the compact size of the receiver and the quality of the construction.

---
| | |
| --- | --- |
| 3 | Petsafe Wireless Containment System |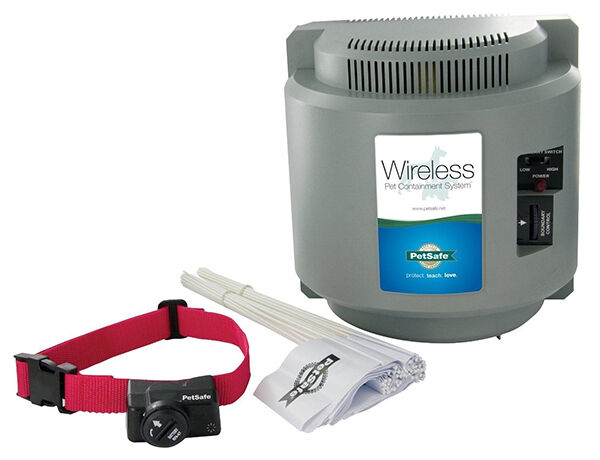 The PetSafe Wireless Containment System covers a circular area of up to 180 feet in diameter, providing ample room for dogs to explore and enjoy the outdoors in a safe environment. For dogs 8 lbs. and over with a neck size of up to 28 inches, this wireless system comes complete with training flags, an easy-to-install receiver, and a collar. The collar receives a signal from the transmitter when the dog approaches the boundary and delivers either an audible warning or a shock. This model is particularly popular because, unlike many other models, it is not limited to only one or two collars.

---
| | |
| --- | --- |
| 4 | Petsafe Stay + Play Wireless Fence |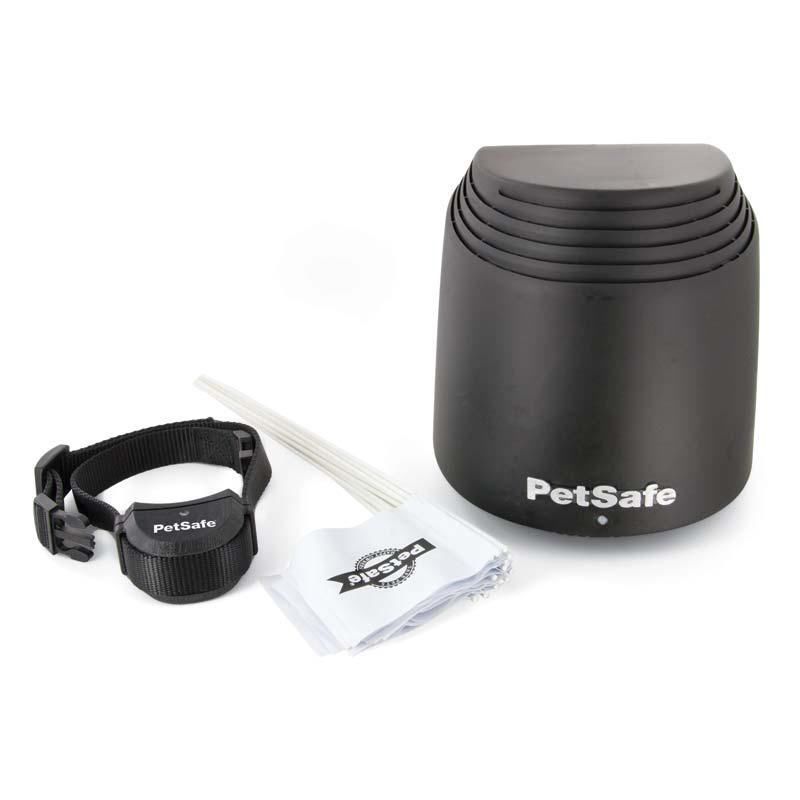 The Petsafe Stay + Play Wireless Fence covers a circular area of up to 210 feet in diameter, providing a large, safe space for dogs 5 lbs. and over. It offers five adjustable levels of shocks for correction purposes, or an audible beep only. The collar is rechargeable, so negates the need to buy batteries on a regular basis.

---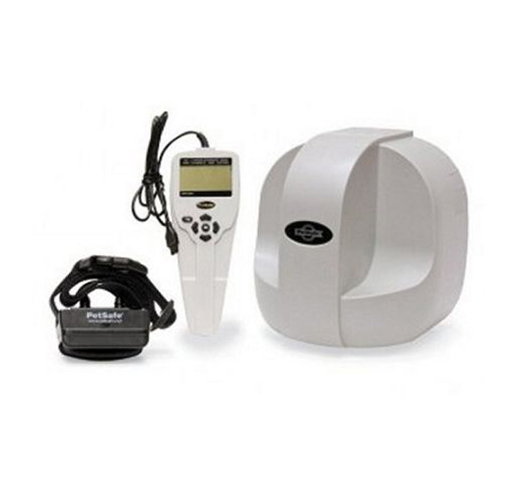 The PetSafe PIF00-13651 allows consumers to adjust the perimeter to any shape they want. This offering from PetSafe does not interfere with neighboring wireless pet boundaries or other wireless signals, making this a popular choice, particularly for those in built-up areas or who live in proximity to others who use wireless dog fencing. It covers up to half an acre, allowing dogs to roam safely in a large area.

---
| | |
| --- | --- |
| 6 | Perimeter Wi-Fi Wire Free Dog Fence |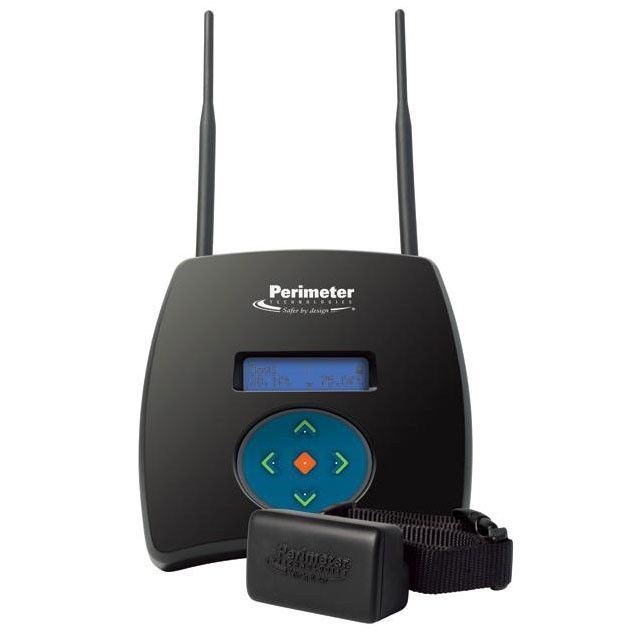 The Perimeter Wi-Fi Wire Free Dog Fence has a huge, circular range of up to 2.5 acres in diameter, so is well suited to users with a large garden or outdoor area. It comes with 50 training flags and a collar that has Comfort Contact points, intended to fit comfortably against the dog's neck. This wireless dog fence has multiple shock levels to choose from, as well as an audible warning tone. The kit comes with a single collar, but an additional collar is available so that two dog households can safely manage their
pets.

---
7. Innotek Basic In-Ground Pet Fencing System
The
Innotek
Basic In-Ground Pet Fencing System has a transmitter range of up to 5 acres, making it great for owners that allow their dog to roam within a large radius of the home. This system uses a buried wire instead of flags to set the parameter, and the wire sends a signal to the receiver collar when the dog approaches a boundary. The dog is warned first by tone, then by static correction. The collar uses batteries and is water-resistant, and works for pets over 5 lbs., making it effective even for a little dog.
8. PIF00-12917 Stay + Play Wireless Fence
The PIF00-12917 is a portable, in-home wireless invisible fence that works by simply plugging it into a wall. It does not need buried wire or flags to set up the perimeter, and covers 0.75 of an acre. You can add an unlimited number of dogs by simply purchasing additional collars for all pets needing containment. There are five static correction levels, as well as a beep-only option. It fits neck sizes 6 to 28 inches, and also works for dogs that weigh 5 lbs. and up.
How To Buy Wireless Dog Fences on eBay
Wireless dog fences are available on
eBay
at affordable prices. Find wireless dog fences by conducting a search from any eBay page. The process is simple. Browse through the listings, make your selection, check seller feedback, and complete your transaction. If you have a multi-dog household, you likely need to purchase additional radio collars for the pet containment solution you have selected, which typically provides containment for two pets. If you have more than two dogs, you may need additional systems. Wireless dog fences provide a method of keeping your dog in a confined area without erecting a standard fence. They make a good temporary measure and are a more affordable option for a longer-term measure. When purchasing a wireless dog fence,make sure it covers a large enough area and that your dog is heavy enough to wear the collar safely.