Cleaning floors and carpets is an important part of keeping any home or workplace safe and hygienic. Users traditionally used brooms to sweep, but
carpet and floor sweepers
help make the job easier, faster, and more effective. Carpet and floor sweepers can be broken down into two major types: Powered and non-powered models. Non-powered models are operated manually as users push them along floors or carpets. They do require more effort to operate, but they are quiet. This can be useful in places where a silent environment is desired. However, buyers also have the option of powered sweepers. Buyers looking for carpet and floor sweepers may choose any one of these top sweepers based on their requirements.
| | |
| --- | --- |
| 1 | Swiffer Sweepervac Rechargeable |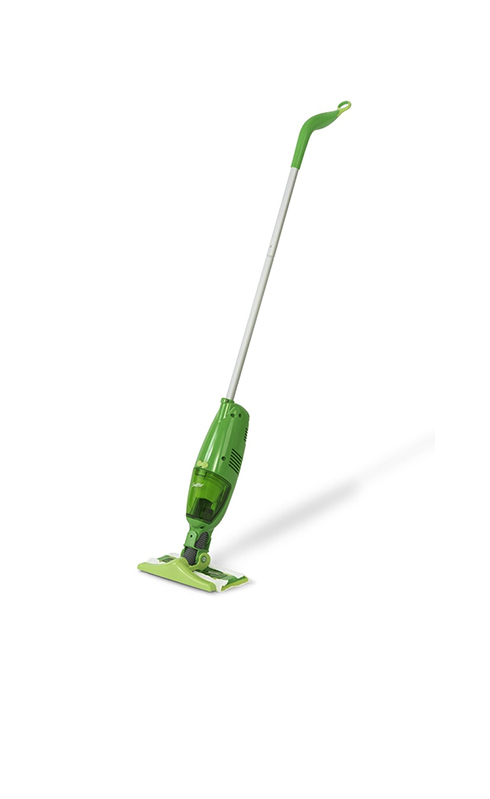 The Swiffer Sweepervac uses a combination of various techniques to sweep a floor clean completely. This rechargeable, cordless sweeper uses a sweeping cloth, known as Swiffer pads,, to pick up dirt from the grout lines, or crevices in textured surfaces. This is combined with a vacuum that is designed to pick up larger particles. The sweeping cloth holds smaller dirt and debris, and larger particles are moved to the bin. Users should replace the sweeping cloth periodically. The Swiffer Sweepervac works on a variety of floors including wood and laminate floors, ceramic tile, linoleum, marble, and stone. However, it is not designed to clean carpets.
---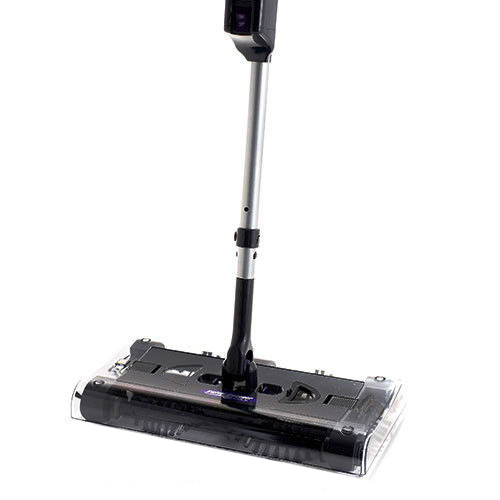 The Swivel Sweeper Max is a lightweight (2 lbs) cordless sweeper with a head that can swivel in a complete circle. This can be useful when sweeping under chairs and other narrow spaces. The Sweeper Max uses four brushes that spin at a speed of 4,000 RPM to sweep floors and carpets. The brushes are removable, allowing users to clean them regularly. This sweeper also has a flat shape that can make sweeping under furniture much easier. The head is designed to fold vertically and attach to the handle, via a magnetic latch, allowing easy storage.
---
| | |
| --- | --- |
| 3 | BISSELL Sturdy Sweep Sweeper 2402B |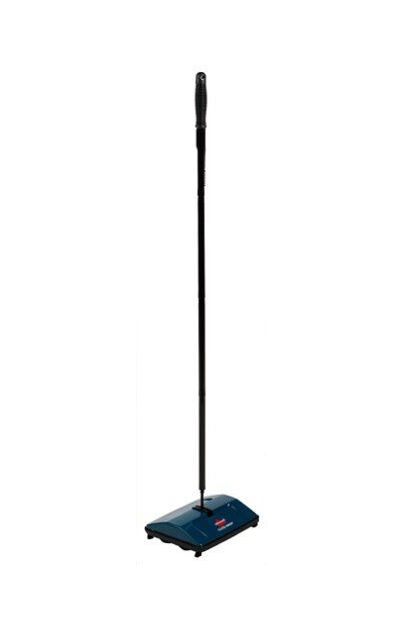 Another manual sweeper from BISSELL, the Sturdy Sweep Sweeper 2402B sweeper can be used on floors and carpets. It features a single main cleaning brush and four smaller corner brushes. The long handle has a rubber grip for comfort, and it can lay flat so users can sweep under furniture with ease. Since the Sturdy Sweep Sweeper is manually powered, there is no need for electricity and no noise when using it.
---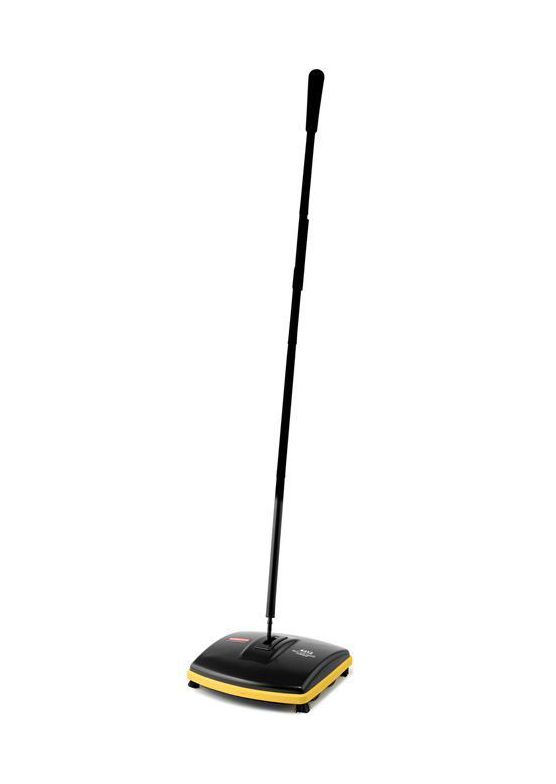 The Rubbermaid FG421288BLA is a manual sweeper that is designed to work on both floors and carpets. The sweeper uses a single brush that sweeps in a 6 1/2-inch path. Made from galvanized steel and ABS plastic, the FG421288BLA is a durable sweeper. Its low profile enables users to clean under low furniture easily. Soft rubber wheels ensure that the sweeper glides easily on most surfaces. Like all manual sweepers, the Rubbermaid FG421288BLA is cordless, does not require electricity to operate, and is quiet.
---
| | |
| --- | --- |
| 5 | Swivel Cordless Floor and Carpet Sweeper |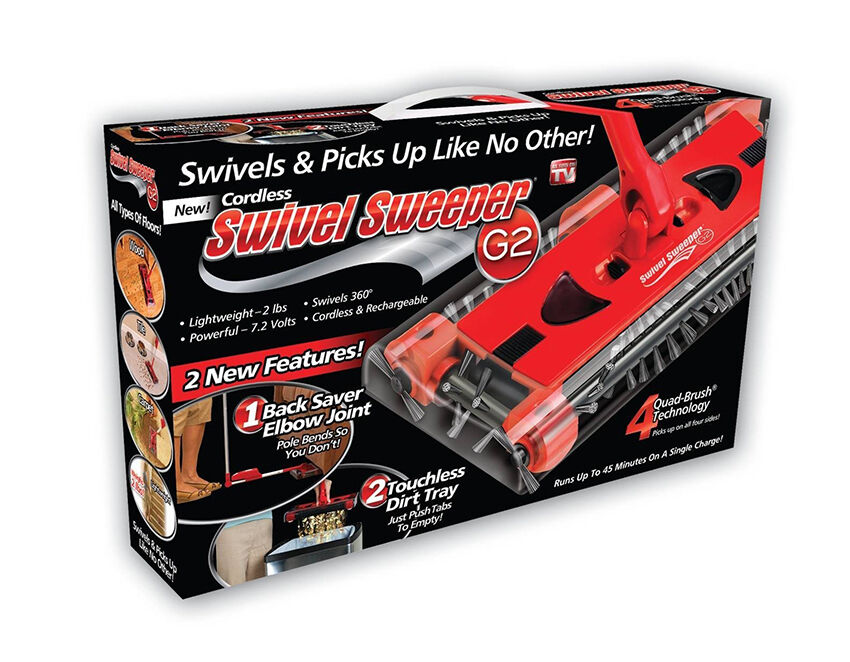 The predecessor of the "Swivel Sweeper Max," the Swivel Cordless Floor and Carpet Sweeper is a cordless sweeper that works well on both floors and carpets. Also known as the "Swivel Sweeper G2," this stick broom uses a rechargeable battery to sweep for up to 45 minutes. Weighing only 2 lbs, the Swivel Sweeper is easy to carry and use. Its head swivels completely, allowing easy sweeping in tight spots and around corners. The Swivel Sweeper combines a sweeping cloth with a vacuum.
---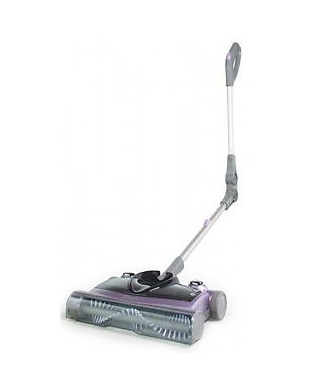 Powered by a rechargeable battery, the Shark VX3 V1950 cordless sweeper can be used to sweep both carpets and floors. The sweeper has a folding handle that can help reduce the strain on users' backs while sweeping under furniture. It also features swivel steering for added comfort. The 13-inch brush roll can be run at two different user-adjustable speeds, depending on whether users are sweeping carpets or floors. The Shark VX3's handle folds in half, allowing users to store it conveniently in a small space.
---
How To Buy
Carpet and floor sweepers are appliances that are designed to simplify sweeping. There are two types: Those operated manually, and those that are powered. They can help users sweep a larger area more effectively. Buyers looking for carpet and floor sweepers can choose from a wide variety on
eBay
. They can use the search bar to find a particular sweeper quickly. For example, searching for "
Swivel Sweeper Max
" lists all matching items currently available on eBay. Before committing to a purchase, buyers should review a seller's return or exchange policy. Buyers are also free to ask sellers any questions they may have regarding an item. If the seller is comfortable with the arrangement, buyers can also save on shipping costs by arranging for a local pickup.