About VoIP Conference Calling
When hosting VoIP conference calling, the audio transmitted is sent through digital packets over the Internet. The sound is transferred between numerous hubs and routers, so it's important to have quality VoIP
conference calling equipment
and service. There are an array of telephone styles that businesses can choose for VoIP conference equipment, and the cost and specifications will depend on the size of the company.
Since the Internet is a very busy network, it's best to place conference calls during non-peak times. For instance, early in the morning and late in the evening are optimal times to make a business conference call. Many businesses frequently use VoIP conferencing equipment to conduct meetings. It saves them a great deal of money on travel expenses. VoIP conferences can bring their employees together for meetings even though they may be thousands of miles apart. To assist shoppers who are interested in purchasing VoIP conference calling equipment, here are the top 5 VoIP conference phones: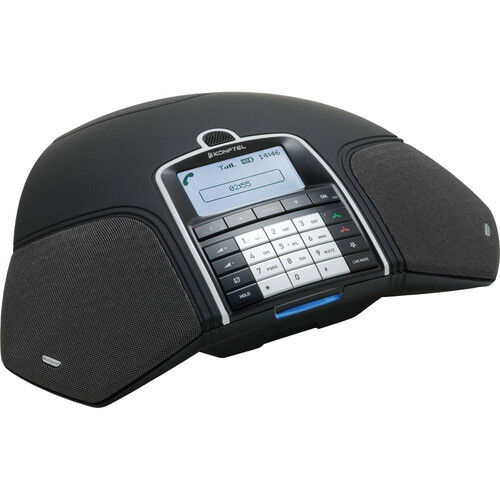 The Konftel 300IP combines all the benefits of IP telephony with new functions. It's SIP-based with a sleek Scandinavian design, and it performs an efficient conference call. This phone incorporates OmniSound 2.0 with wideband. Teleconferencing is easily arranged, and a wireless headset can be used to make calls. This unit supports Power over Ethernet (PoE).
Features
OmniSound 2.0 technology
Easy installation
Five-way calls
SD call recording
---
| | |
| --- | --- |
| 2 | Polycom SoundStation Direct Connect |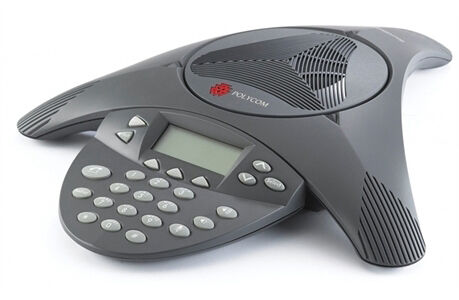 This phone is a USB-based phone made for small to medium businesses that provides clear audio in a group setting. It can be used with any UC soft phone application on most any computer without the need for drivers. It connects to the host computer with a simple USB, and it is easily transported in a laptop bag. The Polycom SoundStation Direct Connect is a simple unit to operate, and it's popular for business people who have to regularly operate from more than one location.
Features
USB 2.0 interface
Three cardioid microphones - 200 Hz to 7 kHz with a pickup range of seven feet
3.5 mm headphone jack for privacy and audio pass-through
Automatic gain control
LED light to indicate call status
Dynamic noise reduction
Simple UI interface with call pick-up/hang-up, and volume keys
Gated microphones with intelligent switching
---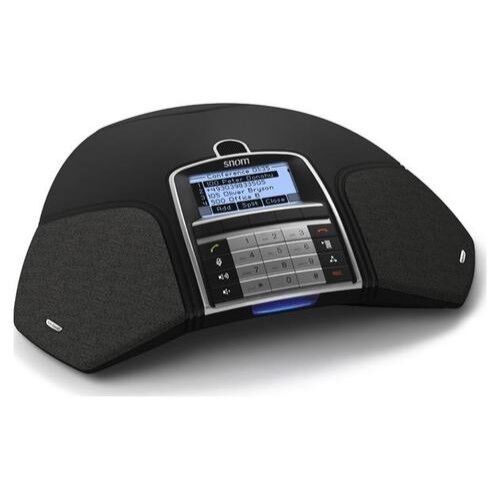 This VoIP conference phone is made for middle to large conference rooms. It suppresses background noise, and it has sound quality that can tolerate large groups of up to 10 people without affecting the quality of the call. The Snom MeetingPoint IP has three speakers, which have full duplex broadband audio, and they provide balance with full sound. The integrated microphones allow participants to receive crisp, clear sound quality.
Features
Management of up to four external participants
Security: Open VPN
Multiple SIP registrations
Simultaneous management of internal and external telephone listings
Recording range up to 30 m room area or 10 participants
Microsoft Office Communication server 2007 R2 ready
Connection type for add-on microphones for a larger recording range
Broadband quality by G.722
---
| | |
| --- | --- |
| 4 | Polycom SoundStation IP6 5000 |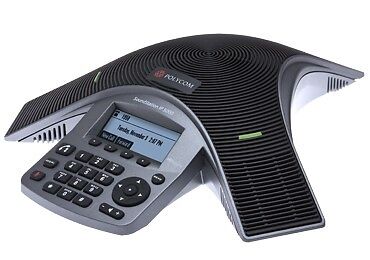 The Polycom SoundStation IP6 5000 is a one-line SIP device featuring Polycom's voice technology. These phones provide very clear sound. The microphone has a distance tolerance of up to seven feet, and it has a small footprint, which makes it ideal for executive offices and small conference rooms. It allows up to six participants for conference calling. It has full duplex technology that helps to eliminate dropped calls and echo sounds. It can work with an array of PBX IP and hosted platforms. It works well with Asterisk based PBX systems, and it has integrated PoE, which simplifies the setup. The high resolution LCD backlighting makes it easier to use. There are also security features on this phone, which ensures privacy.
Features
Integrated PoE with optional AC power adapter
Polycom HD voice for high-fidelity calls at up to 7 kHz
Shared call/bridged line appearance, and busy lamp field
High-resolution 248 x 68 pixel white LCD display with backlighting, and custom intensity control
Supports several languages
Corporate directory access, user-configurable contact directory, and call history
Robust interoperability - compatible with an array of SIP platforms, which improves feature availability and voice quality
---
| | |
| --- | --- |
| 5 | Polycom SoundStation IP 7000 PoE |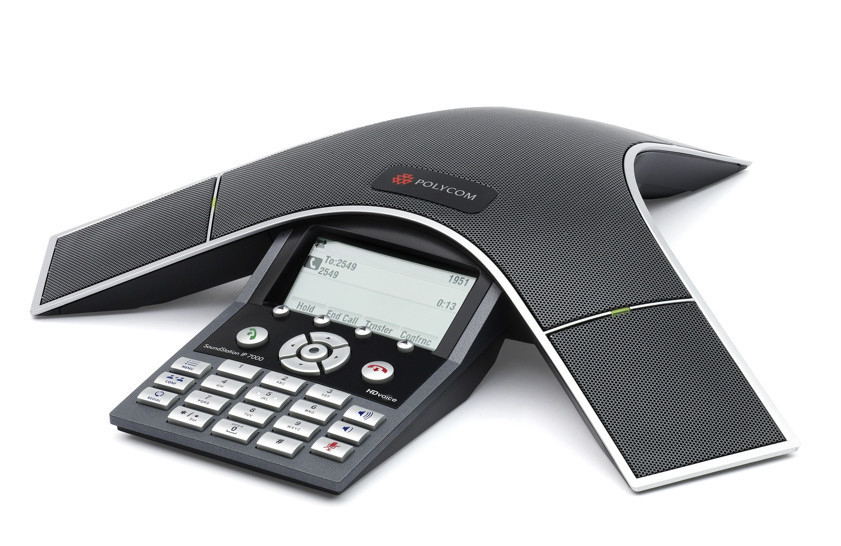 The Polycom SoundStationIP 7000 far exceeds the advanced sound performance of previous generations. This conference phone delivers the very latest dropout control and echo cancellation technology. It's the most expandable and flexible version of all the Polycom conference phones previously developed. Two units can be connected for increased volume, microphone pickup, and multiple call control interfaces, which are usually needed in conference rooms. To ensure close proximity to all conference participants, two optional expansion microphones can be connected to a single phone.
Features
Patented Polycom acoustic clarity technology
Polycom HD voice technology for high-fidelity calls
Flexible configuration options multiple unit connectivity, expansion microphones , and future integration with Polycom HDX solutions to service the needs of all room types
Microphone pickup reaches 20 feet
Excellent interoperability and compatible with an array of SIP call platforms to improve voice quality and feature availability
Strong SIP - leverages highly advanced SIP endpoint software with advanced call handing, security, and provisioning features
Large high resolution display with XHTML microbrowser that enables new applications
---
Finding a VoIP Conference Phone on eBay
To find one of the top 5 VoIP conference phones, go to the top of any eBay page, and type in keywords or short phrases that describe the conference phone needed. Use words or phrases such as "IP conference phone" or "VoIP conference phone." To enhance the search, use terms that closely describe the product manufacturer or other descriptions that can maximize the search process. Try using eBay's
Search Tips
page for additional tips for a keyword search.
While reading through the VoIP conference phone listings, note the condition, cost, size, and other details regarding the product. It's also important to note the terms of the sale and the shipping costs. To contact the seller with a question, click the
Ask a question
link on the seller's listing page. Before bidding or committing to buy a VoIP conference phone, check the seller's feedback to see how other eBay shoppers have rated their experience with the seller. Also, keep in mind that many sellers offer free shipping on eBay; this will lower the total cost of ownership for a VoIP conference phone.
Conclusion
VoIP conference phone
s are gaining popularity with companies all over the world. They cut down on unnecessary trips, and they bring employees together regardless of the distances between them. The technology for VoIP conference phones has evolved, and they are becoming more efficient and easier to use with each passing year.
Before bidding on, or purchasing a VoIP conference phone, shoppers should assess their needs. Some VoIP conference phones are made for small businesses, and others are better suited for large corporations. The features and specifications differ with each manufacturer, and shoppers should take note of them before buying a VoIP conference phone. Focusing on the right keywords or phrases in the search function will help shoppers get the VoIP conference phone best suited to their needs.