AMD Opteron
processors
are designed for servers, but they can still handle 32- and 64-bit operating systems like Linux and
Windows 8
. They are typically more expensive than their desktop counterparts, but they perform exceptionally well in multitasking benchmarks. Server processors are also designed to run virtual environments, and they can handle vast amounts of data that would overwhelm even the fastest desktop CPUs.
Desktop and Server Processor Differences
The current generation of AMD and Intel desktop CPUs like the
A10-6800K
and Core i7-4770K typically come with four processing cores, which can each handle different computing threads. The newest AMD Opteron CPUs provide up to 16 processing cores, so each processor can effectively handle four times as many open programs at once. Some server
motherboards
can also hold up to four individual CPUs, so high-end servers offer performance several magnitudes higher than desktop computers.
Used servers can easily cost thousands of dollars, but many entry-level desktop computers can be built for under $500. Memory prices have sharply dropped in the past few years, but some servers can handle 30 to 50 times the amount of memory that desktop motherboards can support, which can add thousands of dollars to the cost of building a server.
To mitigate these costs, modern server processors support virtualization technology, which allows server administrators to run multiple software servers on a single hardware server. Most virtual servers cost less to maintain and offer better performance than hardware servers, but they require high-end components. IT administrators who build and maintain their own server racks must balance the system's overall performance with its lifetime cost, which includes the cost to build and any operational costs. Misjudging the server's performance means that it will either slow down while at max load or will have performance to spare.
AMD Opteron Sockets
For many years, AMD Opteron server processors used Socket F LGA-1207 motherboards with single- and dual-socket capabilities. Opteron 6200 and 6300 processors use Socket G34 LGA-1944 motherboards, some of which support up to four processors. Opteron 4200 and 4300 processors use Socket C32 motherboards instead. The entry-level Opteron 3200 and 3300 processors fit in desktop AM3+ motherboards, so they are best suited for home servers that run just one or two virtual environments.
Socket F, C32, and G34 motherboards all accept ECC registered memory, which uses a buffer to keep the server stable with 64 GB or more of memory. That buffer slightly hurts performance, and ECC registered memory modules must be designed for specific motherboards. Check both the motherboard and memory to ensure that they're compatible.

The Best Opteron CPUs of 2013
The Opteron line has always been competitive with Intel's Xeon server processors. These server CPUs provide improved performance while reducing system power consumption by up to 25 percent.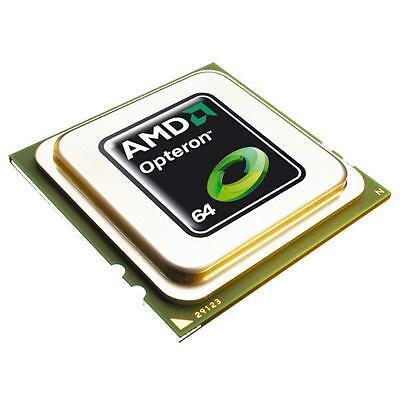 Based on the aging Shanghai core, the Opteron 8378 is an energy-efficient quad-core CPU that fits in Socket F motherboards like the Tyan Thunder n4250QE. With a TDP of 75 watts, the Opteron 8378 actually uses less power than some of its AM2 desktop counterparts, so it operates at cooler temperatures. The Thunder n4250QE can hold four Opteron 8378 processors and up to 16 sticks of DDR2 memory, so total power consumption will still be high at 300 to 350 watts without including the hard drives, cooling fans, or graphics card.
The Opteron 8378 does not include a heatsink and fan combo or other cooling device, and because it is built on a 45-nm manufacturing process, it does not run as efficiently as newer processors. IT administrators who want to upgrade their existing Socket F servers will see a large performance gain with the Opteron 8378, and they can keep their existing RAM modules and other components. Everyone else will want to upgrade to newer G34 or C32 Opteron CPUs.

Features
Quad-core 2.6 GHz
Socket F LGA-1207 compatibility
512 KB L1 cache
4 x 512 KB L2 cache
6 MB L3 cache
---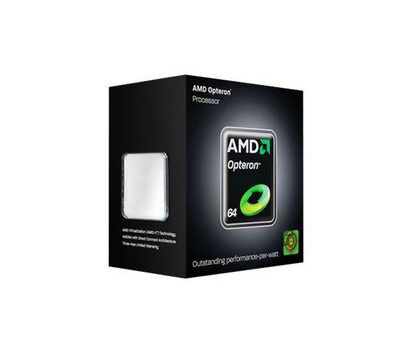 The AMD Opteron 4234 uses the 32 nm Valencia core and offers improved performance over the Opteron 8378. Two additional cores provide more server horsepower, and the larger L2 and L3 caches minimize memory access times. A higher operating frequency also improves performance per core, so the Opteron 4234 is an improvement over Socket F Opteron CPUs in most technical categories. Socket C32 motherboards support faster DDR3 memory, and the extra bandwidth has a significant impact on server performance.
In general, Socket C32 servers offer less processing power than Socket G34 systems, but they are more affordable by a significant margin. The Opteron 4234 can fit in single and dual-socket motherboards, and the CPU's TDP of 95 watts is lower than G34 CPUs at 115 watts. As with most Opteron CPUs, the 4234 does not include a cooling device.

Features
Six-core 3.1 GHz
Socket C32 LGA-1207 compatibility
3 x 2 MB L2 cache
8 MB L3 cache
---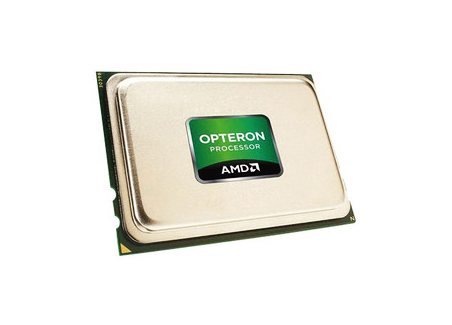 Unlike Socket C32 motherboards, G34 motherboards can support up to four processors at once, so they can typically handle more demanding tasks than C32 systems. The AMD Opteron 6212 is another 32 nm CPU, but it is based on the Interlagos architecture, which supports more cores than Valencia. It offers a total of eight cores running at a slightly slower 2.6 GHz, but the additional cores more than make up for any performance drop from the lower operating frequency.
The L2 cache is 33 percent larger than the Opteron 4234, and the L3 cache is twice as large. Average power consumption is 80 watts, and the TDP is rated at 115 watts, so the Opteron 6212 will always use more power than the 95-watt Opteron 4234. Total power consumption can also become a concern with a four-socket system, which can draw up to 500 watts for the motherboard and CPUs alone. For larger servers, 1 kW power supply units are recommended.

Features
Eight-core 2.6 GHz
Socket G34 LGA-1944 compatibility
4 x 2 MB L2 cache
16 MB L3 cache
---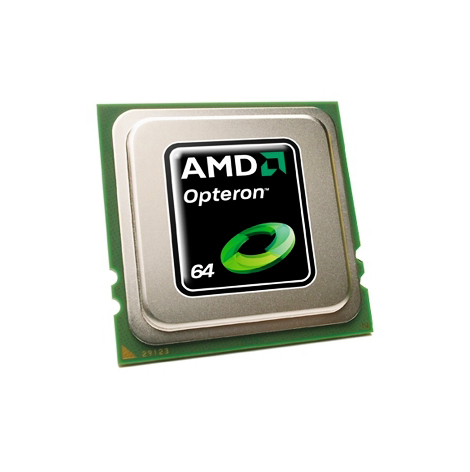 The AMD Opteron 4284 is a cross between an Opteron 4234 and Opteron 6212. Like the Opteron 4234, it is based on the Valencia core, but it features eight cores instead of six. The operating frequency is negligibly slower at 3.0 GHz, but the L2 cache is significantly larger. The TDP of 95 watts allows the Opteron 4284 to run more efficiently than the Opteron 6212.
In an apples-to-apples comparison, a dual-socket Opteron 4284 system will almost always be a better choice than a dual-socket Opteron 6212 server because it will consume less power without sacrificing any performance. The Opteron 6212's larger L3 cache gives it an advantage in some memory-intensive applications, but the Opteron 4284 performs admirably in home and small-business servers alike.

Features
Eight-core 3.0 GHz
Socket C32 LGA-1207 compatibility
4 x 2 MB L2 cache
8 MB L3 cache
---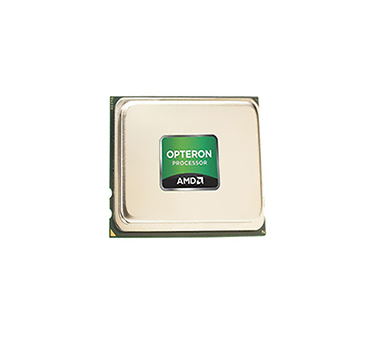 The AMD Opteron 6380 is designed for demanding server applications that require reliable performance rather than energy efficiency. All 16 cores run at 2.5 GHz by default, but the Opteron 6380 can boost its operating frequency to 2.8 GHz for a small performance boost if necessary. When combined with a quad-socket G34 motherboard, the Opteron 6380 provides an incredible 64-core server.
Some Socket G34 motherboards support up to 1 TB of ECC registered memory. While more expensive than dual-socket servers, a quad-socket Opteron 6380 server with at least 128 GB of memory offers performance that simply cannot be beat. Except in very rare cases, home and small-business servers do not require this much computing power, but the Opteron 6380 offers excellent performance for enterprise servers.

Features
16-core 2.5 GHz
2.8 GHz turbo mode
Socket G34 LGA-1944 compatibility
8 x 2 MB L2 cache
16 MB L3 cache
---
How to Find Opteron Server Processors on eBay
To shop for AMD Opteron server processors on eBay, click on the Electronics link on the homepage, and select Computers, Tablets & Networking. Under Components & Parts, click on
CPUs, Processors
. Click on See All beside Socket Type, and click the box next to Socket AM3+, F, C32, or G34 for the desired socket type. To quickly find specific Opteron CPUs, use the search field located near the top of every eBay page.
Include the model or socket type. Search terms might include "Opteron 6380" or "Opteron G34." Refine search results by clicking the appropriate boxes for manufacturer, CPU type, number of cores, socket type, clock speed, condition, buying format, and price range.
Conclusion
AMD Opteron server processors are expensive, but they offer plenty of multitasking performance to run virtual environments. With the Opteron 6380 on a G34 motherboard, server administrators can safely run dozens of programs at once without crashing the system or tying up the network. With support for up to 1 TB of ECC registered memory, these servers will be able to handle the most punishing tasks for the next decade.