Daytime running lights help light the way whenever a car is running. Studies in Australia have found that the use of daytime running lights reduces non-pedestrian fatal crashes by an average of seven percent and non-pedestrian non-fatal crashes by an average of 9.5 percent. Also, the use of daytime running lights has reduced all pedestrian fatalities by an average of 8 percent. These statistics should convince drivers around the world that they need daytime running lights on their vehicles.
Drivers interested daytime running lights for their car and worried about safety can consider the top five and learn about their features and capabilities in order to make a wise purchase decision. Daytime running lights are available from a variety of sources, including auto parts stores and online; drivers can find a variety of daytime running lights on
eBay
.
| | |
| --- | --- |
| 1 | Philips DayLight 8 Daytime Running Lights |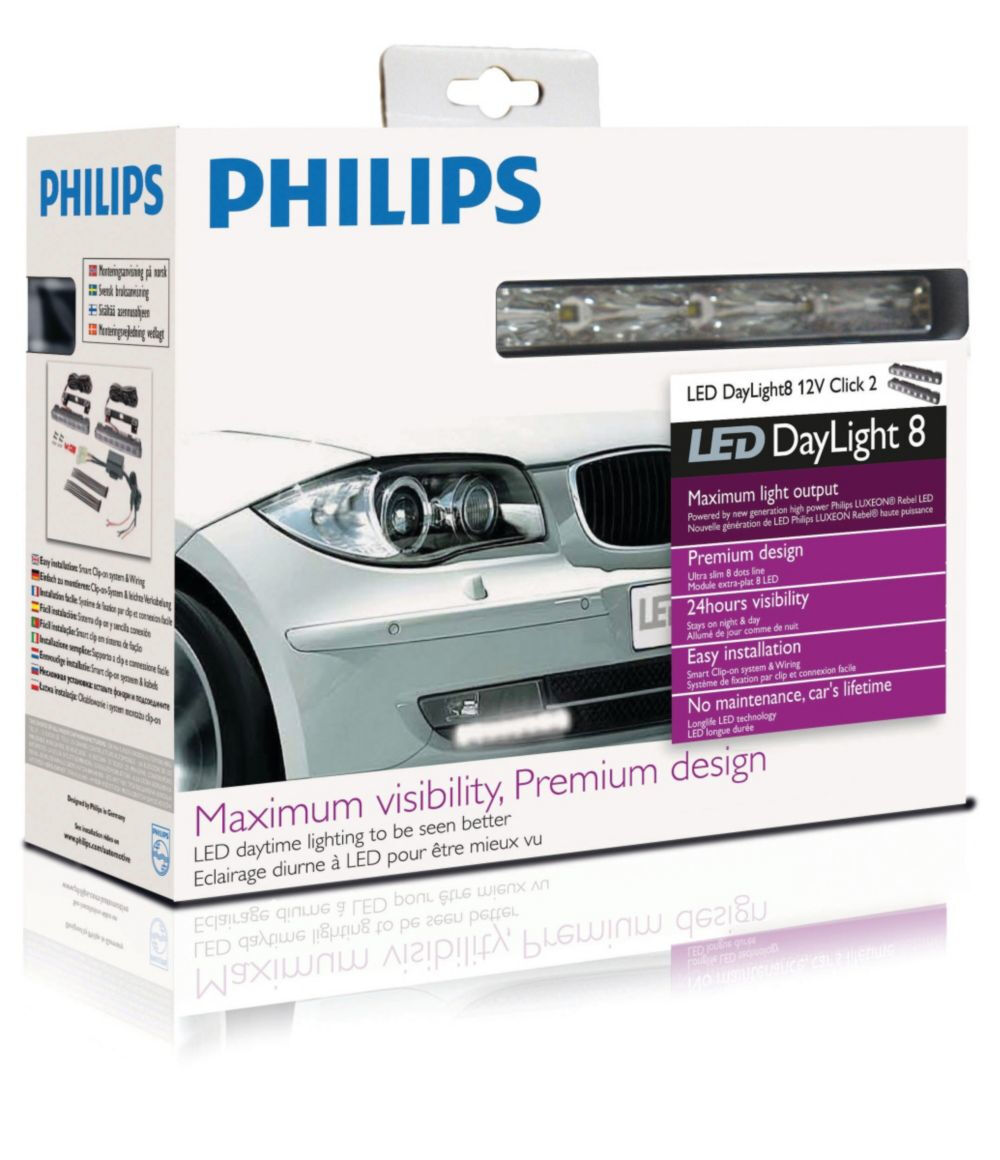 Philips DayLight 8 daytime running lights feature a plug and play clip-on system with eight lights in an ultra-slim design. The Philips DayLight 8 lights take approximately two hours to install. Buyers need to ensure that they fit on their vehicle as the unit is not universal. The Philips LUXEON Rebel lights work for approximately 10,000 hours, ensuring that the driver never needs to replace them. These daytime running lights provide a 100 percent wider beam than most daytime running lights, ensuring that other motorists and pedestrians can see the vehicle easily.
The Philips DayLight 8 daytime running lights provide a modern look to almost any vehicle. The design of these lights adds a European flair to most vehicles. Many drivers report loving the look of their cars with the running lights installed. Because the driver can turn off their halogen headlights during the day, the driver is also being environmentally friendly, since LED lights have a much lower ecological footprint than halogen lights. The United States Department of Transportation has approved the Philips DayLight 8 Daytime Running Lights for use on all highways within the United States.

---
| | |
| --- | --- |
| 2 | Philips LED DayLight 4 Daytime Running Lights |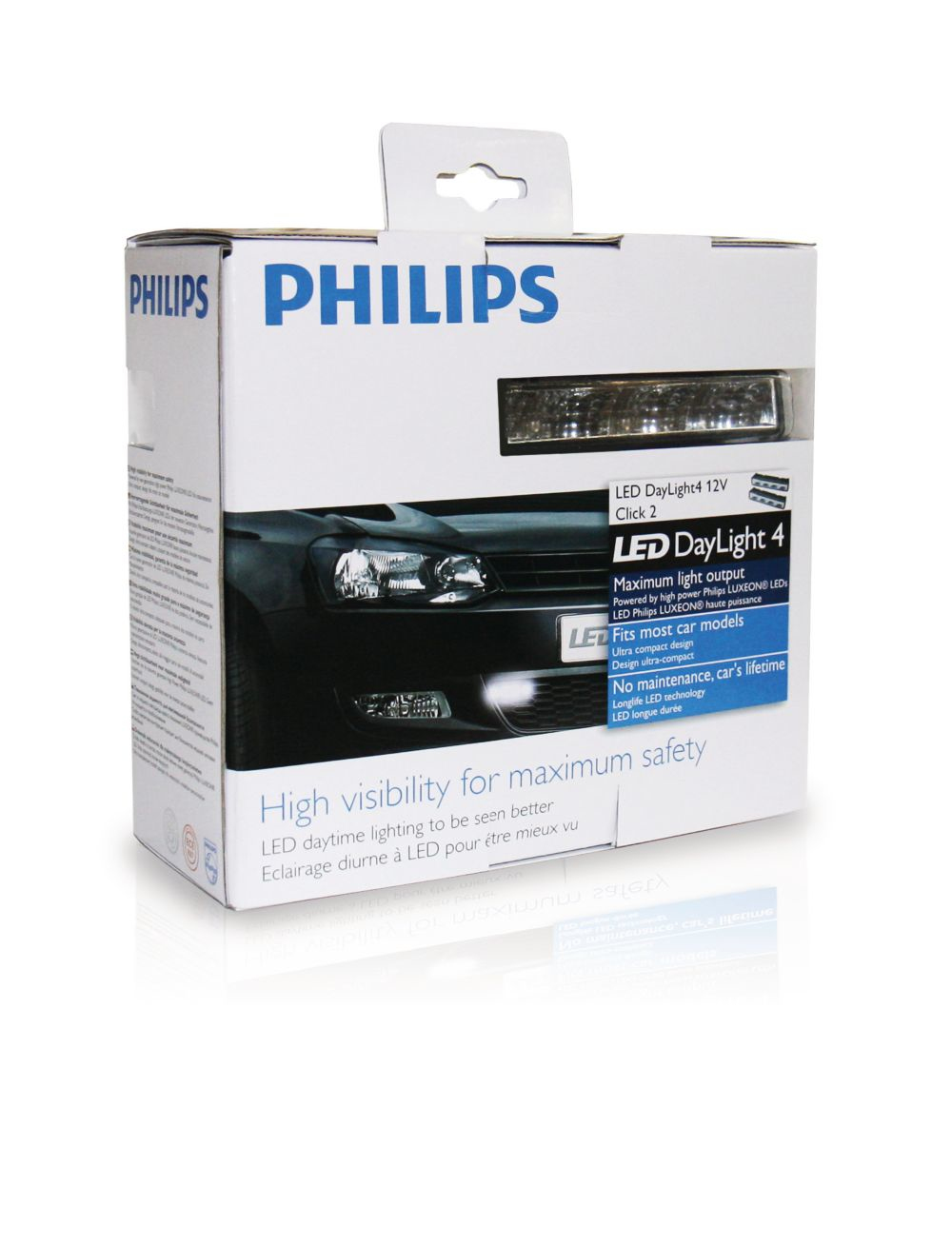 Some drivers prefer a smaller daytime running light unit, and the Philips LED DayLight 4 Daytime Running Lights easily fill the need. The Philips LED DayLight 4 running lights are 50 percent smaller than most similar products. The Auto International Association named this the best new import product. The German engineered Philips LED DayLight 4 diffuses light in all directions, using extreme white LED bulbs.
Philips LED DayLight 4's design gives many vehicles a slick European style. The product's design is tough enough to provide drivers with up to 5,000 hours of driving pleasure. Therefore, many drivers can install them, or have them installed, one time and forget about them, knowing they are there to provide ultimate safety. The lights activate as soon as the engine is started, meaning that the driver does not have to remember to turn them on to provide safety for vehicle occupants. The product is fully compliant with existing Department of Transportation and Society of Automotive Engineers standards. Lastly, buyers need to ensure that the running lights fit the car that they intend to install it on, as the unit is not universal.

---
| | |
| --- | --- |
| 3 | Universal Fit Hella LEDayLine Style 10-LED Daytime Running Lights |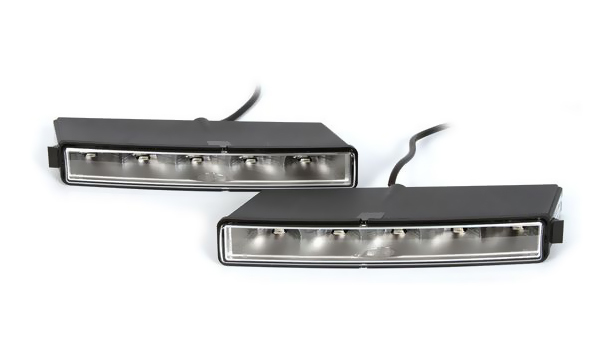 Drivers who love the look of the Mercedes E Class, Porsche Panamera, or Audi Q7 often like the looks of the Universal Fit Hella LEDayLine Style 10-LED daytime running lights. Each Universal Fit Hella LEDayLine kit contains 10 bright, surface mounted bulbs and requires very little energy to operate. Each light contains three microchips, which delivers the maximum amount of light and clarity.
The Hella LEDayLine light easily inserts where the fog lamp is located because the unit is only 8 x 1 x 2.5 inches. The unit produces a white light with a very slight blue tint because of its 6000K Xenon bulbs. The installation kit comes complete with all brackets and wiring necessary to install the unit, which can be done usually in less than two hours. Many amateur mechanics find that they can easily install these lights at home, and professionals should be able to install these lights very quickly. The unit is compliant with national law. Those buying this unit can rest assured that it fits on all vehicles.

---
| | |
| --- | --- |
| 4 | Ring Aurora Daylight Running Lights |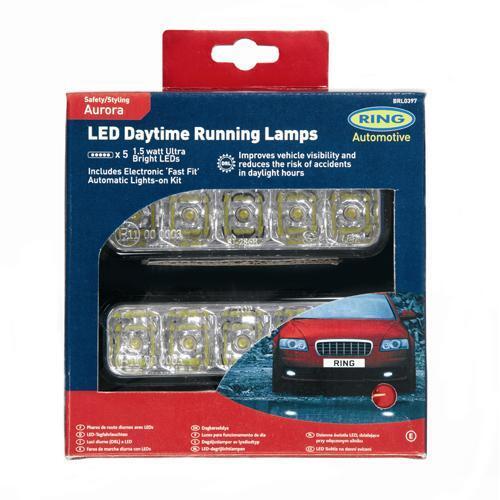 The slim compact design of the daylight running lights Ring Aurora ensures that it easily fits under most bumpers. The unit measures approximately 6 x 2.3 x 2.2 inches. Each running light contains five 1.5-watt, ultra-bright, LED bulbs designed to give a bright, focused light that allows pedestrians and other vehicles to easily see the vehicle.
The Ring Aurora daylight running lights housing is made of aluminum, ensuring that the unit stands up to most unsavory circumstances. Many competitors of this unit try to cut corners with plastic housing. The running lights' lens is acrylic, while the reflector is made of acrylonitrile butadiene styrene. By using acrylic and acrylonitrile butadiene styrene, the company has helped to keep the cost down while still providing a quality product. Suitable for both 12- and 24-volt vehicles, Ring Aurora lights wire to the side light. Since the wiring comes already pre-assembled, many buyers find that they can install this unit without professional help. It automatically turns on when the vehicle starts and automatically turns off when any exterior light turns on.

---
| | |
| --- | --- |
| 5 | PIAA DR305 LED Daytime Running Lights |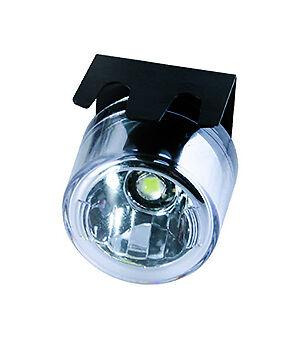 The PIAA DR305 LED daytime running lights fit any size or shape of vehicle for a truly universal fit. These running lights come with a pre-assembled wiring harness that contains the relay, fuse, and switch, which operate the five high output LED bulbs. The heavy-duty unit allows each light to adjust individually to provide the greatest lighting benefit. This ensures that the lights are not out of adjustment when the driver gets the unit. It also ensures that the lights can easily be readjusted should the need occur.
PIAA DR305 LED lights, measuring 6.25 x 16.25 x 1.25 inches, fits any vehicle. The unit is waterproof, ensuring that water due to bad weather or off-road fun does not damage it. PIAA DR305 LED lights are compliant with all Department of Transportation and Society of Automotive Engineers standards. The unit turns on as soon as the driver starts the car and turns off when the driver turns on exterior lights.

---

How to Buy Daytime Running Lights on eBay
Once you decide on the type of
daytime running lights
that you need, the best place to buy daytime running lights is
eBay
. Go to any eBay page, and you can enter general search terms like "daytime running lights" into the search box found on any page. On the other hand, you can enter more specific search terms like "
Philips Daylight 8 daytime running lights
," or "
PIAA DR305 LED daytime running lights
."
Once you have started a search, you can then choose to sort the results by location, price, or other criteria that you establish. Doing so narrows the listings and makes the buying process easier and quicker. After locating an item that you want, you can buy from eBay with the knowledge that your purchase is safe and secure.
Conclusion
Researchers around the world have determined that daytime running lights help prevent accidents and even save lives. While some cars come with daytime running lights, other do not; therefore, some drivers choose to add these lights after they have purchased the car for their own safety and for that of their families. Some drivers also choose to replace the lights that came with the car with more stylish lights. Make sure that the model that the model chosen fits on the vehicle. In addition, make sure that the running lights are made from great quality materials. The driver needs to choose lights based on the look that they desire, as running lights provide different looks. Once a driver decides on what running light is right to meet their needs, the search features and easy-to-use eBay interface ensures they find it quickly.