A
watering can
is a device that transports water from its source to plants or flowers. Many watering cans feature various technologies that truly enhance the watering experience. With streamlined designs, seasonal styles, and diverse spout lengths, consumers can discover a whole wealth of watering cans perfect for their needs and wants. However, due to the bland styles that many consumers associate with watering cans, it can be hard to know what is on the market. Fortunately, by looking into the top 10 watering cans available, consumers can easily find the right watering can for them.
| | |
| --- | --- |
| 1 | Union Products Elephant Can |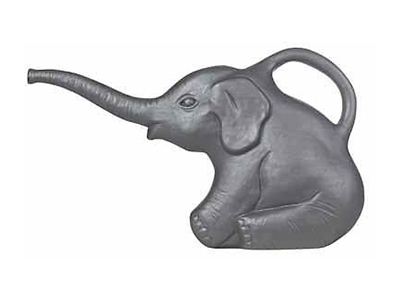 Doubling as a yard ornament as well as a long-spout watering can, the Union Products Elephant Can provides consumers with a fun and easy way to water their foliage. In terms of practicality, this can features a durable, plastic blow molding, two-quart water capacity, and a 1.5-inch round opening on the top so that consumers can easily fill their can in minutes.
---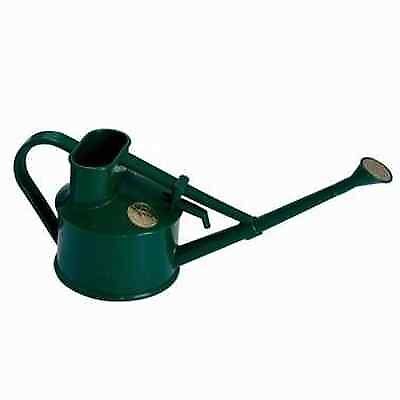 Featuring injected, molded plastic and a removable, brass faced rose, the Bosmere V127GR Haws watering can is a delightful, mini addition to the classic Haws watering cans. Due to its small stature, this can is optimal for watering indoor plants. Additionally, with its 2-cup capacity, consumers can effectively water their indoor plants without needing to carry a heavy, full capacity watering can.
---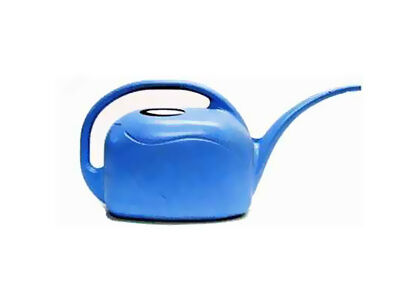 Watering plants indoors has never been more stylish and comfortable with the Novelty 30702 watering can. This one-gallon, soothing sky blue can features an ergonomic design that allows anybody to water all of their plants without muscle strain, as this can utilizes a specially-made, curved loop handle as well as a long stem spout. The Novelty 30702 features impact resistant plastic, recyclable material, and a flower design.
---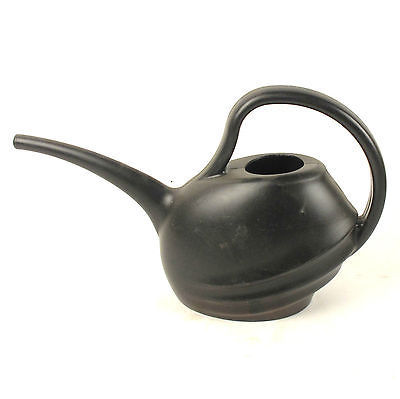 Ideal for watering indoor plants, the Fiskars 20-24982 watering can easily allows consumers to port up to 1.5 liters of water easily. Additionally, since this Fiskar watering can utilizes a durable, lightweight resin, consumers do not have to worry about that extra weight that some watering cans have.
---
| | |
| --- | --- |
| 5 | Behrens Steel Watering Can |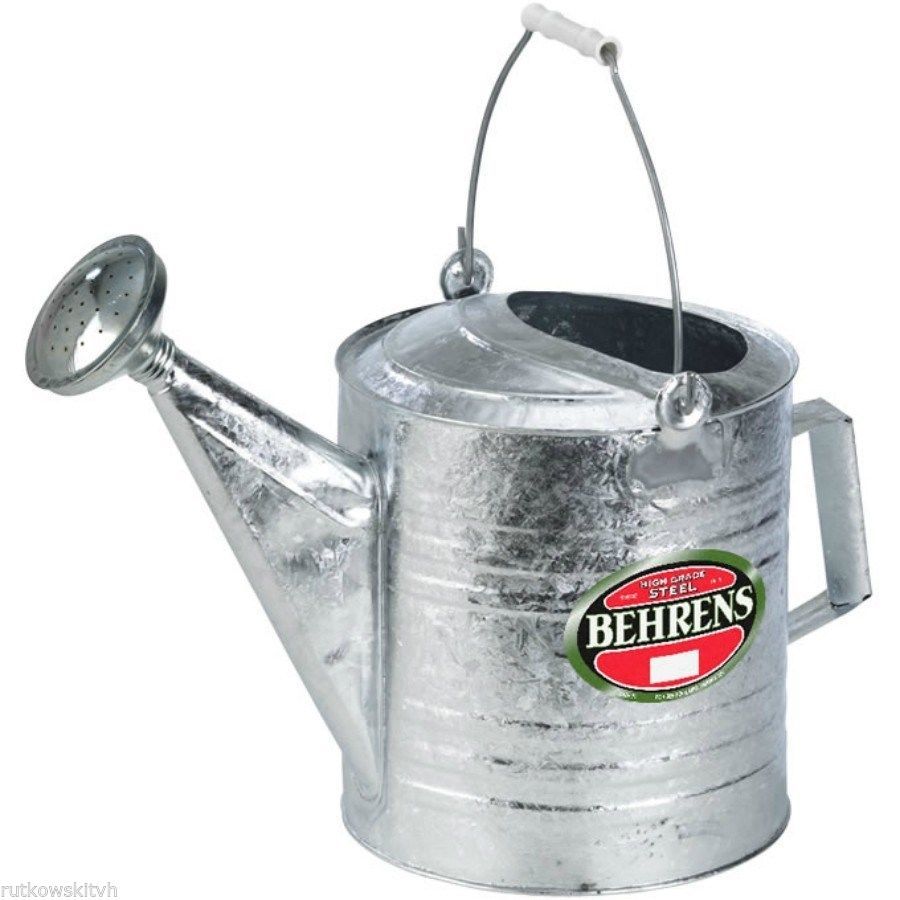 Although steel watering cans often weigh heavier than plastic ones, the Behrens Steel Watering Can serves as the ultimate watering can for consumers who have both outdoors and indoors plants that need watering. This watering can features a durable, steel material that does not rust under normal weather conditions, 3-gal. capacity.
---
| | |
| --- | --- |
| 6 | Oxo- Indoor Pour And Store Watering Can |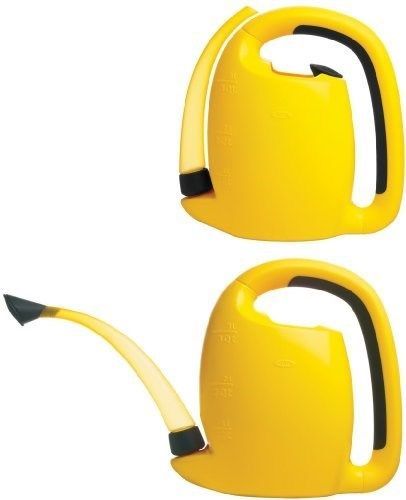 Having a quality grip on a watering can is an important attribute for many consumers, and with the Oxo- Indoor Pour and Store Watering Can, consumers can utilize a soft, non-slip handle for a comfortable and secure grip while watering plants. This can features a rotating spout for easier filling and space-efficient storage, a 3.17-qt. capacity, and measurement markings.
---
| | |
| --- | --- |
| 7 | Bosmere V181 Haws Indoor |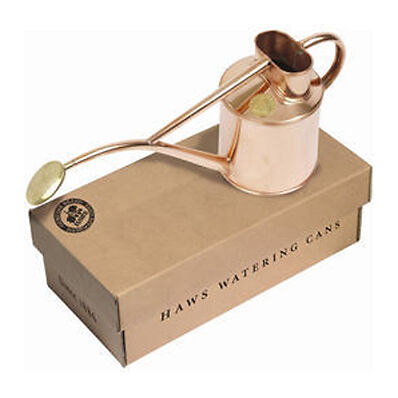 The Bosmere V181 Haws Indoor features a pure copper construction that maintains its rich patina over time. Furthermore, this decorative watering can utilizes galvanized steel and a tough-powder finish to protect it against the elements while helping it continually shine.
---
With its huge capacity and extra long spout, the Dramm 5-Liter Premium watering can allows consumers to water most of their plants without needing a refill as well as helping them minimize spillage when the can is full. Additionally, its injected molded plastic construction prevents rust, leaks, and corrosion.
---
| | |
| --- | --- |
| 9 | Plastic Watering Can: Classic Union Products Tulip Design |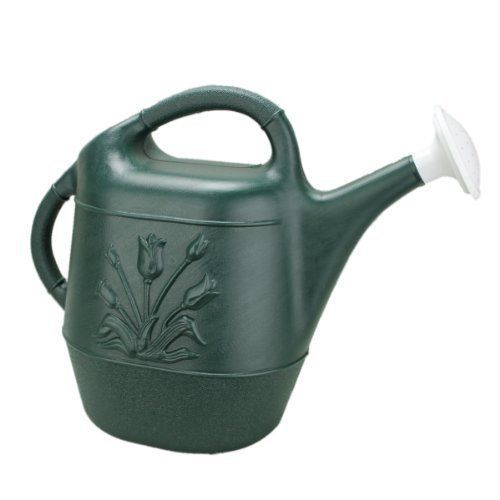 Featuring two gallons of water storage space as well as a 2.25-inch round hole in the top for filling, the Classic Union Products Tulip Design watering can is an ideal device for both indoor and outdoor plants. Users can discover a replaceable, screw on sprinkler head, a durable plastic construction, and a stylish tulip design on both sides.
---
| | |
| --- | --- |
| 10 | Novelty 30600 Plastic Watering Can |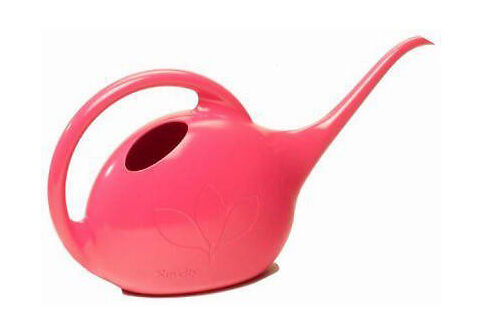 No matter what consumers need to water, the Novelty 30600 Plastic Watering Can is effective for both indoor and outdoor plants, and with its bright pink color and floral design indentation, this watering can helps users water their plants in style. Additionally, this can features a curved loop handle and an extra long spout that enhances comfort and ease.
---
How To Buy
With the right
watering can
, you can effectively water all of your foliage in one trip without having to worry about strain or inconvenience. You can find a whole variety of watering cans in different styles and designs on
eBay
. To begin searching for watering cans, locate the search bar and enter keywords related to the products you want. Keep in mind that eBay only provides listings based on these keywords, and therefore a more general search, such as "
blue watering can
", elicits hundreds of results while more specific searches, such as the brand name, model number, and any other details, brings you right to the products you want.