Starting with cooing as an infant, to babbling as a toddler, these small milestones are all part of a child's development of their linguistic abilities. According to the National Institutes of Health, children develop the bulk of their speech and language development in their first three years of life. These developments directly affect their social, emotional, and cognitive development, as well as reading and writing skills later on in school. While there are many different types of toys available for children, it is common for parents to want to choose toys that help their children build their speech and language abilities.
With all the different types of children's toys available on the market, it is easy for parents to feel overwhelmed when it comes to determining which toys best assist their development. Consumers should keep their children's abilities and needs in mind as they evaluate and research the top 10 toys to stimulate speech.
| | |
| --- | --- |
| 1 | Playmobil 1.2.3 Take Along Fire Station |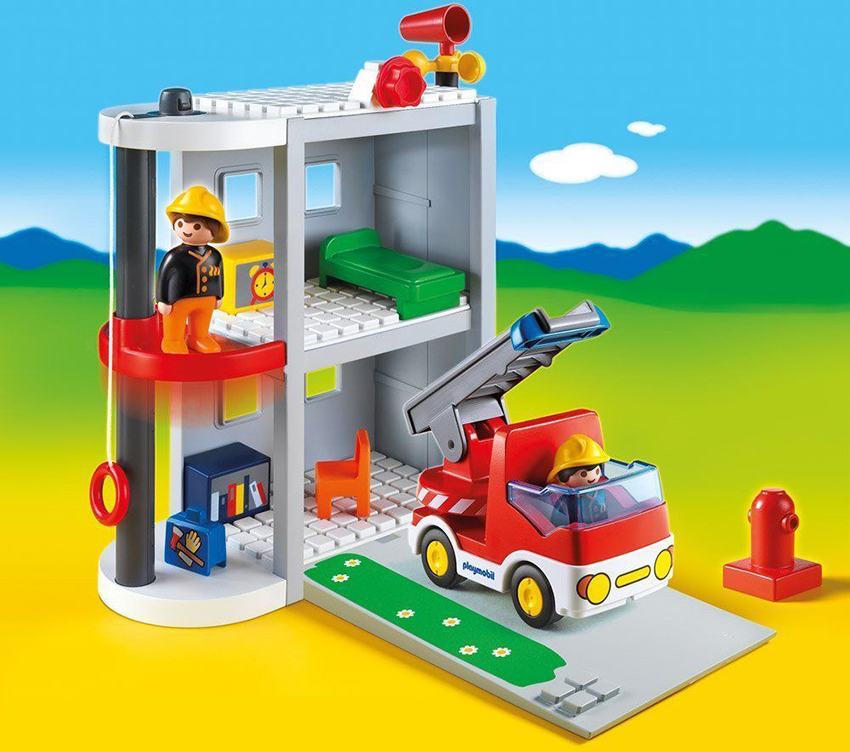 The Playmobil 1.2.3 Take Along Fire Station is a playset that comes with a fire station, fire truck, two firefighters, and multiple related items. The set folds up easily into a carrying case. The Take Along Fire Station is an ideal toy for encouraging speech due to its strong storytelling potential, and the toy won the 2013 PAL Award, which recognizes toys, books, and games that encourage speech development. Children can use the firefighters to create stories and pretend and create conversations between the characters. This encourages not only speech development during play, but enthusiasm over the created stories, leading to excitement and speech in attempts to recount to others the created stories.
---
| | |
| --- | --- |
| 2 | Playskool Mr. Potato Head |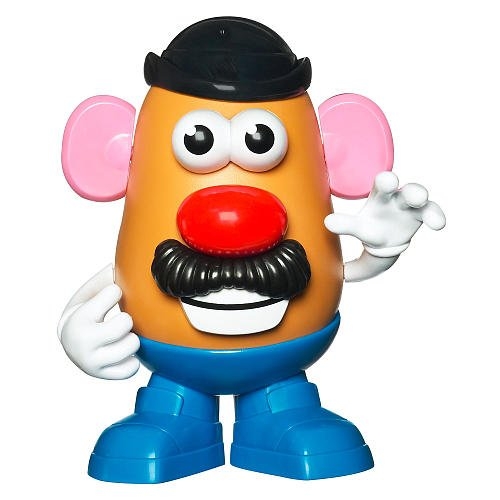 Mr. Potato Head has been a loved children's toy for decades since its invention in 1949, and is still manufactured with varying parts and clothing for different themes, events, professions, and more. This versatility in different types of Mr. Potato Head toys and products lends itself to consistently new and fresh storytelling ideas. With all of the accessory options, a child can undoubtedly find a theme or accessory that begins a storyline in his or her imagination. Children also develop an understanding for and vocabulary for body parts, clothing items, and other accessories. Playing with Mr. Potato Head also teaches basic concepts, such as left and right, first and last, and prepositions.
| | |
| --- | --- |
| 3 | Educational Insights ReMARKable Smart Talk Charts |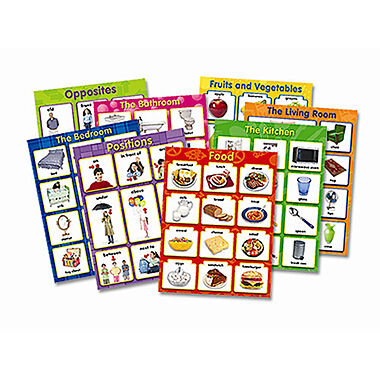 The ReMARKable Smart Talk Charts, by Educational Insights, are vocabulary charts with pictures of items and the name of that item above the picture. The charts are available in themes such as food, kitchen, living room, fruits and vegetable, and opposites. The charts are also available in bundles of general topics like school and community, home and family, and animals and people. Through using these charts, at home or in the classroom, children are able to make associations between objects and their context, as well as encouraging visual recognition of names of objects. As the child becomes more developed in his or her understanding of the objects in relation to one another, and in their greater context, speech is further developed as children are encouraged to tell stories about the objects listed on each card.
---
| | |
| --- | --- |
| 4 | Fisher-Price Little People Animal Sounds Farm |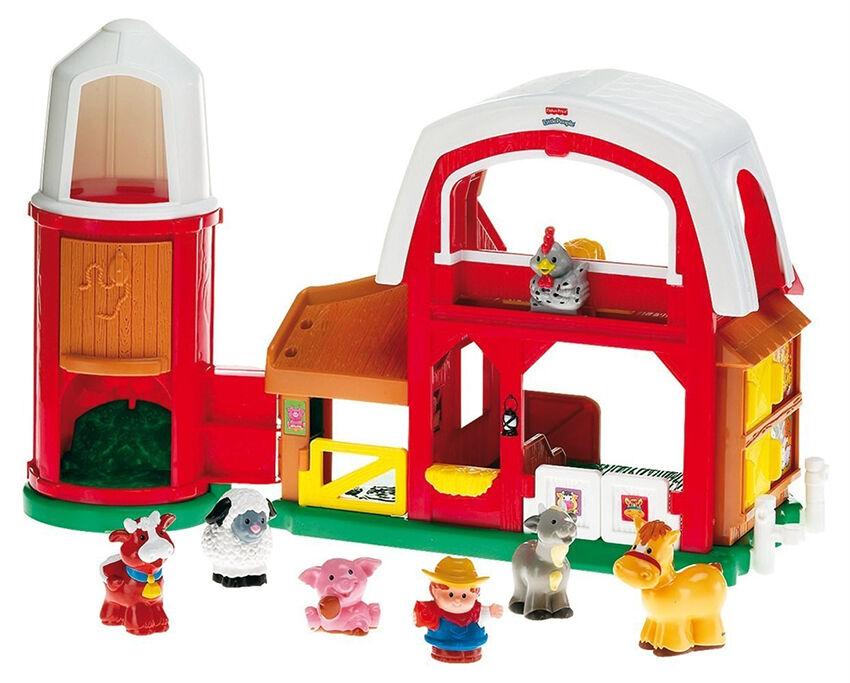 The Fisher-Price Little People Animal Sounds Farm comes highly rated by consumers. The playset involves a farm, animals, and a farmer, and requires batteries to play the animal sounds. The set also comes with a DVD and three sample stories to kickstart imagination and creativity. Children gain understanding and correlation between names of animals and the sounds they make, as well as using the set to develop understanding of size, sequences and order, prepositions, and colors. As children get older, they learn concepts of farm life such as caring for the animals, further developing storytelling and linguistic capabilities.
---
| | |
| --- | --- |
| 5 | Little Tikes Deluxe Wooden Kitchen and Laundry Center |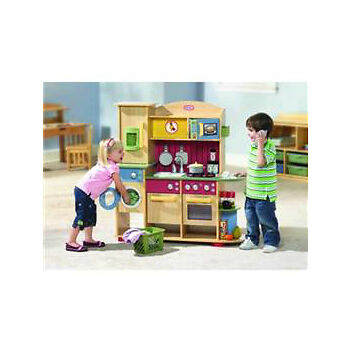 As a new, sophisticated take on the traditional children's play kitchen, the Little Tikes Deluxe Wooden Kitchen and Laundry Center appeals to younger and older children alike. Younger children can mimic activities they see parents doing in the kitchen, while older children appreciate the lifelike kitchen and laundry pieces, such as the fridge, pots, and pans, as well as the ice dispenser, ironing board, laundry basket, and iron. Children can learn basic concepts, vocabulary, and labels, as well as verbs (cook, clean, iron, etc.), commands (bake, pour, mix, etc.), and social skills.
---
| | |
| --- | --- |
| 6 | VTech Infant Learning Touch & Learn Storytime |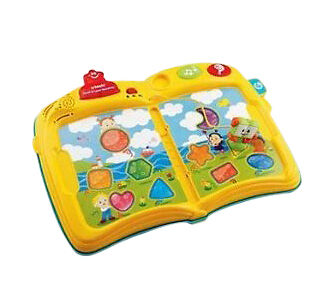 The VTech Touch & Learn Storytime is an electronic toy that encourages speech and cognitive development starting in infancy. Babies can touch various parts of the storybook to cause different sounds and songs to play. As they get older, children follow along with the story and push different sensors and buttons to access names of numbers, colors, and shapes, as well as a question/answer game.
---
| | |
| --- | --- |
| 7 | Learning Resources ABC Chalk Talk Electronic Learning Chalkboard |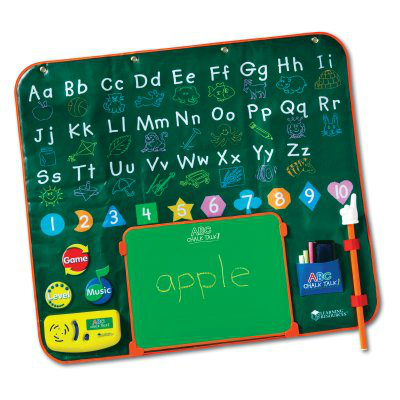 This chalkboard is a double-sided, interactive piece that appeals to toddlers and school-aged children alike. Younger kids can touch sensors to learn about the alphabet, numbers, and colors, while older children can write directly on the board, increasing linguistic and cognitive abilities as they begin simple spelling. They also develop social skills by inviting friends to participate with them. The ABC Chalk Talk Chalkboard has several games available for children to play as well, and comes with writing materials and a creative pointer, as well as the chalkboard itself.
---
| | |
| --- | --- |
| 8 | Constructive Playthings Talk Teach Transport |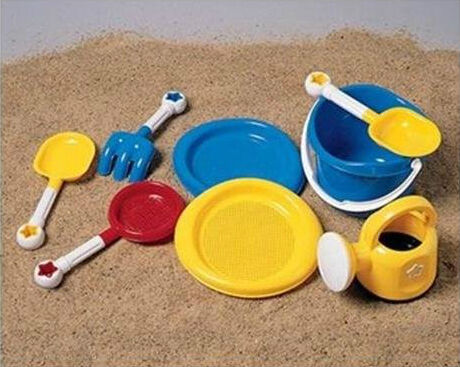 Car and truck toys are great for encouraging speech through imagination and storytelling. The Constructive Playthings Talk Teach Transport builds on this creativity and adds learning as the transport recognizes the colors, locations, and number of cars on the transport. This encourages color and number development as children answer questions by placing certain cars on the transport in response. Children also learn verbs and parts of the car as they grow. This playset consists of the transport truck and four cars.
---
| | |
| --- | --- |
| 9 | VTech - V. Smile Baby - Infant Development System |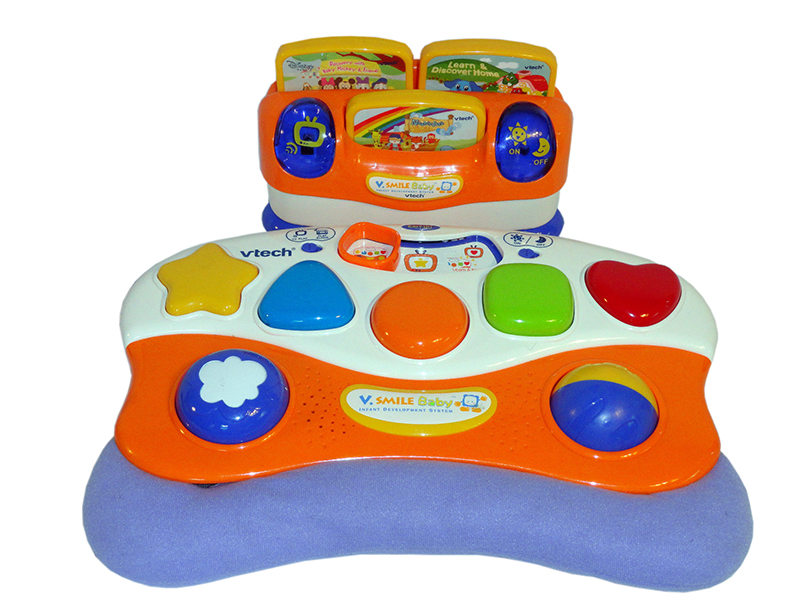 The VTech Infant Development System connects to the family TV to provide an interactive experience for children as young as 9 months. With three modes of learning, children can focus on animations, songs, and sounds as they push buttons in the first mode. The second mode plays an interactive learning video that teaches children numbers, vocabulary, baby sign language and more. The third mode, appealing to toddlers familiar with the previous two modes, focuses on questions, answers, and simple directions to encourage deeper understanding of the material. There are several different themes available to children, including farm, animal, and garden activities.
---
| | |
| --- | --- |
| 10 | Learning Resources Jump 'N' Jam Jungle Talking Floor Mat |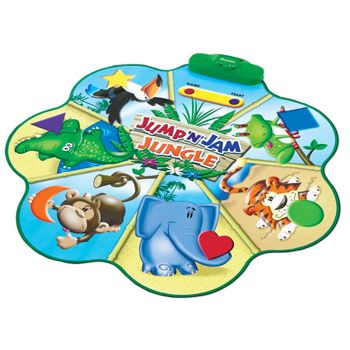 The Jump 'N' Jam Jungle Talking Floor Mat is ideal for individual and group play. As children jump around the mat, different sensors play different words, sounds, and music. There are five games available for children to play and learn about colors, shapes, and animals. The mat is also equipped for use on a tabletop, and promotes cognitive development, deductive reasoning, and gross motor skills.
---
Comparison of the Top 10
As parents research the top 10 toys, it is important to keep the needs of their children in mind. There are also several other key factors that are important in determining which toy is appropriate for purchase.
| Rank | Product | Age Group | Cost | Batteries Needed |
| --- | --- | --- | --- | --- |
| 1 | | 18+ months | $$ | None |
| 2 | | 2+ years | $-$$ | None |
| 3 | | 4+ years | $ | None |
| 4 | | 1 to 5 years | $$ | 3 AA |
| 5 | | 3+ years | $$$ - $$$$ | None |
| 6 | | 12 to 36 months | $$ | 4 AA |
| 7 | Learning Resources ABC Chalk Talk Electronic Learning Chalkboard | 3 to 6 years | $$ | 4 AA |
| 8 | | 18 months to 3 years | $$ | 3 AA included |
| 9 | | 9 months to 3 years | $$ | 4 AA |
| 10 | | 3 to 5 years | $$ | 4 AA |
Though prices fluctuate, many of the top toys are available at comparatively low costs, making them ideal options for parents looking to stick to a budget. While some of these products are available at brick and mortar stores, purchasing via an online marketplace, such as eBay, not only opens the consumer up to a wider range of products, but additional accessories and variations as well.
Buying Speech Stimulating Toys on eBay
Getting started buying on eBay is easy. Consumers can type "Mr Potato Head" or any toy name into the search bar located at the top of any page. From there, consumers can filter search results to compare product specifications, prices, sellers and more. On the seller's page, consumers can look at the feedback other customers left regarding previous sales and interactions with that seller. Top-rated sellers are distinguished on eBay for the positive buying experience they provide to their customers, ensuring top customer service and reliability. Customers can also contact sellers directly through their seller page. Since customers can filter search results by location, contacting the seller directly also provides an opportunity to see if a local purchase is available, saving the buyer and seller time and money in shipping time and costs.
Conclusion
It is very important for children who are learning to speak to have appropriate toys that promote language development. When purchasing appropriate toys, parents should pay attention to the manufacturer's recommended age group, as some toys have small pieces that result in a choking hazard to younger children. In addition, parents should compare all of their options so that they can find ideal toys that fit their budget, do not present safety hazards, and cater to the specific preferences of their children. With a better understanding of the many options on the top ten list, parents can easily compare their options and select the best and most appropriate toys to encourage speech development, in turn improving their child's cognitive, social, and emotional development as they grow.