When it comes to spy gear and covert missions, a spy
watch
is an essential element in a toolkit for espionage. These watches not only keep accurate time, but also record video, snap photos, and allow people to communicate with partners at a distance. The discreet design allows them to do so without drawing attention to their activities. There are several spy watches available with varying features to record in a variety of environments. By comparing the top models, shoppers can find a watch that best suits their specific mission.

1
Brickhouse HD Waterproof Spy Watch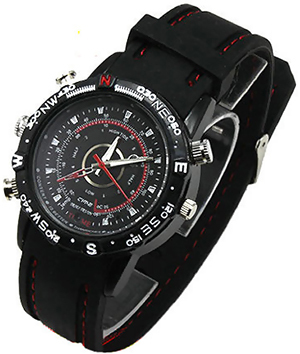 With its rugged and waterproof design, users can wear the Brickhouse HD waterproof spy watch anywhere they go. It looks like a basic wristwatch, but it has the ability to record HD 1280x1060 resolution video from a hidden pinhole lens as well as snap photos. Users can then upload the video to a computer via a USB cord.
---
2
Night Owl CS-Watch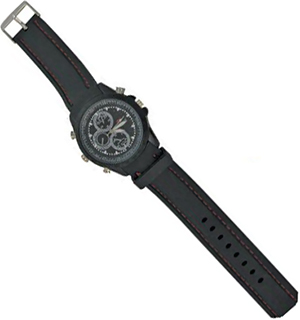 The 4GB of internal memory in the Night Owl CS-Watch allows users to discreetly record up to two hours of video footage. With the touch of a button, users can also snap quick photos and record audio clips. The watch charges when connected to a computer, so users do not have to worry about changing batteries.
---
3
Sharper Image HD Camcorder Watch
The Citizen movement of the Sharper Image HD camcorder watch ensures that wearers can stay on schedule. Its 12MP camera captures high-quality still pictures. It also records 90 minutes of HD video on a full charge. The waterproof design ensures that users can capture all of the video they need no matter what the weather conditions.
---
---
5
LawMate Night Watch 8GB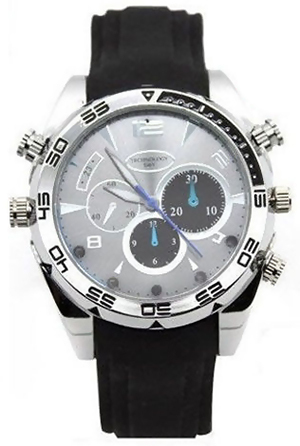 For covert recording, the LawMate Night Watch 8GB does not have blinking indicator lights, even in low light conditions. It functions as a normal wristwatch, so users can always be prepared to record audio and video or take quick photos. It also features date and timestamps for all recordings.
---
6
SpyVille Waterproof Watch Camera
The SpyVille waterproof watch camera, can record video up to 10 feet underwater. It has 2GB of internal storage and a rechargeable battery that can record up to two hours on a single charge. The analog watch looks like an outdoor sport watch with compass directions and keeps accurate time for everyday wear.
---
7
AGPtek Walkie Talkie Wristwatch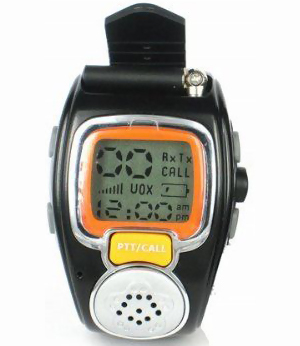 For surveillance assignments that require quick and covert communication with another party, the AGPtek walkie-talkie wristwatch comes as a two pack. Users can communicate through the on-board walkie-talkie with another person up to 3-1/2 miles away. The digital display features backlighting so that users can stay on schedule even in the dark.
---
8
Hammacher Schlemmer Night Vision Camera Watch
Four infrared LED lights in the watch face provide invisible illumination so that the Hammacher Schlemmer night vision camera watch can record video and capture photos at night. The 12MP camera located at six o'clock captures high resolution photos and records video at 1920x1080 pixel resolution at 30fps.
---
9
Mini Gadgets Polished Steel Watch Camera 8GB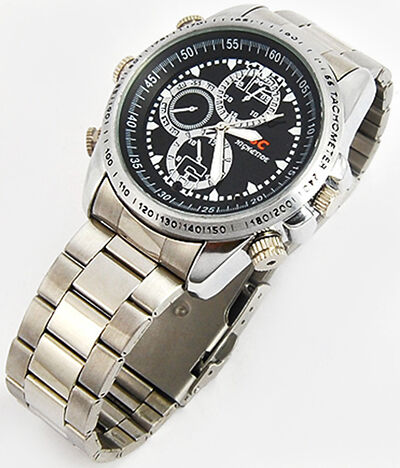 The brushed stainless steel finish of the Mini Gadgets polished steel watch camera 8GB give it an elegant and sophisticated appearance so as not to draw attention. Crows along the edges conceal the cameras for discreet recording. It features 8GB of internal memory and records up to 80 minutes of video footage on a single charge.
---
10
Safety Technology HC-Watch
With the Safety Technology HC-Watch, users can collect evidence and surveillance with ease. The all-in-one body has a sturdy design that is easy to wear. Utilizing USB 2.0 technology, users can transfer their video footage to a computer quickly. The watch records video for up to two hours on a single charge.
---
How to Buy Spy Watches on eBay
Shop for a spy watch from the large selection available from sellers on
eBay
. Use the basic and advanced search features to locate watches based on keywords you enter. Sort the listings or specify a price range to make it easier to find a match. Be sure to review the item description to ensure that the watch includes all of the features you need.
Whether recording surveillance footage or playing the part of James Bond, a spy watch makes it easy for users to capture the data that they need. By comparing the top spy watches, shoppers can find a watch that meets their needs.