A sporran is one of the defining features of the traditional Scottish men's costume. Worn at the center front of a kilt and suspended from leather straps or chains to a position just below the belt buckle, it is a pouch that is both decorative and functional. Because authentic Scottish kilts do not have pockets, wearers stow their change, keys, and other small loose items in their sporrans..
Origins of the Sporran
The word "sporran" is a Gaelic term for purse. Traditionally wrought of animal skin, fur, or hair, the sporran evolved from the belt pouch popular in medieval times prior to the adoption of pockets. According to Scots tradition, the sporran's design, material, and adornment determine whether it is suitable for everyday wear, formal attire, or semi-formal occasions.
Top 10 Types of Sporrans
Selecting a sporran to suit a kilt can be a challenge. A surprising variety of the traditional pouches makes accessorizing any type of kilt -- from traditional to contemporary -- a matter of historic knowledge, fashion sense, and personal taste. The table below details some of the sporran options available.
| Material | Style | Details | Type |
| --- | --- | --- | --- |
| Leather | Plain | Embossed with Celtic design | Daywear |
| Leather | Plain | Leather tassels on front and flap stud fastener | Daywear |
| Fur and leather | Somewhat decorative | Fur front, leather gusset and flap | Semi dress |
| Two-tone leather | Somewhat decorative | Black base, brown embossed flap, three chrome bells, studs | Semi dress |
| Fur | Decorative | Fur front and gusset, silver cantle, fur, and silver tassels | Full dress |
| Fur | Decorative | Large, fastener hidden, adorned with Celtic knot work, lion rampant, stag, thistle, or Saltire | Full dress |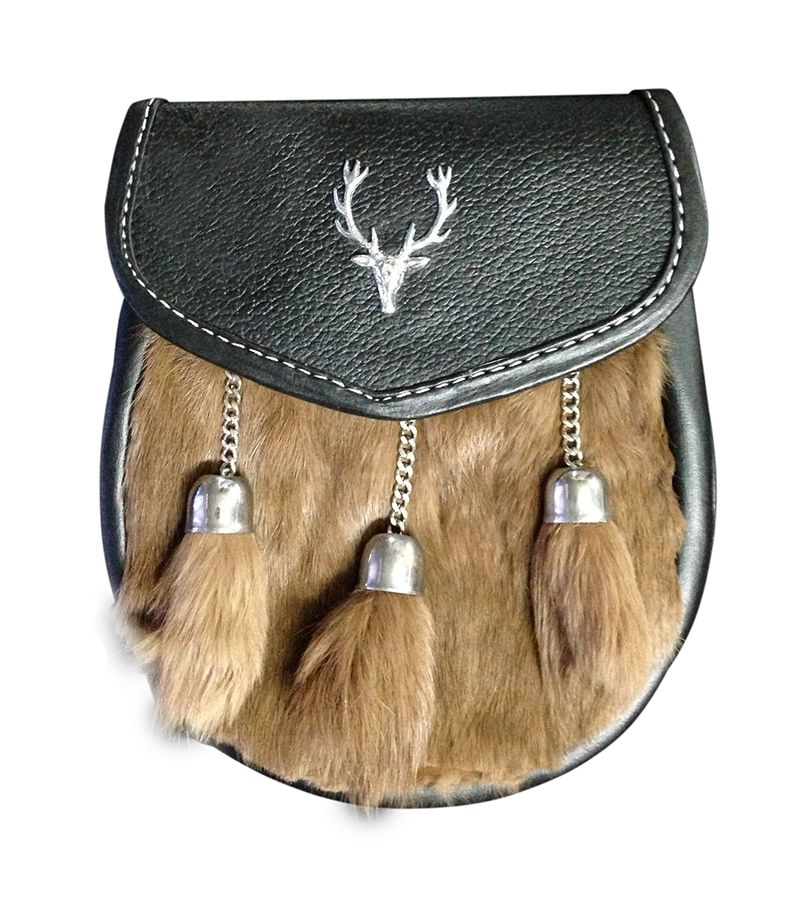 For those who don kilts for special ceremonies and formal events, a dress sporran is an essential accessory. It is probably the most popular type worn today. Traditionally crafted from genuine fur such as otter, badger, fox, and seal, contemporary dress sporrans may be made from synthetic furs due to international regulations against sourcing the pelts of endangered species.
The cantle of a dress sporran, which arcs along the top of the pouch and conceals a clasp, should be silver or pewter. It may be embossed with Celtic patterns or traditional symbols such as the lion rampant. More ornate cantles may include gemstones, such as garnets.
---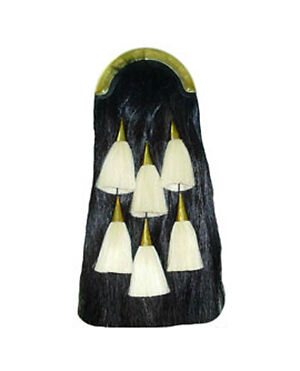 The horsehair sporran is one of the most dramatic dress sporrans due to its large size, flowing look, and contrasting colors. In general, this type of sporran is most appropriate for dress uniforms and pipe corps regalia due to its very formal style. A traditional horsehair pouch extends from just below the belt to just below the hem of the kilt. Black horsehair tassels on a white horsehair background is the most common design. This sporran has an engraved pewter or silver cantle. Sporrans made from horsehide rather than tail hair are more in keeping with the compact shape and decor of less showy, semi-dress versions.
---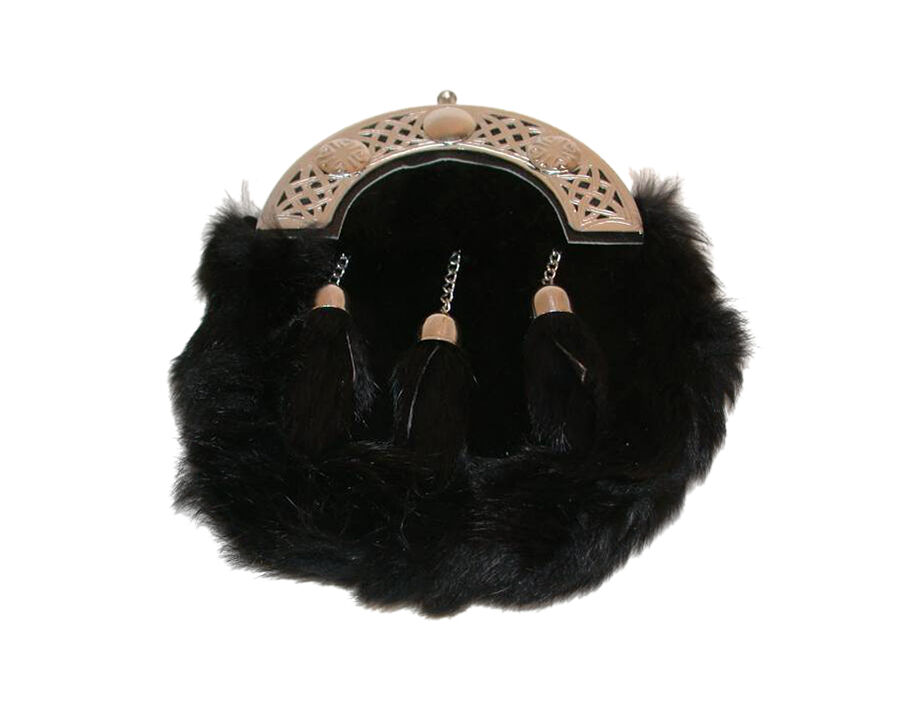 Since 2010, the European Union has maintained a ban on seal fur trade. Many dress sporrans made prior to that time consist of seal fur as their primary material. Other furs common to dress sporrans include rabbit, fox, badger, and skunk. As distinct from semi dress sporrans, formal kilt pouches are almost entirely made from fur but have silver or pewter cantles and, perhaps, tassel trims. Ancient Scots would have made sporrans from the furs of animals available to them, with later kilt wearers sourcing more exotic fur as it became available in trade.
---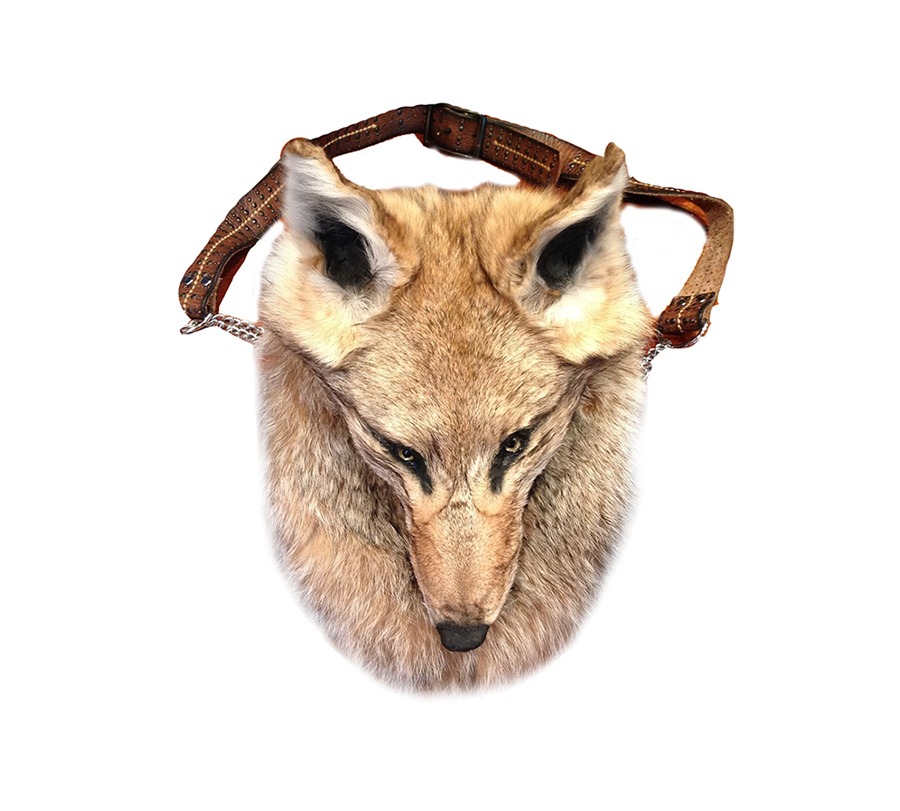 A full mask sporran is made from the face of an animal such as a fox or badger. The face typically serves as the front flap of the pouch, and the body of the pouch is made from the same pelt. This style of sporran is in keeping with Scottish tradition since the earliest pouches probably included the head with the pelt. Today, full mask sporrans primarily serve as costume accessories for historic reenactments and festivals. People rarely wear them for standard formal occasions.
---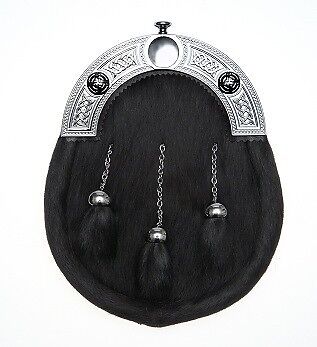 Semi-dress sporrans are the most versatile type since they represent the middle ground between formal and everyday attire. A fur or hide body and leather flap combine the best of both fancier and plainer styles. A semi-dress sporran is a good choice for any occasion where a dash of elegance adds just the right flavor. The leather flap of the semi-dress sporran may be tooled with decorative designs, or it may be adorned with a silver clan symbol or other insignia. It may have modest tassels attached with chains or leather. The body fur of this type of sporran is often a hair hide rather than a loftier material reserved for full dress sporrans.
---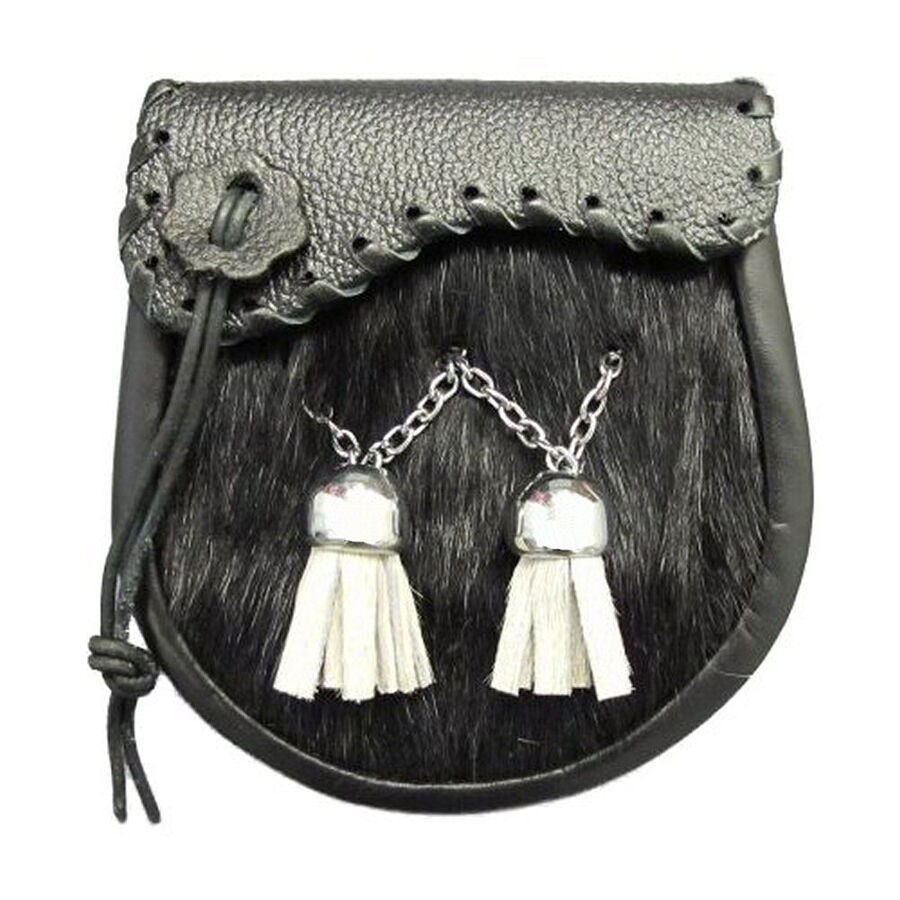 This style of semi dress sporran fits the niche between a showy formal style and a plain, everyday sporran. As distinct from a leather version, the cowhide sporran includes the animal hair and may be light, dark, or a combination of natural colors. The flap of this type of kilt pouch is smooth leather and may have rustic details such as a leather-stitched edge in keeping with its more earthy look. It may also have a contrasting leather-bound edge along the curve of the pouch. Cowhide sporrans are attractive, durable, and well suited to the semi-dress category.
---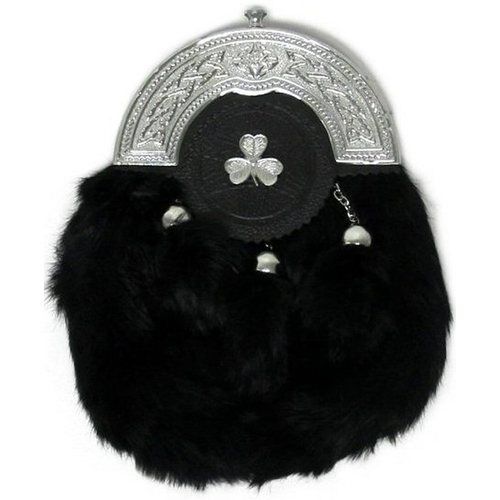 While rabbit fur can be a dress sporran material, when paired with a leather flap, it is designed for less formal occasions. Natural rabbit fur sporrans come in black, white, and gray and may have rabbit's foot tassels with chrome accents. The plush fur of the pouch body makes this type of sporran somewhat more decorative than a cowhide sporran. The leather flap, which may be plain, embossed, or decorated with metal studs, dictates whether the rabbit fur sporran belongs in the semi-formal category.
---
| | |
| --- | --- |
| 8 | Sporrans for Everyday Wear |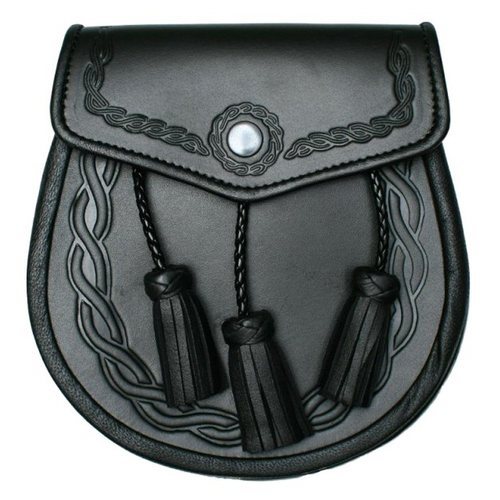 Casual wear sporrans have several distinguishing features, including:

Leather materials
Smaller profile than formal
Plain or subtly decorated
Single color
Plaited leather tassels
Visible snap or stud closure
Leather or chain strap
Also called
day sporrans
, this style of traditional Scottish pouch is appropriate for everyday kilt ensembles for the office or casual weekend wear.
---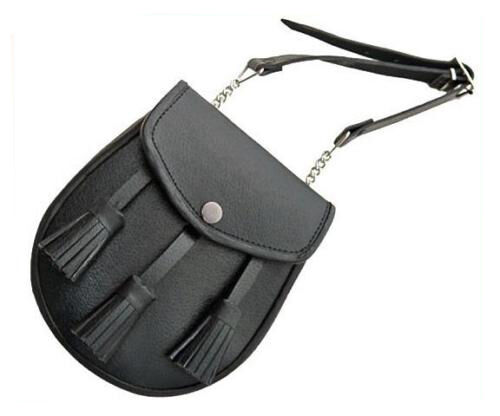 This rugged style of sporran is almost entirely constructed of leather, including the front, back, flap, and tassels, if any. The flap and sometimes the body of the pouch may feature embossed designs that add a touch of decoration while retaining the plainer look of daywear. Some may feature a pin closure rather than a snap or stud, which adds a touch of decoration. Other leather sporrans follow a more rustic style that is more in keeping with the original tradition.
---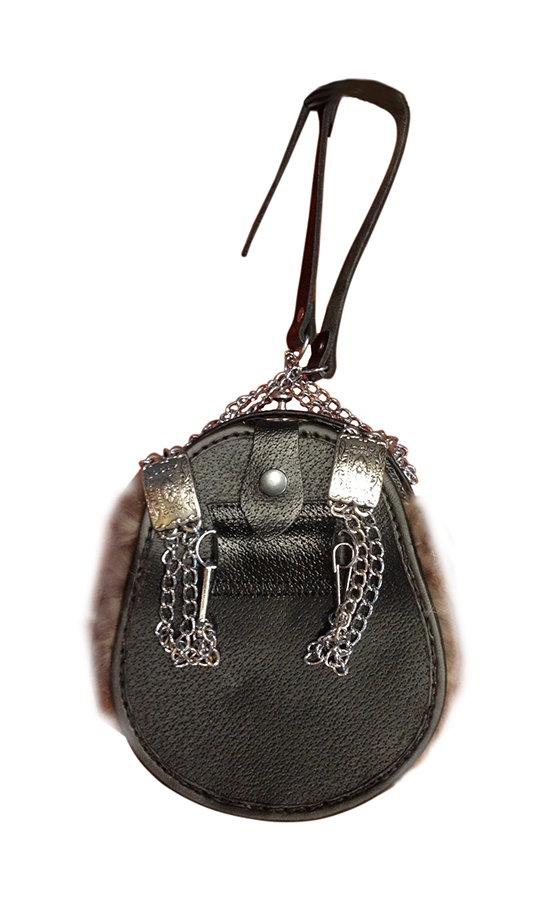 A clan sporran directly ties the wearer to his or her Scottish clan. Traditionally, people associate the tartan of the kilt itself with clan membership since each officially registered combination of colors and patterns is proprietary. A sporran adorned with a clan insignia complements the tartan and provides an additional way for the wearer to proudly lay claim to clan ancestry. A clan crest badge worked in sterling silver or pewter may be positioned on the cantle of a formal sporran or on the flap of a semi dress sporran. While clan badges are not officially registered like tartans are, they communicate the wearer's allegiance to a specific group of ancestors. A clan crest typically features the clan chief's coat of arms and a slogan expressing fealty.
---
How to Find the Top 10 Sporrans on eBay
eBay's advanced search options make finding the right sporran to wear with a kilt a simple and streamlined process. Starting at eBay's home page, the first step is entering a targeted search phrase, such as "horse hair sporran" in the box provided. Selecting a category from the adjacent box is optional, but the Clothing, Shoes, and Accessories category is the best choice. Clicking the blue search button brings up the horsehair sporrans currently available for sale.
When looking for a particular type of sporran within the horsehair search results, select from the left sidebar options to narrow down the choices. For example, those who need sporrans for costume purposes might select Musical Instruments and Gear, or Militaria. Look over the list in blue above the listings to choose a related category such as piper's sporran.
Conclusion
A sporran is both a utilitarian accessory, capable of safeguarding prized possessions ranging from a penny whistle to a pistol, and a symbolic part of the traditional Scottish regalia. Matching the most appropriate sporran to the rest of the kilt ensemble requires some knowledge of the history and protocol of the Scottish tradition. eBay makes finding the right sporran an easy and fun experience. A great selection means a full range of options.