Chefs and cooks are on their feet for many hours each day, sometimes for 12 hours or more, and wearing the correct footwear is vital as not doing so can lead to foot, knee, hip, and back problems. Not only are chefs on their feet for the majority of their shifts, they also spend large periods of time stationary, that is, standing in one place. Therefore, chefs need a comfortable yet supportive shoe. In addition, kitchens can be dangerous work environments. Hot liquids, grease, sharp tools, and heavy objects can fall from heights, so chefs need waterproof and protective footwear. With the potential for spills, chefs need shoes that can handle slippery surfaces. Chefs looking for shoes can start with these top 10 shoes for chefs chosen based on these factors.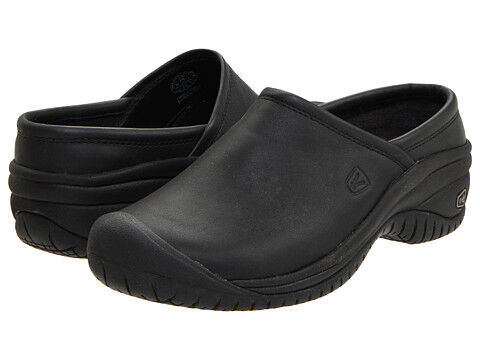 The manufacturer describes the Keen PTC Slip-On II as "a shoe that works hard and looks good doing it." These slip-on shoes work well in rugged kitchen conditions because of their toughness, including a slip-resistant outsole and water-resistant leather upper for stability. The product is easy to maintain with simple wipe cleaning. However, the company recommends that the user applies leather cleaner and conditioner to ensure their longevity.
Feature

Benefit

Medial side gore

Comfortable and safe fit

Leather lining

Durability from daily wear and tear

KEEN.Cush footbed

A blend of recycled PU, cork, and memory foam contours to the user's foot shape and adjusts accordingly

Remembers the foot shape

KEEN.Grip

Meets or exceeds ASTM F1677-96 Mark II non-slip testing standards

KEEN.Protect

Protects the toes

Water and stain resistant upper leather

Equipped to withstand kitchen spills
While the list above is not all inclusive, it is an accurate portrayal of protective and comfortable shoes for chefs. Many of the shoes listed are useful for both men and women. For example, the PTC Slip-On Utility II is available in men's and women's varieties.
---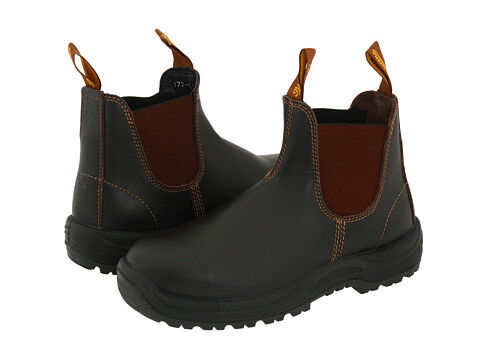 Not all kitchens are the same, and the Blundstone 172 is perfect for chefs working in fast-paced, action kitchens with extra hazards. Blundstone originated in Tasmania, Australia, designing shoes for the Australian Outback; therefore, they are made tough. The sturdy pull-on boot has a broad fitting, 200 joule impact resistant steel-toe cap to ensure extra protection from heavy objects, and the SPS (Shock Protection System) means maximum comfort for chefs on their feet all day.
Feature

Benefit

PORON XRD in the heel strike zone

Increased shock protection

Comfort underfoot, important when standing all day

Polyurethane midsole

Thermo urethane outsole

Highly resistant to hydrolysis and microbial attack

Oil, acid, and organic fat resistant

Outsole heat resistant to 284 degrees F

Ergonomically engineered toe spring

Reduced wearer fatigue

Steel shank

Ensures correct step flex point

Assists with torsional stability
With shock protection, and heat resistant materials, Blundstone makes tough shoes for tough conditions.
---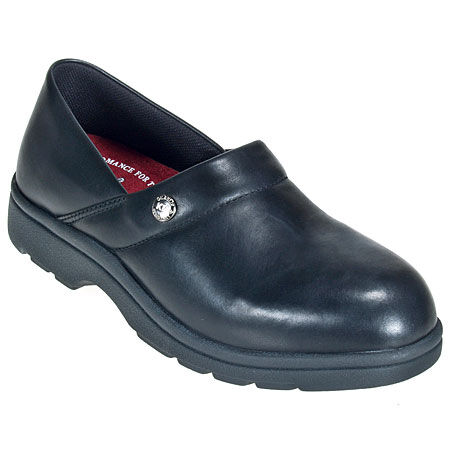 The KM 1500 Clog is Kingston McKnight's most popular shoe. Designed to be easy to slip in and out of, the 3/4 length clog design still provides protection for the user's heel. The clogs are designed for comfort and durability.
| Feature | Benefit |
| --- | --- |
| Removable insoles and shim | Adjustable insoles for proper fit system |
| Thermoplastic toe and heel counter protection | Protection against hazards within the kitchen |
| Fully-lined with Dri-Lex lining | Breathable and mildew-resistant |
| Slip-resistant rubber outsole made from Goodyear type 2 rubber compound | Safe protection against slippery kitchen floors |
| 1.6 - 1.8 mm premium full-grain waterproof leathers | Spill protection |
Because the clog has a fixed opening across the top of the foot, those with a high instep or arch might want to consider a lace-up shoe instead.
---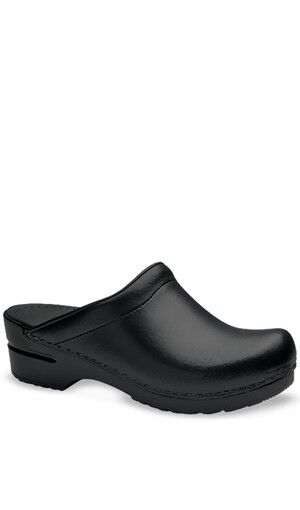 The Dansko Karl is a traditional open-back clog for men which provides comfort for all day standing and is shaped for back-friendly posture. The Karl is available in three different materials: box leather, oiled leather, and bull hide leather. All three materials are easy to maintain and are ideal for wet and greasy kitchen conditions.
Feature

Benefit

Firm foot and arch support

Keeps foot supported and secured

Superior shock absorption

Comfortable for standing all day

Comparable to athletic footwear

Anti-fatigue rocker bottom

Designed for long shifts of standing

Roomy toe box

Toes can move comfortably

Antimicrobial sock lining

Inhibits the growth of germs
After wearing Dansko clogs for hours, reviewers said they felt the difference in their legs, shoulders and back, as well as the arches of my feet.
---
| | |
| --- | --- |
| 5 | Rockport Works Men's Work Up 5 Eyelet Tie Dress Oxford Black |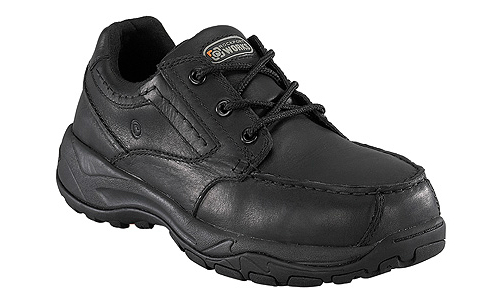 The Rockport Works Slip Resistant Dress Oxford suits the chef who prefers a lace-up shoe, but still wants safety features for the kitchen. The shoe has a leather upper, made in a casual work oxford style. This formal look may suit chefs who need to leave the kitchen and require a smart appearance. Also included in the design is a nylon mesh lining for comfort. Importantly, the anti-slip pigskin heel counter provides stability in slippery kitchen conditions. Finally, the Dynamic Suspension System insole cushions and supports the foot, keeping chefs comfortable after long stretches of standing.
---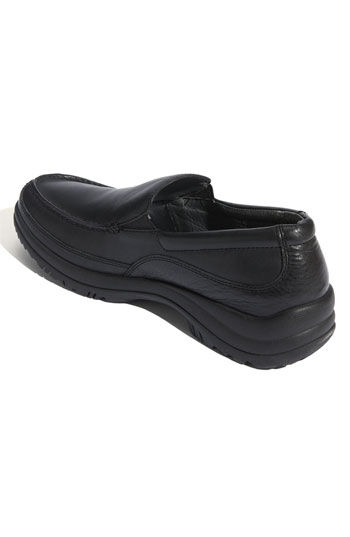 The Dansko Wayne is a dressy, slip-on shoe that can be worn in the office as well as the kitchen, a good choice for a sous chef or executive chef who is required to be in both locations. Made from durable, full-grain leather, the quality of the make ensures longevity.
Feature

Benefit

Slip-resistant outsole

Sure footing no matter how slick the flooring

Removable, triple density EVA insole

Comfortable and supporting to the sole

Removable to be replaced with orthotics for those who have specific insole requirements

Lightweight construction

Low-profile shape

Easy movement and comfort for long periods of standing

Anti-microbial, anti-odor lining

No smells after months of use

Heel height of 1.5 inches

Reduces pressure on the heel after hours of standing
The Dansko Wayne is available in black or mocha colors to match the uniform of the kitchen.
---
| | |
| --- | --- |
| 7 | Birkenstock Profi-Birki |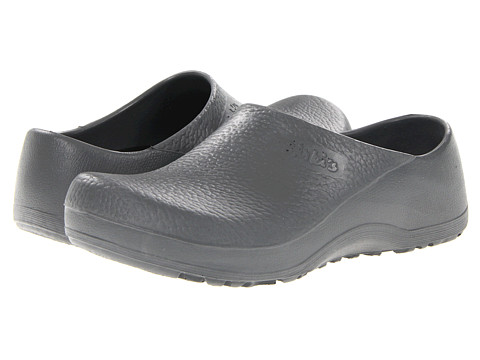 The Profi-Birki is an industry standard shoe worn in kitchens and hospitals around the world. Made using polyurethane one-piece molded construction, the shoe is completely waterproof yet lightweight and flexible. The clog is hard-wearing and comfortable.
Feature

Benefit

Seamless polyurethane outsole

Non-abrasive

Grease and oil resistant

Waterproof

Removable and replaceable felt-lined, contoured footbed

Extra longevity

Molds to the shape of the user's foot

Supports and cradles feet

Clog style

Perfect for hospitality requirements
The Profi-Birki is available in men's and women's in the full European range of sizes. With arch support and resistance to oil and grease spills, the clog keeps feet protected and supported.
---
| | |
| --- | --- |
| 8 | Alpro 640 with Steel Toe Cap |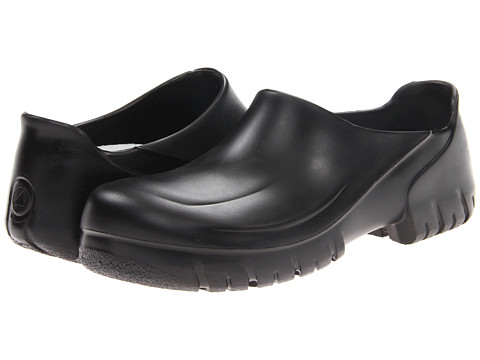 This unisex shoe combines the ease and comfort of a kitchenware clog with the safety of a work boot, offering a steel cap protection. The Alpro 640 features a slip-resistant sole, perfect for greasy kitchen floors, ceramic tiles, and steel floors. The footbed is removable and replaceable. The clogs are made from Alpro foam, meaning they are lightweight and comfortable. The shoes are cleanable, withstanding a temperature of up to 60 degree C. Finally, the Alpro 640 is made in two separate widths to accommodate thin, narrow feet and normal feet.
---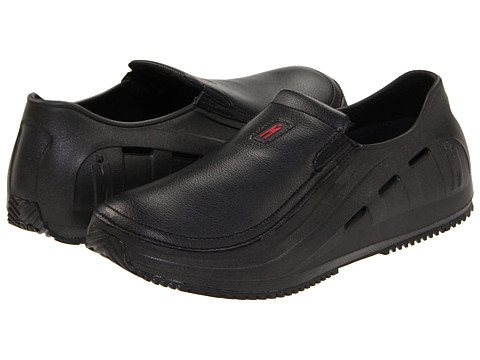 Designed by renowned chefs such as Aaron Sanchez and Marcus Samuelsson, Mozo Sharkz are shoes designed for chefs, by chefs. Men's Health magazine road tested Mozo Sharkz during a 12 hour pig roast and the reviewer states "my feet were just about the only part of me that didn't feel worn down." Sharkz are lightweight with side ventilation for breathability. They have gel insoles for extra cushioning and have slip resistant outsoles. The upper is constructed from synthetic leather, making them durable and easy to clean.
---
| | |
| --- | --- |
| 10 | Crocs Bistro Vent Clog |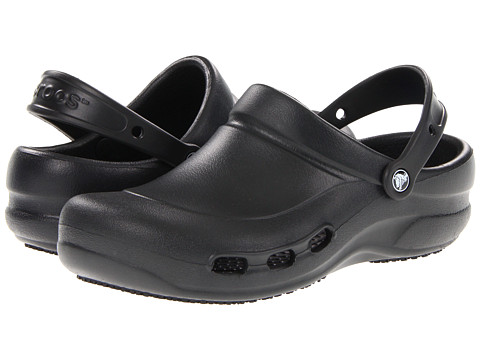 Designed specifically for those in the restaurant, food service, healthcare, and hospitality industries, the Crocs Bistro Vent Clog is a moderately priced option. The design is upgraded from the original Crocs Bistro Clog, a popular design in kitchen footwear. As the name states, the Bistro Vent clog offers extra ventilation ports across the front to enhance breathability. The shoe is constructed from Croslite material, meaning they are lightweight, cushioned, durable, and easy to clean.
Feature

Benefit

Crocs Lock slip-resistant tread

Safe for slippery kitchen floors

Enclosed toe design

Thicker metatarsal area

Protects user's feet from kitchen spills

Odor-resistant

Easy to clean and quick to dry

Contoured footbed

Comfortable for long periods of standing

Croslite material heel

Keeps feet secure in the clog
Safe from slippery floors, and easy to clean, the shoe is versatile and safe. The Bistro Vent clog is available in both men's and women's sizes.
---
How to Buy Shoes for Chefs on eBay
After deciding on the most appropriate chef shoes, you can find the selected design on
eBay
. To do so, you can enter specific words, such as a design or brand name, into the Search window. This takes you to a list containing listings that match the search words. To select a particular product, you can click on any product heading to see details such as photographs, the product description, pricing, payment methods, and delivery specifics. To find out more information about the seller, you can click on the username. The seller's profile contains buyer reviews, selling history, and other information. Also from here, you can contact the seller with any questions you may have. Finally, to complete a purchase, you must have an active eBay account which is quick and easy to create.
Conclusion
Because chefs are constantly on their feet, sometimes for 12 or more hours a day, selecting the correct footwear is not only common sense, it is a health and safety issue. Chefs must select a shoe that is water and grease resistant to protect their feet from spills, sturdy and strong to guard against accidental falls, and comfortable and supportive to withstand long stretches of standing still. There are plenty of designs to select from including clogs, slip-ons, work boots, and lace-up Oxford shoes. After deciding on the most appropriate shoes, the user can find a pair on eBay. By doing a preliminary search, reviewing the product review, investigating the seller, and creating an eBay user account, chefs can enjoy the safety and comfort of their chef's shoes in no time at all.