Electric RC boats provide hours of fun for hobbyists. Whether you like to speed across the pond with a high-powered speed boat or operate a slower RC boat for more relaxing fun, you can find the boat for your needs on
eBay
or in local hobby stores. With a wide range of
electric RC boats
available, make sure to compare the models to get the exact one you want. Some of the features to look for include motor power, operating range, and maximum speed. You should also keep in mind who plans on using the boat, safety factors, and whether the boat comes with a battery or if you need to buy one separately.

1
Balaenoptera Musculus RC Racing Boat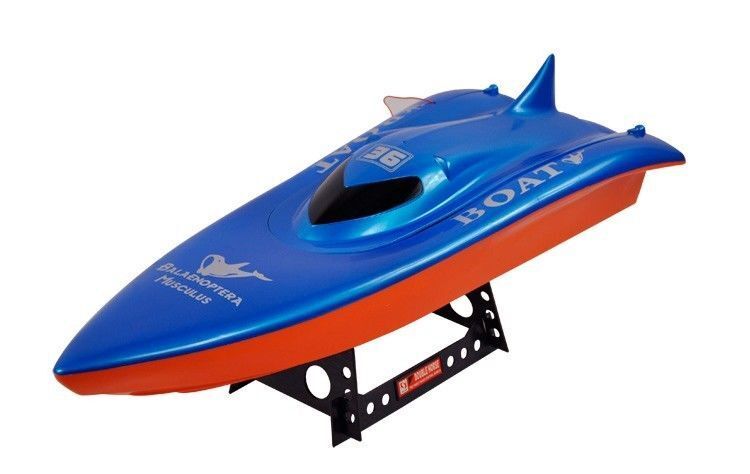 Great for children, the Balaenoptera Musculus RC racing boat incorporates a variety of safety factors to make it appropriate for use by children. The half-hour runtime of the Balaenoptera Musculus is another feature of the boat. With a top speed of 25 miles per hour and a range of over 280 feet, this RC boat makes an exceptional choice for boat enthusiasts of all ages.
---
2
Pro Boat Impulse RC Boat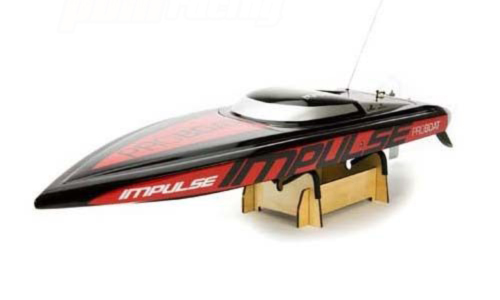 The top-of-the-class Pro Boat Impulse RC boat has 10 minutes of operating time, more than most RC boats of its type, especially in the 30 MPH range. Its operating range of 400 feet allows you to send the boat out on long runs to build up speed without fear of losing control. Add into the mix the boat's visual appeal and the Pro Boat Impulse makes for an attractive option.
---
3
NC 12-inch 4 Channel RC Speed Boat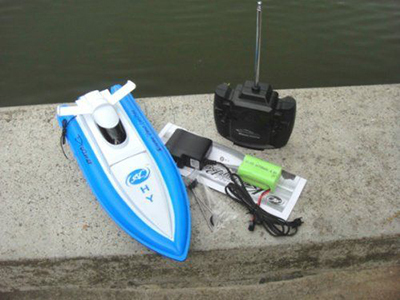 One of the best kid-friendly RC boats available, the NC 4 Channel RC speed boat combines performance with child-safe features, including only working when the boat rests in the water. Durable, the boat also provides the perfect amount of handling and speed for younger users.
---
4
Radio Ranger RC Boat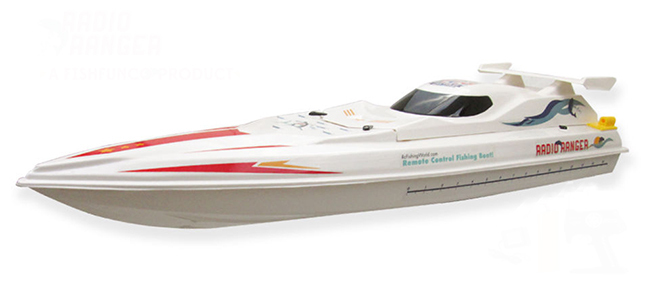 With a range of 350 feet and a maximum speed of 20 MPH, the Radio Ranger RC boat presents a great choice for a few hours on the water. Its battery life of 20 minutes means you need extra batteries on hand to extend your fun. Appealing to beginners and hobbyists, the boat can even catch fish if needed.
---
5
Aquacraft SuperVee 27R Brushless FE 2.4GHz Boat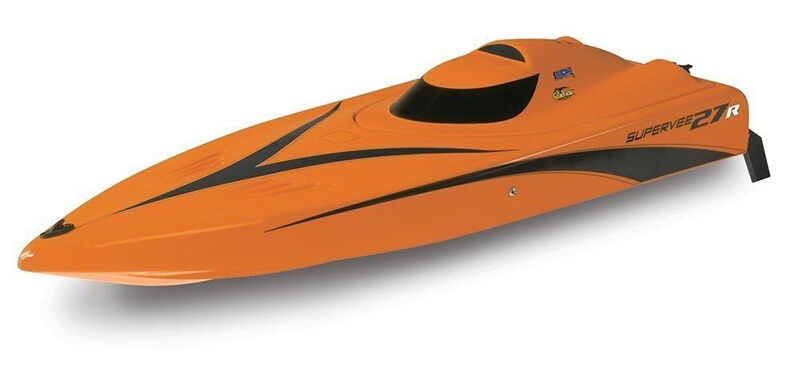 Using cutting-edge brushless motor power, the Aquacraft SuperVee 27R Brushless FE 2.4GHz boat provides maximum performance. The included GrimRacer hardware helps boost the boat's performance and handling. Durable, this model incorporates a water-tight box for maximum power and performance.
---
6
Atomik Barbwire RC Boat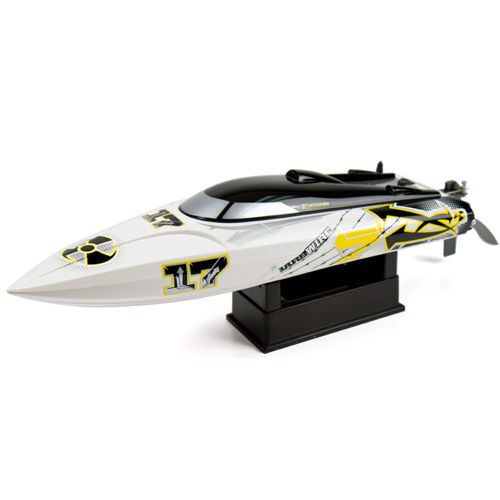 The Atomik Barbwire RC boat provides speed and performance with an ability to right itself, making the boat extremely durable. Ready to run right out of the box, the boat does not include an alarm to alert you when the battery has run low, so make sure to keep track of the time you have it out on the water.
---
7
Radio Ranger RC Fishing Boat
At almost 3-feet long, the Radio Ranger RC Fishing boat provides a stable platform from which to fish, with a range of 300 feet, the boat can travel far out beyond the casting range of a normal fishing pole. The boat's large size allows you to catch even big fish.
---
8
Steerix Rocker F1 RC Boat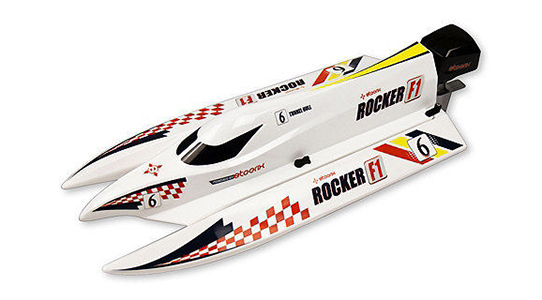 A great boat for beginners, the Steerix Rocker F1 RC boat comes with everything you need right in the box to get started. Its low relative speed and short range of 200 feet makes it perfect for hobbyists just getting into RC boating. Comparable to faster models, the performance of the boat makes it an attractive alternative as it provides excellent handling capabilities.
---
9
Aquacraft Wildcat RC Boat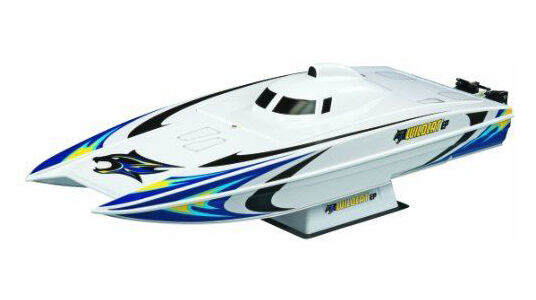 While you need to buy batteries and a transmitter for the boat separately, the Aquacraft Wildcat RC boat provides a wild and fun ride while you are out on the water. Able to attain speeds of up to 25 MPH, the boat offers excellent performance qualities, including its ability to seemingly grip the water, smooth turns, and ultra-fast speeds.
---
10
Joysway Super Mono X RC Boat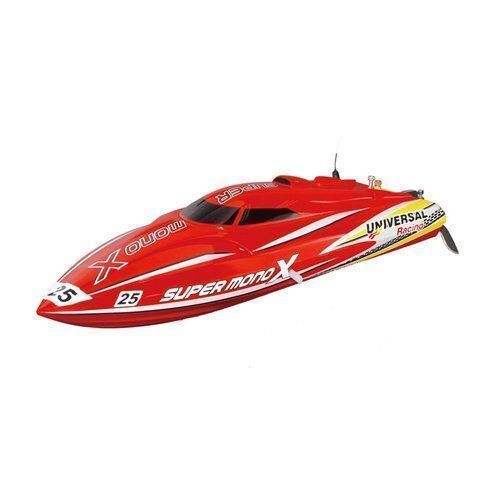 With fast speeds and great performance, the Joysway Super Mono X RC boat makes for a fun boat to take out on the water. Able to get up to 28 MPH, the Super Mono X has great grip and can self-right itself if it flips over.
---
How to Buy Electric RC Boats on eBay
When shopping for
electric RC boats
, you need to follow certain steps to successfully find them on
eBay
. The first thing you should do is perform a search using keywords. This, in turn, pulls up various categories that you can use to narrow down your search. Stick to items sold by authorized sellers for a better shopping experience. By comparing models, you can get the one that best fits what you want to do. If you seek speed, look for boats that have a maximum speed over 20 MPH. Operating range presents another important consideration, as a fast boat can soon find itself out of range. Add to your electric RC boating collection and check out available classic or newer models.