Electric RC Trucks
are typically quieter than nitro models, and easier to clean and maintain. However, they suffer from significantly slower racing speeds.
Brushless RC trucks
offer higher velocities, almost matching that of nitro RC vehicles, while still maintaining all the great benefits of classic electric models. They are also simpler to fix and upgrade, and usually come Ready to Race (
RTR
) Evaluating the top 10 brushless RC Trucks can help consumers make a good buying decision.

1
Traxxas E-Maxx TQi 4-wheel drive Brushless Monster Truck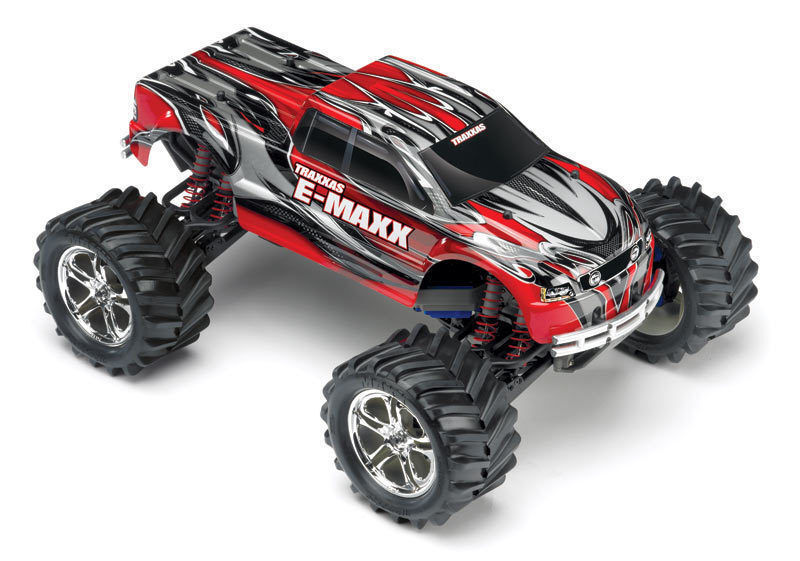 This powerful RC truck includes two Cell NiMH batteries, waterproof electronics, and factory installed telemetry sensors. Its heavy-duty design provides wheel-lifting torque and quick acceleration. Reach over 35 mph with the standard setup and 65 mph with the addition of an extra Cell LiPo battery. Connect your iPod or iPhone with the Traxxas Link application to get vehicle performance data.
---
2
DHK Hunter BL 4x4 Brushless RC Truck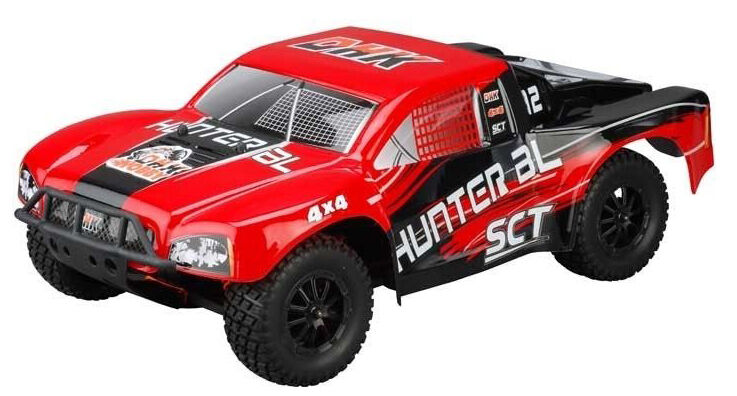 The 4-wheel drive DHK Hunter, has a powerful brushless motor and a 2.4 Ghz transmitter that any RC enthusiast can appreciate. Large drive axles, an aluminum upper chassis, and shock towers, which can withstand harsh driving conditions and allow for maximum driver control, while reaching speeds of 35 mph with the unit's 3,970-kilovolt brushless motor.
---
3
IMEX Samurai XF 4-wheel drive Brushless Short Course Truck
The IMEX Samurai Short Course Truck, includes 4-wheel drive and large sized truck tires, which make it extremely easy to operate and control on or off the track. Its powerful brushless motor provides fast speeds and easy maintenance. The unit is also equipped with big bore shocks, polycarbonate armor, and an internal rechargeable battery.
---
4
Redcat Shredder-XT RTR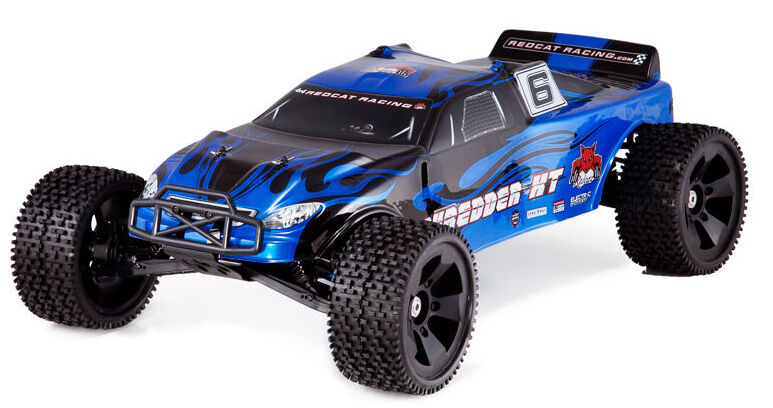 The Redcat Shredder-XT, includes a top of the line brushless motor, a forward/reverse transmission, 4-wheel drive, and two-channel radio controls. The two LiPO batteries, along with a LiPO battery charger, provide long driving times.
---
5
Team Losi Mini ReadyLift SCT Brushless RC Truck
This 2-wheel drive mini RC includes a water-resistant Xcelorin brushless motor, ideal for wet terrains. Its oil-filled shocks and extended short course chassis, make it a great racing unit. The Losi radio system with 2.4 GHz DSM technology provide great coverage. The unit is powered by a 7.2-volt rechargeable battery, wall charger, and AA batteries for the transmitter.
---
6
Traxxas E-Revo VXL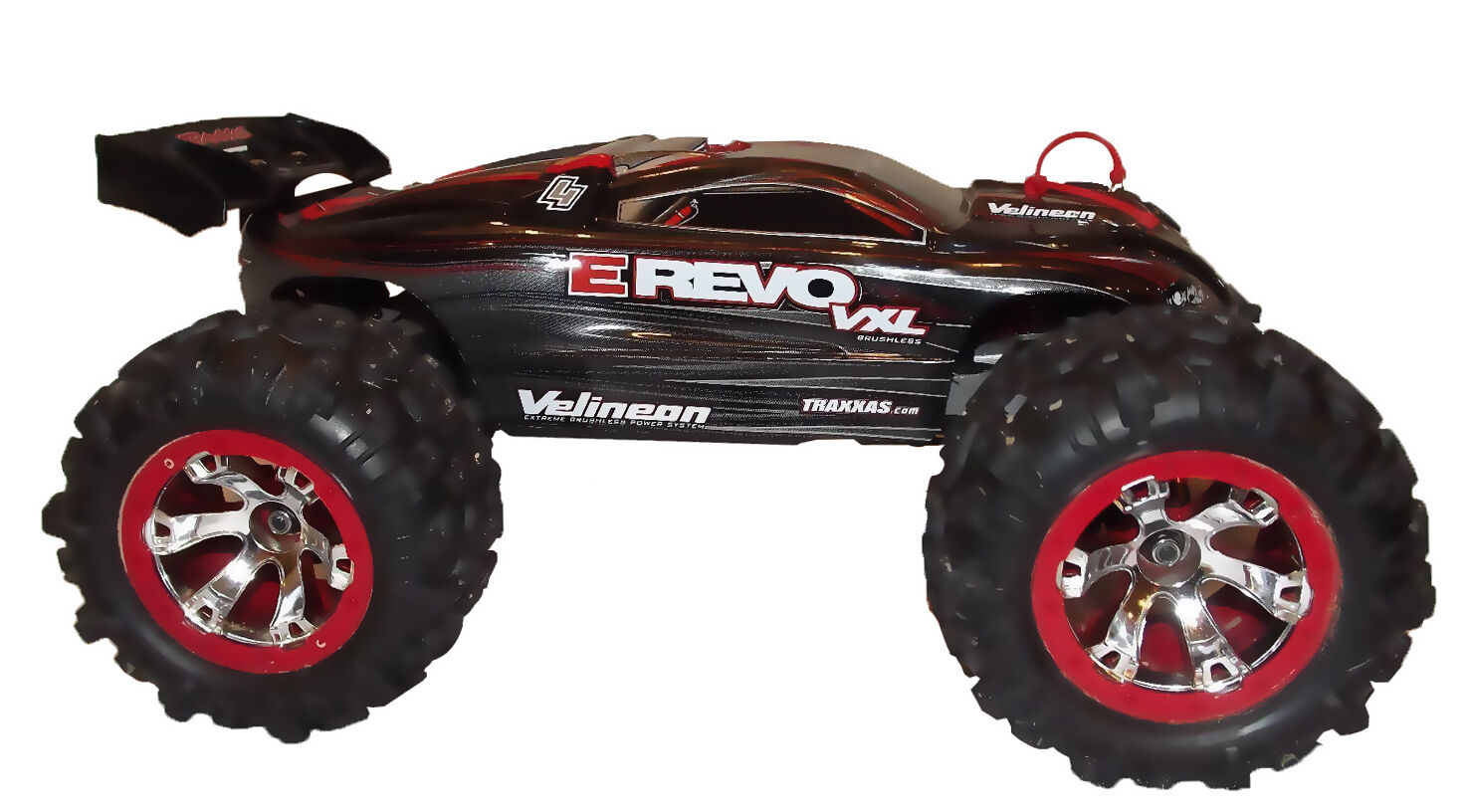 The Traxxas E-Revo packs the speed, quality, and capability of a 1/10-scale truck into a 1/16-scale unit. Beneath the strong, polycarbonate, shell lays a top of the line suspension system, a superb brushless motor, and convention-busting technology.
---
7
HPI Racing Bullet ST RTR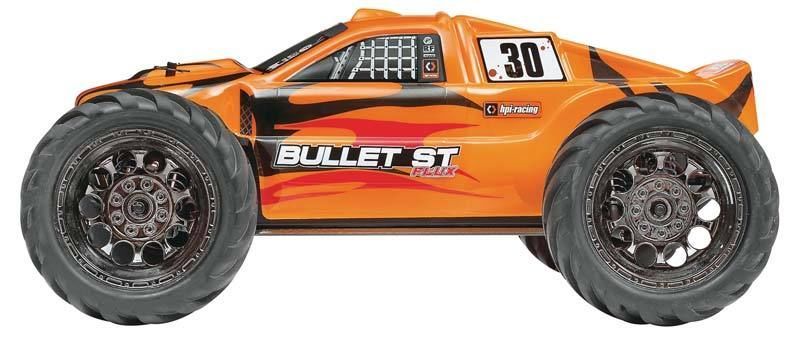 HPI's Racing Bullet is ideal for off-road terrains. Its waterproof receiver and tight battery compartment can handle dirt, snow and even heavy mud. Power through rocks and steep hills with its super powerful brushless motor, which comes fitted with a versatile 2.4 Ghz radio system. This factory-assembled truck stocks a fully programmable speed controller that is perfect for any weather condition.
---
8
Iron Track RC Bowie
The Iron Bowie comes equipped with all the quality features you would expect in a hobby-grade RC truck. High performance rear and front differentials, aluminum center shafts, and an adjustable suspension arm ensure excellent reliability and performance. Hold your drift and make precise corners with a steering servo that supports more than 6 pounds of torque. Steering and throttle dual rates allow for a comfortable increase in speed, which helps you track the vehicle with precision.
---
9
Exceed RC Brushless PRO Infinitive EP
This 1/10 scale unit features mind-blowing speeds, plenty of customization options, and exceptional durability. If you like to tinker with mechanics, then you are going to enjoy this platform. It has easy access to differentials, more room for electronics, full control over suspension adjustments, sealed gears, and a programmable ESC. Durable and robust bumpers protect the main body of the unit, and the aluminum-threaded shocks allow for a quick preload of the springs.
---
10
XTM Racing X-Cellerator Brushless RC Truck
XTM typically delivers top of the line racing RC trucks and cars, and its X-Cellerator model is no exception. This amazing off-road buggy includes a full-size sand rail design that provides stability and control in gravel, dirt and sand roads. Its powerful brushless high torque motor yields speeds of more than 45 mph and three cooling fans help prevent overheating.
---
How to Buy Brushless RC Trucks on eBay
Brushless motors are among the best engines for RC trucks thanks to new and improved designs. They provide powerful, efficient, and durable rides. This type of design typically does not come with an expiration date, while the brushed motors usually last about 6 months to a year. Start your search for the perfect
brushless RC truck
on
eBay
. Type your preferred brand or model number into the search box of any page and browse through the results at your own pace. Remember to read the item description completely before making a purchase to ensure a smooth and positive transaction.