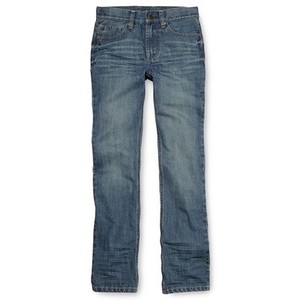 Shopping for young boys is not always easy. Picky young men who grow quickly are challenging shopping subjects, and parents might not like spending money on clothes that won't fit next year. It also doesn't help that they are not often interested in fashion or motivated to buy clothes. However, there are many boys' jeans available in a wide range of prices and styles, and a pair of casual denim trousers does not have to break the bank. If fit is a concern for an especially fast-growing or slow-growing boy, there are regular, slim, and husky sizes to fit any young man. Some boys like to pick out their own clothes while other will want their moms and dads to do the shopping. Online outlets like eBay are a great place for parents to go when their kids do not want to travel to a brick-and-mortar store to go shopping.

When shopping for boys' jeans, take measurements first and reference a conversion chart. Keep in mind that different brands run differently, so it is best to check a brand-specific sizing or conversion chart before making a purchase. Consumers can choose from many different styles, washes, and brands online. They can also find accessories, sports gear, and outerwear. Finding the right jeans requires picking the right size and style for a particular boy's taste and body type. To find boys' jeans, try shopping in children's stores or department stores. For easy, convenient online shopping, look through online sites like eBay.
Fitting Boys' Jeans
Young kids grow quickly, which means parents have to buy new clothes often. Sizing and fitting jeans isn't always easy, especially when the boy is likely to grow out of the clothes within a year or two. Some parents of younger children like to buy clothes a size too big so that the clothing lasts longer.
How to Measure for Boys Jeans
To measure the waist size, wrap a measuring tape around where the boy normally wears his pants. In most boys, this is about an inch or two about the waist, although it could vary. Keep one finger between the tape and the body and round up to the nearest inch. To measure the hips, measure around the fullest part of the body.

When measuring the length, known as the inseam, have the boy stand up straight, yet comfortable. Measure from the underside of the crotch to below the ankle. Measure the other leg as well.
Boys Jeans Sizing Charts
Boys' sizes start at 4. Anything below 4 is meant for toddlers 4 years old and younger. Generally, the numerical size corresponds to the age of the boy. For example, a 6-year-old boy would probably wear a size 6 or a size close to that.

Since boy's body types vary so greatly, manufacturers make casual and formal pants in regular, slim, and husky sizes. A slim sizing chart is as follows.
| Size | Age | Waist (inches) | Length (inches) |
| --- | --- | --- | --- |
| 4S | 4 | 20 | 17.5 |
| 5S | 5 | 20.5 | 19 |
| 6S | 6 | 21 | 20.5 |
| 7S | 7 | 21.5 | 21 |
| 8S | 8 | 22 | 24 |
| 10S | 9-10 | 23 | 25 |
| 11S | 9-10 | 23.5 | 27.5 |
| 12S | 11-12 | 24 | 28 |
| 14S | 13-14 | 25 | 28.5 |
| 16S | 14+ | 26 | 29.5 |
Slim sizes are appropriate for shorter and leaner boys. If regular sizes are too short or too loose, a slim size may be appropriate. Slim jeans are generally thinner than regular or husky sizes. The following is a regular boys' sizing chart.
| Size | Age | Waist (inches) | Length (inches) |
| --- | --- | --- | --- |
| 4R | 4 | 22 | 17.5 |
| 5R | 5 | 22.5 | 19 |
| 6R | 6 | 23 | 20.5 |
| 7R | 7 | 23.5 | 21 |
| 8R | 8 | 24 | 24 |
| 9R | 9 | 24.5 | 24 |
| 10R | 9-10 | 25 | 25 |
| 11R | 10-11 | 25.5 | 27.5 |
| 12R | 10-11 | 26 | 28 |
| 14R | 12-13 | 27 | 28.5 |
| 16R | 14+ | 28 | 29.5 |
Regular boys' jeans are for young men whose height and weight are normal for their age. Boys who are not particularly tall, short, heavy, or light can wear regular jeans. For husky sizes, refer to this chart:
| Size | Age | Waist (inches) | Length (inches) |
| --- | --- | --- | --- |
| 6H | 6 | 25 | 20 |
| 7H | 7 | 26.5 | 21 |
| 8H | 8 | 27 | 22 |
| 10H | 9-10 | 28 | 24 |
| 12H | 11-12 | 29 | 26.25 |
| 14H | 13-14 | 30 | 27.5 |
| 16H | 14+ | 31 | 29 |
| 18H | 14+ | 32 | 29.5 |
Young men who are a bit heavier or tall should probably wear husky jeans. Husky jeans generally have a looser fit and a longer inseam.
Types of Jeans
Boys can choose from a variety of jean styles. Some young men don't particularly care about their clothes and parents can choose from various styles. Other boys enjoy picking out new clothing. Either way, boys and parents can choose from skinny, carpenter, cargo, boot cut, straight fit, or loose fit jeans.
Skinny
Skinny jeans are stylish pants that taper at the ankle. Slimmer than other types of jeans, skinny jeans generally fit tight against the skin. They are also generally low rise, meaning they sit lower on the hip. Skinny jeans are available in many different colors and washes, including blue, green, khaki, and more.
Carpenter
Carpenter jeans are also called painter's jeans. The main pockets are larger than pockets on regular jeans, and have a wider opening. Carpenter jeans also have a "hammer loop" midway down the pant leg, which is more for style than actual function. With a loose fit, carpenter jeans are very comfortable. Consumers can find carpenter-style pants in durable denim as well as a lighter khaki material.
Cargo
With many large pockets, cargo jeans are great for boys who like to store toys and gadgets in their pants. Around the knee area, cargo jeans have large, extra pockets that typically close with velcro. Regular pockets are still located below the hip. Wearers can keep cell phones, portable game devices, and other small objects in the larger pockets. Cargo pants are generally loose-fitting.
Boot Cut
Boot cut jeans are straight legs pants that flare slightly out at the ankle. Intended to fit over boots, these types of jeans offer a fairly loose fit. The flare on boot cut jeans is not dramatic and is usually hardly noticeable, unlike bell bottom or flare jeans. Boot cut jeans are not tapered or slim fitting.
Straight or Loose Fit
Also known as regular fit, straight fit jeans do not taper or flare out. They fit moderately loosely and sit on the waist. Straight fit jeans have regular pockets on the front and back of the pants. Loose fit jeans are just like straight or regular fit ones, except they are a bit wider. They offer more room in the seat, inseam, and ankle. Sometimes, loose fit jeans hang slightly below the waist.
Washes of Jeans
Once consumers have decided on a style of jean, they can pick a wash. Boys' jeans can be dark or light, faded or solid, or even colored.
Dark wash: Dark blue in color, dark wash jeans give a sophisticated spin on a classic.
Medium wash: Medium wash jeans are a lighter shade of blue. However, medium wash jeans are still rich in color.
Light wash: A light or sky blue color, light wash jeans offer the brightest shade of blue.
Faded wash: Faded washes have a mixture of dark, medium, and light washes.
Colored: Jeans aren't just blue anymore; boys can find green, grey, tan, and other colored jeans.
Top Brands
There are literally dozens of boys' jeans manufacturers on the market today. Buyers can find brands of all different styles and price ranges. Some people like to stick with one particular brand because they fit well. Others like to diversify their wardrobe with many different brands. Whatever the buyer's particular preference, some major boys' jeans manufacturers include:
How to Buy Boys Jeans on eBay
Busy parents can shop at home with the convenience of eBay. Dozens of sellers list top brands for sale on eBay, often with big discounts and sometimes free shipping. You can even buy in bulk. To get started, Register for a free eBay account. Then, start searching and shopping.
How to Search for Boys' Jeans
To find boys jeans, simply type in "boys' jeans" in the top search bar. You can also type in a size, brand, or style to narrow down the results. Also, try an Advanced Search to set the price limits, auction format, and other restrictions. Alternatively, use a category search. Boys' jeans can be found in the Kids' Clothing, Shoes & Accessories category, within the Clothing, Shoes & Accessories portal.
Shopping for Boys Jeans
When you have input your search terms, related listings will populate. Click on the listings that interest you. You will find photographs of the product, a price, shipping information, and accepted payment types. Scroll down to find the condition of the item, new or used, and read the product description. When shopping for boys' jeans, make sure you purchase the correct size, style, and fit. When you find the right product, purchase it and pay with PayPal.
Conclusion
Shopping is not always easy, especially when you have to shop for a young boy. Boys can be fickle, picky, or completely apathetic when it comes to jeans shopping, and sudden growth spurts can result in expensive shopping trips if buyers are not careful. Parents, relatives, and guardians have to perform their due diligence when shopping for boys' jeans to avoid conflict and confusion. First, determine the boy's correct size. Take measurement and use a conversion chart. Reference a brand-specific sizing chart, if possible. Decide if the boy should wear regular, slim, or husky sizes. When shopping, try on many different pairs and brands. Choose from several styles of jeans, including skinny, carpenter, cargo, straight fit, loose fit, or boot cut.

Each boy is sure to have his own unique style. Consider different washes, such as dark, light, faded, or colored jeans. Popular brands that have stood the test of time include Dickies, Gap, Levis, Wrangler, Guess, and Tommy Hilfiger. Various brands size differently, and consumers may find one particular manufacturer fits better than others. eBay is a quick and convenient place to shop for boys' jeans, offering a wide selection in a variety of sizes and styles.