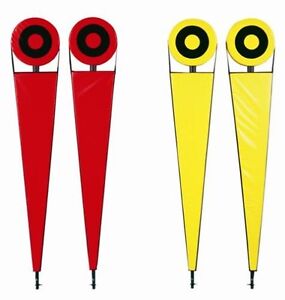 Football training aids can help just about anyone improve their in-game skills. Some training aids help improve functional strength targeted toward football players, such as running speed or agility. Other training aids focus on football-specific coaching or football-specific skills. Most amateur and professional football players use some combination of the various types of football training aids. Those in the market to buy training aids should know how to select the right equipment to improve particular abilities or skills, what football training aids are best, and how to buy football training aids on eBay.

Types of Football Training Aids
There are many football training aids available, but each type of training aid improves a different ability or skill. Some football training aids are designed to improve physical abilities, such as speed or strength. Other football training aids are designed to improve particular skills, such as passing or kicking accuracy, which are more dependent on a player's technique rather than outright physical ability or athleticism. This section explains the basic types of football training aids available and what their best uses are.
Agility Trainer
An agility trainer improves agility, balance, coordination, and quickness. Most agility trainers utilize several strips of heavy foam padding cut into rectangular or trapezoidal shapes. The instructions included with most agility trainers explain how to position the agility-trainer padding and how to complete the required exercises. Most exercise drills involve moving side-to-side while stepping over the foam strips quickly or moving up and down rapidly from a squatting or lying down position into a standing position. Other exercises may include obstacle course drills or some combination of the aforementioned exercises and drills. Many amateur and professional football players use agility trainers to improve their athletic abilities. The increasingly popular NFL Combine has led to an increase in agility trainer use by football players, as more and more people become aware of them.
Football Training Parachute
A football training parachute is a device used to increase resistance during running drills. Football training parachutes increase resistance by trapping air in a negative pressure area behind the runner. As the runner's speed increases, the the resistance of the parachute increases. Therefore, the resistance caused by the parachute increases in direct proportion to the ability of the athlete using the device. This is one of the most effective exercises for increasing acceleration and top speed. This is especially useful for defensive backs, who often use a football training parachute to increase their ability to backpedal (or run backwards). Using a football training parachute can also help players learn to use leverage to improve their football technique. Learning to use leverage helps football players maximize their strength and, in some cases, overwhelm physically stronger players that play with poor leverage.
Football Blocking Sled
A football blocking sled is probably the best way to learn how to play with leverage. Most blocking sleds are metal frames with two, five, or seven large rectangular foam pads attached side by side. A blocking sled is weighted to increase resistance. They typically weigh between 375 pounds and 1,500 pounds. Most football coaches use them to help football players increase their ability to drive block, in the case of offensive linemen, or bullrush (use leverage and physical strength to overpower) offensive linemen, in the case of defensive players. Some football blocking sleds are available in several colors. Some football blocking sleds are also available with various shapes of foam pads, such as man-shaped, T-shaped, round-shaped, cone-shaped, or V-shaped. Most football blocking sleds also have height-adjustable pads.
Football Kicking Net
A football kicking net is an excellent football training aid because it is highly versatile and can help improve a variety of football skills. Football kicking nets can be used to improve kicking, punting, long snapping, and passing skills. Football players usually use kicking nets to improve their accuracy by trying to place the football in a particular part of the net and doing so repeatedly. Over time, football players develop consistently accurate kicking, punting, long snapping, and passing skills. Football kicking nets are very similar in design to an ice hockey net, but they generally weigh less, and they can be easily moved due to their foldable construction. Most football kicking nets are six to eight feet wide and five to six feet tall.
Football Passing Machine
Football passing machines help football players improve their ability to catch a football. They throw or kick footballs automatically based on programmable speed, distance, and trajectory. Most are portable and can be used with 110 volt AC electrical current. Some have special features, such as being able to launch footballs in any direction. The greatest benefit of football passing machines is that, unlike humans, they do not suffer fatigue. That means football players can practice catching over and over again, without worrying about their coach or teammate tiring out.
Agility Ladder
An agility ladder is a series of squares constructed from durable plastic or metal links, similar to a rope ladder, which helps football players improve their agility and speed. An agility ladder is an improvement over the original tire ladder, as seen in many movies, because it is highly portable and can be used just about anywhere. Football players improve their physical abilities by participating a variety of drills that focus on improving agility, coordination, and speed. Some agility ladders include instructions about how to maximize the benefits of the equipment.
Football Kicking Holder
A football kicking holder is a device used by football players to improve their kicking skills. Unlike a kicking tee, which is susceptible to being disturbed by high wind speeds, a football kicking holder mimics the behavior of a holder on football special teams. This is a great way to practice field goal kicks alone without the player who acts as holder.
Football Instructional Videos
Football instructional videos are used by football players to improve their skills through supplemental football coaching instruction. Some videos focus on particular skills, while others focus on certain football positions, such as quarterback or defensive lineman. Some football instructional videos even feature famous football players or coaches, which allows viewers to gain insights from the best minds in the game.
There are many football training aids available, but a few stand out among the crowd because they offer a great combination of features and value, as evidenced by their popularity. The table below describes some of the most popular and respected football training aids available.

| Football Training Aid Product | Description of Football Training Aid Product |
| --- | --- |
| Rogers Agile 1 | The Roger Agile 1 is an agility trainer system made by the Rogers Athletic Company. It features urethane-foam core pads, which makes the pads very durable because they maintain their shape even after years of abuse. They are reasonably priced and remain an industry standard. |
| Champion Sports Multi-Colored Parachute | The Champion Sports Multi-Colored Parachute is an excellent parachute for football training. It is very durable thanks to its stop-rip nylon material and double-stitched panels. It is also reasonably priced and remains one of the most popular training parachutes on the market. |
| Jaypro Blocking Sled | Jaypro offers a complete line of blocking sleds in just about every combination imaginable. Consumers can choose from two-, five-, or seven-man blocking sleds, weighing between 385 pounds and 1,425 pounds. They can be configured to match team colors, come in all commonly-available shapes, and they are fully adjustable. |
| Schutt Varsity Football Kicking Net | The Schutt Varsity Football Kicking Net measures seven feet wide and five feet tall. It is very lightweight and portable. It can be used indoors or outdoors; the target net can be placed in several locations; and it even comes with a handy carrier bag. |
| Jugs Football Passing Machine | The Jugs Football Passing Machine is the most popular football passing machine on the market. It used by every NFL team, over 3,000 high school teams, and numerous collegiate football programs. It can pass or kick over 600 times per hour, swivels 360 degrees, can launch up to 80 yards, and it can even run on generator power when standard 110 volt AC power is unavailable. |
| Amber Sports 30-Foot Agility Speed Ladder | This agility ladder remains very popular after years on the market. It is 30 feet long and 16 inches wide, but it can be split into two 15-foot agility ladders, which makes it ideal for paired training sessions. It is very affordable and laudable for its solid construction. |
| Wilson Pro Kick | The Wilson Pro Kick is a football kicking holder. It is well made and affordable. It has become a staple for just about every football program in the United States. |
| Championship Productions Pop Warner Presents: Practice Organization and Drills for Football | This football training video is used by nearly every Pop Warner football coach at some point. It covers the basics of how to organize a football practice and what drills are most effective for teaching fundamental football skills. |

Buying Football Training Aids on eBay
Buying football training aids is easy to do on eBay. Buyers should know how to find the football training aids they want on eBay, how to evaluate a seller, and how eBay will protect them if there is a problem with the purchase.
Finding Football Training Aids on eBay
To find the football training aid that is best for you, go to the eBay homepage. Go to the Sporting Goods portal. Click the Team Sports option, then Football, and finally Training Aids. Click in the eBay search toolbar toward the top of the page and enter the type of football training aid you are interested in. Then, click search and browse the results. If you do not know what specific type of football training aid you want, try entering related keywords, such as the type of drill or football position you are interested in. Try searching for a combination of drill and football position. For example, "linebacker tackling drills."
How to Evaluate a Seller on eBay
Picking the right seller is almost as important as buying the right football training aids. To evaluate eBay sellers, check out their eBay ratings and read through the seller's feedback section. If the seller has positive feedback ratings and feedback comments, you can reasonably assume the seller will be pleasant to deal with.
Shipping Considerations
Some people who buy football training aids on eBay pick them up themselves, especially if items are sold locally, and this must be arranged with the seller privately. Some sellers offer local delivery. Most sellers, however, will ship the football training aid through the postal service or a private delivery service, such as UPS or FedEx. Some sellers even offer free shipping.
eBay Buyer Protection Policy
The eBay Buyer Protection Policy helps buyers resolve conflicts related to their purchase when they are unable to resolve the matter with the seller. Buyers must contact eBay within 45 days of purchase and have paid for the football training aid using an approved method such as Paypal or Skrill. Claims can be filed if you do not receive the football training aid within a time period specified by the order details or within 30 days, you receive a different item than the one described, or if the item received is not as it was described.

Conclusion
There are many types of football training aids available, and each of them offers the potential to help football players at all levels improve their performance. Some football training aids improve physical ability, such as block sleds that build functional football strength. Other football training aids, like football kicking nets, focus more on improving specific skills, like kicking. In either case, football training aids are great way to help maximize the potential of any football player at any level.