Here is yet another installment of many guides that we, Replacements, LTD., will be posting to provide some interesting information on several manufacturers of some the world's most collectible porcelain items. This one will be about Lenox China, which is probably the most well-known maker of fine china in the US. One of their early and most popular patterns is Autumn - which is still on production today. Another extrememely popular pattern is the Christmas themed pattern, Holiday. Both are featured below.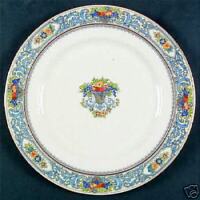 See our AUTUMN listings, HERE! See our HOLIDAY listings, HERE!
History of Lenox

Walter Scott Lenox realized his dream early on, despite personal tragedy and professional setbacks. His perseverance proved that American ceramics could be as resilient and durable as their British counterparts. Upon his death in 1920, Mr. Lenox had created a china legacy that, even today, is renowned the world over for its fine craftsmanship and superior quality.
In 1889 the Ceramic Art Company, which was creating dinnerware pieces that reflected the Romanesque, Baroque, Renaissance and Gothic styles (and eventually moved on to Art Nouveau) was founded by Walter Scott Lenox and Jonathan Coxon, Sr. Mr. Lenox, who was very artistically inclined, had studied master potters since his youth and worked as an apprentice at both Ott and Brewer and Willetts Pottery in Trenton, New Jersey. He, more than Coxon, was the creative driving force behind the Ceramic Art Company.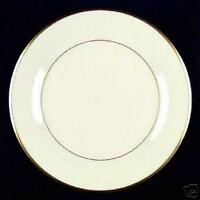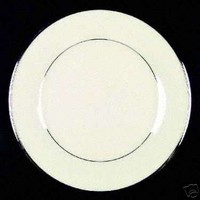 See our ETERNAL GOLD, HERE! See our SOLITAIRE PLATINUM, HERE!
Around the time of the Ceramic Art Company's inception, Belleek of Ireland permanently closed its doors. Migrant ceramic artisans flowed into America, giving new life to the struggling pottery industry and providing an opportunity for Ceramic Art Company to acquire two of Belleek's artisans. The company, along with its newest employees, had one common goal: to create beautiful, ivory-tinted dinnerware marked by an uncompromisingly rich and resilient glaze. Unfortunately, that dream would be more difficult to reach than they had ever imagined.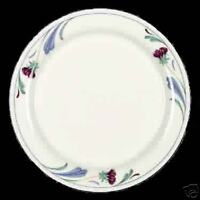 See our POPPIES ON BLUE, HERE! See our McKINLEY, HERE!
In 1894, an ambitious Walter Scott Lenox acquired all ownership of the Ceramic Art Company from his partner, Jonathan Coxon. Then, tremendously in debt and desperately needing recognition for his company in order to stay afloat, Mr. Lenox was diagnosed with Locomotor Ataxia: a disease that eventually cost him his sight and the use of his arms and legs. Undeterred, Mr. Lenox utilized an assistant to act as his eyes and hands while perfecting the rich, creamy slip that would become the company's trademark
Walter Scott Lenox founded Lenox, Inc. in 1906. Despite his acute disability, he had become the sole proprietor of a ceramics company and achieved his goal of creating beautiful ivory-tinted porcelain. Furthermore, he had propelled the United States into the forefront of the ceramics industry by proving that American china could be as strong and beautiful as its foreign counterparts. Nevertheless, he still was not satisfied.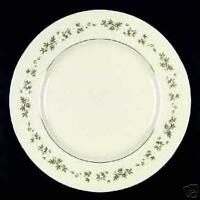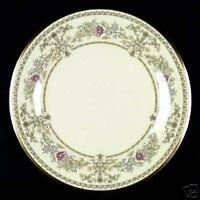 See our BROOKDALE, HERE! See our CASTLE GARDEN, HERE!
Mr. Lenox's crowning jewel arrived in 1918 when President Woodrow Wilson asked Lenox, Inc. to produce the White House's china service. Most of the previous White House residents had chosen French-made Limoges patterns and this was the first time such a prestigious opportunity had been awarded to an American ceramics company, a distinction that was not lost on Walter Scott Lenox. When the Wilson's arrived at the White House in 1913, the china that was already in the home was ten years old. It was an English made set that was owned by Theodore Roosevelt. That set lasted until 1918 and then Mrs. Wilson wished to buy an American made set to replace it. She was so impressed with a Lenox display in a popular department store that she asked the store obtain designs from Lenox. His company worked diligently to create a gold encrusted design that not only captured the strength and elegance of the United States of America, but also reflected the pride for which its creator had become known. This service remained in the White House until the Hoover administration. This was just the beginning of a tradition of Lenox china being especially made for the White House. There were additional services made for the Roosevelt's, the Truman's, the Reagan's, and the Clinton's.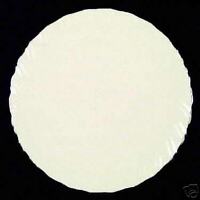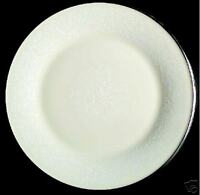 See our WEATHERLY, HERE! See our MOONSPUN, HERE!
Walter Scott Lenox worked consistently throughout his life. He was never absent a day from his factory, even when his disability required that he be carried in by his assistants. His vision and efforts created the foundation for a company that has since grown to embrace the entire tableware world: not only china, but crystal, silver, collectibles and giftware as well. Lenox has become one of the most prominent names in the international dinnerware industry and is now the parent company of several companies including Lenox Collections, Lenox Classics, Gorham 1831 Silversmiths, Kirk Stieff Silversmiths, Bridal Line and Dansk. In Lenox, Inc., Walter Scott Lenox has left behind an American dinnerware legacy that is honored every day on tables across the globe. Surely, that is how he would have preferred to be remembered.
See ALL our LENOX listings, HERE!