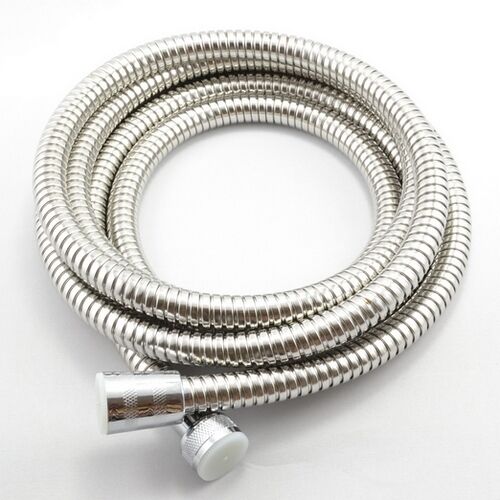 There may not be many more situations that are more frustrating than getting into the shower after a long, hard day and finding that the shower hose is broken and water is spraying everywhere. Investing in a new shower hose is a possibility, though purchasing just the hose itself is less common than purchasing the hose and shower head combined. In both instances, eBay can help to make the investment easier. By shopping on eBay or in brick and mortar stores, buyers can find the right size, type, and quality of hose necessary to get a shower back in working order quickly. With numerous options from which to select, the right hose is easier to purchase than most people think.

Replacement Options
Depending on the circumstances, an investment in a simple hose may be enough to meet the needs of a buyer. In most cases, though, purchasing the shower hose and head together saves money and time in the long term. Buyers should consider all options, including shower head kits, before investing.
Kits
Shower head kits combine the head and hose in one purchase. This benefits the buyer because both items look the same and match well. Additionally, it is often easier to replace the entire shower fixture rather than removing a bad hose or head for replacement. In some cases, kits are more affordable but tend to be of lower quality. On the other hand, high-quality shower kits are also an available in which heavier hoses, durable construction, and better features are offered.
Hose Only
Replacing just the hose is an option. This may work well when the shower hose breaks open at a joint or within the flexible tubing. Minor leaks can be challenging to repair well enough to stop leaks from recurring. Selecting a new hose can also help to improve its functionality, such as replacing a shorter hose with a longer one for more flexibility in the shower.



Hose and Head Combination Considerations
The most common investment that is made when upgrading bathroom and shower fixtures is to purchase a hose and head combination. The investment in the shower combination tends to be simplistic, that is, until all of the features available are considered by the buyer. The following features are some of shower head and hose options available to a buyer for consideration.
Massagers
Modern shower heads have built-in massaging features. After a long day at work, the homeowner may enjoy stepping into a shower that can gently massage the back and loosen tight muscles. Shower massagers tend to have between three and five settings or more. These settings change the amount of pressure of the water as it comes from the hose. Additionally, users can adjust the number of spraying holes, providing more specialized and customized experiences.
Pause Features
Pause features on shower heads are another option. These allow the user to simply turn off the water for a short amount of time. Shower heads with pause may be helpful for those people who need more control over how and when the water flows or for those who need precise control over water flow.
Length
Though most people do not think about it, a long shower hose can be a beneficial purchase in many ways. It provides a user with more reach in the shower. Parents may like a longer hose because it offers better control and reach when helping a child to shower. Individuals with physical limitations may also benefit from longer hoses. While the average length is generally less than 60 inches, longer hoses up to 84 inches are available as well.

Replacement Parts
In some cases, purchasing just replacement parts can help to get a non-working hose or shower head back in working condition. Purchasing only replacement parts can be a fraction of the cost of purchasing a new shower hose and head. Replacing a swivel bracket is necessary if this bracket, which holds the hose onto the wall, breaks. Shut off valves are necessary in some shower enclosures. Diverters, ranging from two to four ways, can begin to malfunction after years of use and may need replacing. Control valves also need replacing when they burst, break, or wear down. Even gaskets and O-rings for shower heads are available for many systems.

Hose Considerations
The investment in a shower hose offers buyers the choice to upgrade or to choose a high-quality shower head for their shower. While features may be important, the actual hose itself is one of the most important features. The following chart shows buyers some of the options that are available.

Features

Options

Considerations

Hose length

Average length between 59 and 69 inches

Longer lengths up to 84 inches

Longer length for people with disabilities

Metal

Brushed nickel , gold, chrome, oil rubbed bronze

May match other fixtures in space; higher quality materials do not tarnish

Strength

Standard and heavy duty

Heavy duty are heavier

More durable

Buyers may wish to use the above chart to compare options carefully. A balance between affordability and function is important when purchasing such bathroom fixtures.

How to Buy a Shower Hose on eBay
Purchasing all of these shower hose components on eBay is possible for buyers. A range of options exists in terms of brands and sizes, giving users virtually everything necessary for an upgrade or a replacement. To locate the options available on eBay, visit the website and use the search bar found on every page of the site. Type in a description and compare the results. Use the side navigation tools to narrow down the search by cost, manufacturer, or features. In most cases, buyers can find a wide range of products for their home from which to select. By using eBay, consumers are able to find limited products, odd sizes, and added features.

Conclusion
Purchasing quality shower hoses is critical for any bathroom. Quality products do not tarnish and offer a flexible, lightweight feel for ease of use. At the same time, homeowners should also consider whether replacing just the shower hose is worthwhile or if replacing the entire shower head system is best. When using eBay, buyers are able to compare all of their options and select those best suited for their home, bathroom, and budget. Because the website is also very easy to use, eBay buyers are able to carefully consider all product options that may work in their situation. Using the site's guides, product reviews, and other resources, it is possible to pay less and upgrade a shower hose with ease.