Provided courtesy www.kitchencoordinates.com and Scheurich.
First of all, let me clarify that Schlemmertopf (pronounced S
K
LEMERTOPH)
can
be used in the microwave, contrary to what some research on the web (ex from eZine articles), will tell you. In fact, Barbara Harris has a book on
Cook In Clay The Microwave Way
, that you can find in our eBay store.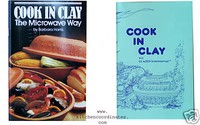 Everyone wants to eat well and stay slim. There are so many fabricated products on the market - grills and all sorts of appliances, that come with so many detachable parts that are time consuming to use and cumbersome to properly clean. Worse still, most manufactured appliances are deliberately released onto the market in some sort of periodic fashion so that there is always supposedly another functionality that yours does not have, or requires that you consistently buy some kind of disposable part to maintain it. Finally they are mostly made to last only so long, so that you can keep companies in business.
So how did people cook and stay healthy back in the day when we did not have all these appliances? With natural quality materials. With the original
Glazed Schlemmertopf
by Scheurich-Keramik
meals can be prepared without the addition of fats or oils
. All liquids, flavor, nutrients and vitamins are retained and food cooks in their natural juices, and you can make gourmet meals without babysitting the oven or microwave.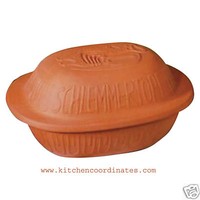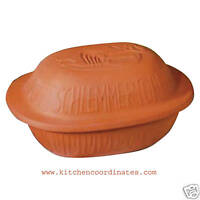 # 839 Small Oval #838 Medium Oval #831 Medium
Serves 2-4 Serves 2-6 Serves 2-4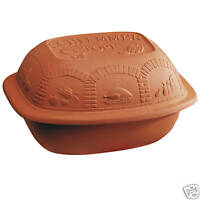 # 835 Large # 835 Extra Large
Serves 2-6 Turkey Size
The addition of a light glaze on the bottom of the cooking pot offers increased advantages to cooking in clay. To begin with, it is more sanitary than as unglazed utensil, as food particles, odors and flavors are not absorbed into the pot. The
Glazed Schlemmertopf
is easy to clean, and there is no bacteria buildup, no worry about mold, no staining or problems with food sticking. You can cook and serve in the
Glazed Schlemmertopf,
and as log as you keep it covered, your food will stay hot for a very long time. The Schlemmertopf is suitable for ovens and microwaves up to 500 degrees celcius. There are no special cleaning instructions
Considering the the value you would be getting from the
Glazed Schlemm
ertopf,
the initial cost is small. You can work miracles with everyday recipes, meat, poultry, fish, vegetables and desserts and intrigue those around you as well.
The
Glazed Schlemmertopf
comes in small, medium and large and turkey sizes as shown in the photos and are accompanied by an invaluable cookbook. We stock all sizes - just email savecentrall@gmail.com, check our
eBay Store
, or visit www.kitchencoordinates.com.