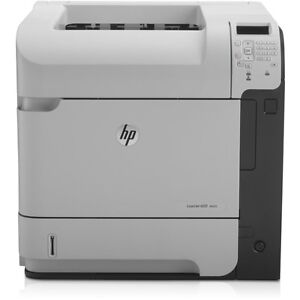 Buyers are right to be wary when purchasing a used printer. With all the wear and tear and many moving parts involved in a complex device such as a printer, it seems to make sense to go for the newest printers available. However, refurbished printers are not the same as ones that have been merely used. The quality control involved in the refurbishment process can ensure that refurbished printers have quality competitive with new printers, but for a fraction of the price.

Why Buy a Refurbished Printer?
The major benefit of buying a refurbished printer can be summed up in two words: saving money. Refurbished printers can sell for a tenth of the price of their new counterparts. The following table shows typical savings that can be had by buying a refurbished printer, arranged according to printer type:

| | Price New | Price Refurbished | Possible Percent Savings | Printer Type |
| --- | --- | --- | --- | --- |
| | $90.99 | $38.59 | 57% | All-In-One Inkjet |
| | $515.00 | $304.95 | 41% | Digital Photo Printer |
| | $599.99 | $55.00 | 91% | Monochrome Standard Laser |
| | $320.00 | $89.99 | 72% | Thermal Label Printer |
| | $254.99 | $149.99 | 41% | Workgroup Printer |

As this table illustrates, the savings involved in buying a refurbished printer are significant, and much more than savings that could be obtained by buying other kinds of refurbished products. The prices listed in the table are subject to change, and should not be considered as predictions of available prices, but they do illustrate the potential savings involved in buying refurbished. In addition to savings in the initial cost of the printer, refurbished printers tend to have been on the market longer, making it more likely that ink or toner cartridges will be available. It is sometimes possible that the cost of these supplies will be lower than those of a new printer. Buying refurbished also means that one less printer will end up in a landfill, so there is an environmental benefit from buying refurbished instead of a new printer.
Refurbished laser or solid ink printers often contain refurbished toner cartridges as well, further conserving resources and the environment. Lower start-up costs can translate to greater opportunities for savings. As refurbished printers cost less, there are more flexible shopping options, so that an efficient printer that will end up saving money in the long run can be brought down into a lower price range than would be otherwise available.
The major disadvantage of buying a refurbished printer is that the printer will not be new, and there is no way to be absolutely certain of why the printer needed to be refurbished. Refurbished printers may have scratches, dings, or other cosmetic defects. More importantly, they usually do not come with as long of a warranty period as a new printer. The major question for a buyer to ask is whether the initial savings from buying refurbished are worth the potential cost of not having a strong warranty. A thorough knowledge of what really goes on when a printer is refurbished will help make this cost-benefit analysis easier to perform.

The Refurbishment Process
Printers can be refurbished for many reasons. They may be printers that have been returned to the manufacturer or seller because of a problem, or they may be leased printers that have been traded in for newer models. Sometimes, if a printer's box is damaged, or even if a customer opens the box without even using the printer before returning it, a printer cannot be put back on store shelves. Some retailers return overstock printers to the manufacturer to make room for new product lines.
As they can no longer be sold as new, they are inspected, repaired, tested, repackaged, and resold as refurbished printers, usually at a significantly discounted price. These refurbished printers have a major distinction from used printers, as used printers are sold as-is, without any testing, repair, or guarantees. However, not all refurbishments are equal. There are differences between manufacturer refurbished printers and seller refurbished printers, and it is important to know what they are before making a purchase.
Manufacturer Refurbished Printers
When a printer is returned to the factory from which it was manufactured for a manufacturer refurbishment, also known as a factory or certified refurbishment, it undergoes a series of tests and an approval process that guarantees that it will function as well as a new printer. Because it is returned to its original manufacturer, a manufacturer refurbished printer will be refurbished by a technician who has been specifically trained about the individual printer. High-wear parts are replaced, and the printer chassis is thoroughly cleaned and restored to a like-new condition. Ink cartridges are replaced with new ones, and the latest software patches are installed. The printer is then repackaged in a plain brown cardboard box and sold.
Manufacturers often offer 90 day warranties with their refurbished products, though sometimes this warranty can be extended to a full year. If so, this is a mark of confidence in the printer, as the company would lose money if the printers they warranted failed within the first year of use. Some manufacturers treat their refurbished products in a manner similar to their new products, offering extended warranties, service contracts, and free technical support.
Seller Refurbished Printers
Seller refurbished printers are much more common than manufacturer refurbished printers. However, the process that constitutes refurbishment by sellers can vary widely from seller to seller, and there is no standard criterion for refurbishment shared by all sellers. This means that there is no way to verify the quality of the printer until it has been shipped and received. The technician who refurbishes the printer may not be experienced with the specifics of the printer at hand, and there are many other uncertainties that simply cannot be resolved.
It is especially important to pay attention to the seller's return policy and warranty offerings. An extended warranty offer is a good indication of the potential quality of the printer, and as long as the terms of the seller's return policy are clear, it may be possible to get a spectacular deal on a seller refurbished printer that will last for years, even with the added cost of an extended warranty.

How to Buy a Refurbished Printer on eBay
No matter whether you are looking for an all-in-one inkjet to handle the occasions when you need to do some home printing or a full-fledged business laser printer, able to churn out hundreds of sheets a day, eBay has thousands of refurbished options to choose from. To find the printer that is right for your needs, you can either perform a targeted search for a specific model, or you can use eBay's categories to browse for the best deals out of many different printer options. Your browsing should begin in the Computers, Tablets, & Networking main category, followed by the Printers, Scanners, & Supplies subcategory, and then the Printers category. To have the listings in this category display only the refurbished printers, navigate to the "Condition" filter under "In Printers," and select "choose more." In the following window, check "Manufacturer Refurbished" and "Seller Refurbished" if you wish to browse both types of refurbished printers. Once these filters are turned on, you can browse all of the other options within "Printers," further filtering your listings by type of printer, price range, brand, and printing technology.
Keep in mind that the great deals available for refurbished printers are not always available, as a seller's inventory of refurbished items is not constant. If you see a deal you can't miss, you should act fast before it is gone. Be sure to choose your seller carefully as well. A seller's feedback score reflects how satisfied their customers have been, and if you would like, you can filter your item listings to only include those printers offered by eBay Top-rated Sellers, who have a proven history of happy customers and fast shipping. The feedback score is a very important factor to pay attention to, especially in the case of seller refurbished printers. In every case, it is always advisable to carefully read the entire item description to get a full picture of the type of refurbishment that the printer really underwent.

Conclusion
If your budget is tight, refurbished printers can provide excellent printing results at a fraction of the price of a new printer. They are a great compromise in that they give a better degree of confidence and security in a purchase than used printers would, and yet they are drastically more inexpensive than new printers. Unlike computers, printers can perform for years without becoming obsolete, so that is yet another reason to look at refurbished printers if your budget is lean. As long as the seller offers a good return policy or warranty, even seller refurbished printers can be a low-risk option, especially if the price is right. By using eBay's intuitive filters while browsing, you can be sure to find a low-cost refurbished printer that will be churning out high quality prints for years to come.