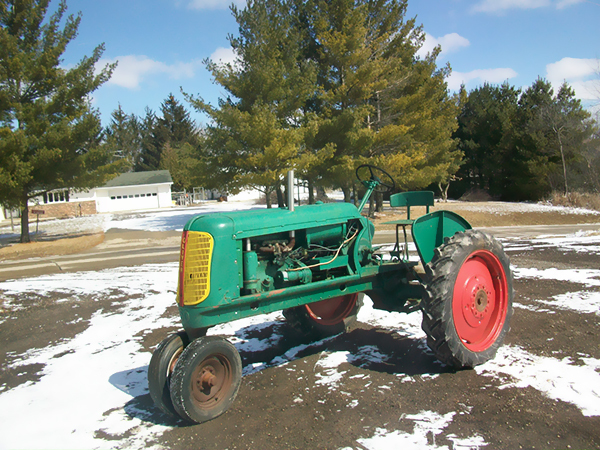 Oliver Farm Equipment Company was a company that specialized in farm equipment and was most known for its tractors. This company began in 1929 and was a result of a merger between four different companies: The American Seeding Machine Company, Hart-Parr Tractor Company, Oliver Chilled Plow Works, and Nichols and Shepard Company. The White Motor Corporation purchased Oliver Farm Equipment in 1960. Even to this day, Oliver tractors are coveted by collectors. These antique tractors are great collector's items, and many can even still be used after receiving a little TLC. When purchasing an Oliver Tractor, it's important to know what to look for in order to make an informed purchase.
The Earliest Oliver Tractors
The earliest tractors from Oliver were actually created by Oliver Chilled Plow Works in 1853. These tractors became extremely popular because improvements were made and patented to the cast iron bottoms, making them strong and durable. This company went from selling 1,500 plows a year to 17,000 just a few years later. After the merger of the four companies, a new line of tractors with advanced engines and additional features began being sold under the Oliver name.
Knowing the Age of the Tractor
Oliver tractors produced in the 1940s and the 1950s had two-digit model numbers, including:
* Oliver 77
* Oliver 88
In the mid and late 1950s, more advanced models were being produced with three digit models and a "Super Series" was created, including the models:
* Super 55
* Oliver 660
* Oliver 770
* Oliver 880
In the 1960s, the four digit models were produced and sold, including:
* Oliver 1600
Later Models of Oliver Tractors
Even after Oliver Farm Equipment ceased to exist, tractors continued to be sold under this name. In the mid-1970s, FIAT manufactured and sold several tractors bearing the Oliver name, including the Oliver 1465.
Gas Versus Diesel Engines
Original Oliver tractors came equipped with a gasoline engine. However, in the 1940s, Oliver began adding diesel engines to many models. Although not a success at first, over time, the diesel tractors became extremely popular with farmers. Later models offered the option of a gasoline or diesel engine depending upon personal preference.
What to Look For When Purchasing an Oliver Tractor
Because these tractors are antique, a buyer shouldn't expect any Oliver Tractor to be in perfect condition. Although there are some that are in mint condition available, minor mechanical and cosmetic flaws are to be expected. When purchasing an Oliver tractor, there are a few things to look for to know whether or not a sound purchase is being made. Some things should be avoided such as:
* Extensive rust
* Severe body damage
If there is an issue with the engine or other mechanical problems, common on antique tractors, replacement parts will need to be purchased and installed. Those who like a challenge will not mind having to replace an engine, while those who do not want to invest the money into restoration will want to avoid tractors that need extensive engine work or replacements.
Know the Value of the Tractor Before Purchasing
It is important to take note of the model number as well as the condition to know what to pay for an antique Oliver tractor. There are a variety of pricing guides and information books about these tractors that a collector should invest in. These guides give detailed information about Oliver's most popular tractors, pricing, and what to look for when making a purchase.
Buying Parts for an Oliver Tractor
In order to get an Oliver tractor running like new again, parts will need to be purchased. Used OEM parts are available, although many collectors opt to just use compatible aftermarket parts and upgrades in their restorations. Some older parts, including original engines, may be difficult to find, in which case using modern parts will be the best alternative and can also provide the tractor with more power. A professional, for safety and to ensure performance, should install all parts.
Buying from eBay
When searching for an original Oliver tractor, the best place to look first is eBay. eBay carries a wide selection of original Oliver tractors, as well as new and used parts that can be used for complete restoration. Other brands of antique tractors and farm equipment can also be purchased, as well as modern equipment from the most well-known brands like John Deere. Collectors will love finding the best antique and modern tractors to add to their farm equipment.