*****************************************************************************************************
Never Ever Miss Out On The Item You Really Want
This guide is to help you used the save searches feature of eBay to your full advantage. By using the saved searches feature eBay will notify you via e-mail whenever your item appears either for auction or for sale in an eBay store. So why miss out.
If you are not on eBay everyday and still need to find that particular item you that you need...don't give up.
One of the best features in eBay is the search feature. With millions of items, you can find what you want or maybe even what you hadn't realized you wanted. But what do you do if you've searched for a while and still haven't found it. Maybe it just hasn't been listed yet.. but this is eBay so eventually you can be sure someone will list it. Don't Miss Out.
I have a few hard to find ornaments in my store and noticed buyers who SAVE SEARCHES are the first buyers of hard to find items. I've even had customers email stating they were upset they missed out. I always recommend the saved searches feature of eBay.
So let eBay do the work for you. It's easy and a great time saver.
All you need to do is create a favorite search then let eBay notify you when the item shows up either for auction or int someone's store. This way you never miss out.
Step One
Type in a few words in the search box to describe the item you are looking for. In this example I have used only the words radko and alpine to search for Christopher Radko Limited Edition Alpine Frostville Christmas ornament. You can always make the search more detailed later if you find too many items that do not apply. Hit search and you will find all the items having those "key" words in the title. Pretty easy...but take it a step further so you never miss out.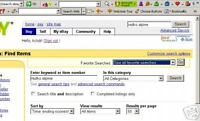 Step Two
Click on the Add to Favorite Search link.
This tool will give you all the power you need to never miss an item listing.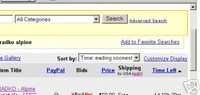 Step Three
Select the Create New Search option button. The Search Name will already include the words you entered into your search so you don't even have to name your search...but feel free to change the name if you like.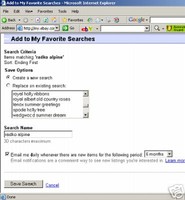 Step Four
Make sure you have the email notification box checked. This way while you are away from eBay you will still be notified if any seller list your special item in either an auction or a store. You can then review the item and have plenty of time to bid or use the buy it now feature.
You can even select how lond you want eBay to keep looking for the item. Just set the email preference by using the drop down box and choose from: 7 days, 14 days, 1 month, 2 months, 3 months, 6 months or even a year.

Step Five
Hit Save Search.
No pressures, no hassels. If you aren't happy with your search just delete or alter it. You can make, change or delete any searches at any time. If you find you are getting too many notifications of items the add to your search criteria. In this example, you can add the word "Frostville" to limit the possibilities.
Just in case you are wondering, buyers are not aware or notified that you have been sent a listing to review. Only you decide if the price and item is right for you.
*******************************************************************************************************