IMPORTANT: Based on clarifications in the code, video games (including Wii, DS, etc...) and most computer software can NOT be shipped via Media Mail. The Domestic Mail Manual (DMM) used to imply that they could. It has been updated (with additional clarifications elsewhere) to state that the only computer media is media containing prerecorded information and guides or scripts prepared solely for use with such media (i.e.a book on CD or DVD or similar).
Back in the old days - sometime after ponies carried the mail, but before the last couple of postage increases - there was a mail class know as Book Rate. If you don't remember it and have heard people asking where it went, you may wonder what it was.
Well, to put it simply, Book Rate was an inexpensive way to mail things. "Book" things, actually. Hence the name.
The rate didn't go the way of the dodo or the 8-Track tape. Instead - like the phoenix in Harry Potter (more about him later) - it rose from the ashes. And the renewed version is now known as "Media Mail."
So, what exactly is this mail class known as Media Mail? And, more importantly, what's in it for you?
Perhaps plenty. Let's find out. Here are the basics on Media Mail:
It costs less than Parcel Post or Priority Mail.
It is for items in specific media formats (hence "Media" in the name).
You can include some enclosures (such as a bill or invoice).
It is for shipping within the U.S. (+ U.S. Territories and Possessions).
It is generally slower than other domestic mail classes.
It still allows you to purchase extra services such as insurance.
It has some important characteristics (such as possible additional cost if it is forwarded).
Is that enough to whet your appetite? Well, then, let's dive into the details.
SHIPPING COSTS
Here's the good news. It's cheap. How cheap, you ask? Because you asked so nicely (and even if you didn't), I'll tell you. Based on today's rates (updated 03/18/2011):
$2.38 for the 1st pound.
+ $0.39 for each additional pound (or fraction thereof) from 2 - 70
And after 70? Well, 70 pounds is the limit for any single package, from Media Mail to Express Mail.
Don't be too cheap; start another box. In fact, if you limit your boxes to 35 pounds or less each, your mail carrier will be much happier.
But how does that compare with other mail classes, such as Priority Mail? Let's take a look (remember that these are rates based on 07/20/2010):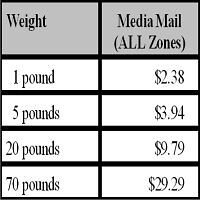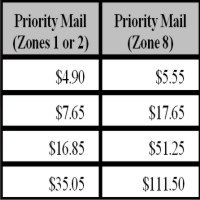 This chart reveals another benefit of Media Mail. It is Zone Independent.
This means that the cost is the same, no matter how far you ship it. Whether it's next door or a thousand miles, a 1 pound Media Mail package costs $2.38 for postage while one that weighs 20 pounds goes for $9.79.
As a seller, you know in advance the Media Mail rate for items shipped to/from any "Domestic U.S." destination (defined shortly).
So, why doesn't everybody ship everything Media Mail?
Good question. And a couple of good answers follow.
VALID MEDIA MAIL CONTENT
Here is the main reason that you don't use Media Mail to save a bundle on all of your mailing needs.
You can't.
You remember how Book Rate is for shipping books? Well, Media Mail is for shipping "media."
The Postal Service's Domestic Mail Manual has an entire section defining this (DMM 173 - Media Mail Rates and Eligibility). Let me summarize the important points for you.
The best definition (which covers 99% of Media Mail items sent) includes:
Books
Films that are 16-millimeter or narrower (yes, that includes your VHS videotapes)
Printed Sheet Music
Sound Recordings
Playscripts and Manuscripts (for books, periodicals and music)
Computer-readable media containing prerecorded information and guides or scripts prepared solely for use with such media (i.e. NOT computer software)
DVDs & CDs (NOT including computer software)
For the most part, this means items produced for mass-markets to read, watch, listen to or play on a computer. The Postal Service even generously tossed in manuscripts.
There are exceptions. Most notably (and this I will quote from DMM 173.3.2.a):
"and containing no advertising matter other than incidental announcements of books."
What does that line mean? Especially to an eBay buyer or seller?
Well, have you seen a comic book recently? And what is liberally scattered throughout the pages?
Yup, advertising. Whether it's for a video game, a baseball card or a pair of X-Ray specs, that blurb made your item ineligible for Media Mail. Sadly, this definition excludes most comic books.
And one other notable exclusion: BLANK media can not use the Media Mail rate. Even if you think those recordable CDs and new VHS tapes should get a discount, the Postal Service disagrees. Since they ship the items, they make the rules.
versus
Now I mentioned Harry Potter earlier, and I wouldn't want you to think I was fibbing. Since this franchise is popular on eBay, let's use this youthful sorcerer as an example of what is valid for this mail class.
Items that you CAN ship via Media Mail:
"Harry Potter and the Half-Blood Prince" book
"Harry Potter and the Goblet of Fire" DVD
"Harry Potter and the Prisoner of Azkaban" book on CD or DVD (if such exists)
Items that you can NOT ship via Media Mail:
Harry Potter lunch box (with the Quidditch Thermos)
Harry Potter Enesco figurine
Harry Potter Magic Wand
"Harry Potter and the Prisoner of Azkaban" computer game
You may still have some questions. For example, you may have a comic book that is advertising free. Perhaps your item seems close to a stated definition. Or you may just want to know for certain if something can be sent.
Rather than have you get into trouble for sending a package improperly, the Postal Service would prefer to answer your question in advance. Just contact the Mailing Requirements office of your local Post Office (call the Post Office number; they'll be able to get you the direct number).
SOME ENCLOSURES ALLOWED
Before we go on, let me point out that the Postal Service isn't unreasonable. They understand that, in the legitimate course of shipping a Media Mail item, other information may be applicable to the shipment. As such, these "incidental enclosures" (their term), may be included.
You can safely include items such as:
A bill or invoice
A brief personal notation (such as "Happy Mother's Day!" or "Thanks for shopping eBay!")
Instructions for use of the item
Corrections of errors in printed
However, this is not an excuse to include a two-page letter to catch up on old times. Be willing to spend the extra 44 cents for a stamp.
Again, if you have any question (such as "How many words am I limited to in my personal note?"), then talk to the Mailing Requirements area of your local Post Office.
VALID ORIGIN / DESTINATION ADDRESSES
To begin with Media Mail is a U.S. Domestic mail class.
You've probably figured out that you can ship it within your own state. Or the state next door. Or even longer distances, such as from California to Maine.
But Domestic mail includes a few other places.
First, you have "Armed Forces" destinations. These are special addresses set up for people serving in the U.S. military. These addresses will usually include name, rank, unit or ship information and special "City, State" codes, as follows:
City options:

"APO" means "Army/Air Force Post Office"
"FPO" means "Fleet Post Office"

State options:

"AA" means "Armed Forces Americas"
"AP" means "Armed Forces Pacific"
"AE" means "Armed Forces OTHER (Africa, Canada, Europe, Middle East)"
So an address that listed "City, State" as "APO, AA" is potentially a valid address for an Army or Air Force representative in the "Armed Forces Americas" area.
Also, you can send Domestic mail (including Media Mail) to and from the U.S. Territories and Possessions listed below:
American Samoa
Baker Island
Canton Island
Caroline Island
Commonwealth of Northern Mariana Islands
Guam
Howland Island
Jarvis Island
Johnston Island
Kingman Reef
Koror
Marshall Islands
Midway Islands
Navassa Island
Palau Island
Palmyra Island
Puerto Rico
Virgin Islands
Wake Island
Note: Micronesia and the Marshall Islands used to be considered Domestic. However, since January 8, 2006, they are International destinations.
You can send Media Mail quite a distance. Whether you want to use it for Military addresses or U.S. Territories or Possessions is a different issue. And, when you read the section on "Speed" (below), you'll understand what I mean. But at least you know that Media Mail is valid for these destinations.
If bith the origin and destination address are not U.S. Domestic as stated, then this is International mail, and Media mail is NOT an option.
And, before you ask, the Postal Service does not have a duplicate mail class for International items. There are volume discounts for Books and Sheet Music and "M-bags," but we won't discuss those here.
ESTIMATED DELIVERY TIME
Here is another great reason why you don't always ship Media Mail.
Media Mail has a lower priority than other mail classes (such as Priority Mail - notice the use of the word in the title).
You save money, that's true. But there's a tradeoff. In this case, Media Mail is going to be the last thing shipped. If the truck fills up with letters or higher priority packages, your Media Mail item gets left on the dock. And Priority Mail is pushy; it jumps ahead, even if your package has been there a week, and the Priority Mail just came in today.
This isn't generally a big deal. Mail comes in and goes out frequently. The Postal Service really does want the mail to get through, so space frees up quickly. But around heavy mailing times such as Christmas or Tax Time (hey, don't blame me that they're opposites), don't expect immediate shipment.
Another consideration is that Media Mail is always surface. This includes trucks to contiguous states, and ships when there is an inconvenient ocean between the sender and the recipient. Your Media Mail package not only won't being going First Class, they won't even let it on the airplane.
That's not too bad when shipping a book next door. Even a DVD from Washington state to Florida will usually get there in a week or two. But when you go from the lower 48 states to Alaska, you need expect a bit of time delay. And if you're sending from the mainland to Hawaii, Puerto Rico or that sailor in "FPO, AP" (Fleet Post Office, Armed Forces Pacific), you're looking at weeks.
Here are the estimates that the Postal Service provides for shipping Media Mail to different areas: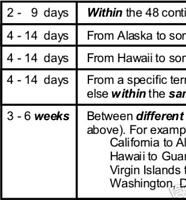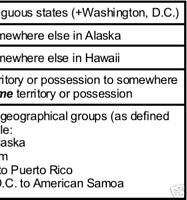 I must emphasize that these are estimates. I've had a package go across the country in a week while another took over three weeks to travel three states. It's that priority thing again; Media Mail is the last one on the truck.
Now please don't think that you should never send or receive Media Mail. It really is a great way to send books and software. And it usually just takes a week or two. But you need to know what you're getting into.
Consider the estimated time frames with the urgency of the item. If the item isn't needed for a month or so, it's worth the savings. But if that textbook has to arrive by the end of the week, try Priority Mail (or even Express Mail, which is the only mail class with a guaranteed delivery date).
EXTRA SERVICES PURCHASABLE WITH MEDIA MAIL
Media Mail is inexpensive. However, it doesn't mean you're just tossing your item out into the unknown. In most cases, you can still add extra services to your item to help protect it and/or confirm when it has been delivered.
The services that can be included (for an extra fee as stated) are:
Insurance - $1.75 and up (depending on value)
Collect on Delivery (recipient pays when received) - $5.50 and up (depending on value)
Delivery Confirmation - $0.80 ($0.19 for the electronic version)
Signature Confirmation - $2.35 ($1.95 for the electronic version)
Certificate of Mailing (proof that you mailed it) - $1.15 ($0.42 each for 3 or more)
Return Receipt for Merchandise (proof of delivery) - $3.80
I did say in most cases. These extra services do have limitations when shipping outside the U.S. proper:
Collect on Delivery can NOT be used for Military addresses (APO/FPO)
Delivery Confirmation and Signature Confirmation can go to Puerto Rico and the Virgin Islands, but NOT to other U.S. Territories or Possessions, and NOT to APO/FPO addresses.
Also, online shipping services do not include all of these services. They can generally be added by going to the Post Office. But this requires the sender to wait in line and pay the extra fee (in addition to the online postage already paid for).
As stated, there are exceptions. But the availability of these services does let you know that, when you use Media Mail, you're not left out in the cold.
SPECIAL CONSIDERATIONS FOR MEDIA MAIL SHIPPING
We've covered the big concerns in detail. Finally, before deciding if Media Mail is right for your sale/purchase, here are just a few more items you need to consider.
Not Closed to Inspection
Remember when I hinted that you could get in trouble for using Media Mail fraudulently? Well, here is where they would catch you.
You see, with Priority Mail and First-Class Mail, your items are "Closed to Inspection." This means the Postal Service isn't going to snoop in your mail.
But, with Media Mail, your items are "Open to Inspection." That means they can open the package to make sure you are only sending Media Mail approved items using the Media Mail rate. So, if you think you'll save a bundle sending that vase or those hiking boots via Media Mail ... think again.
Forwarding May Cost Extra
If the recipient has filed a Change of Address and you send them a Media Mail item, the mail is forwarded for 12 months from when they moved.
If the recipient's new address is still local, the forwarding is done at no charge.
However, if the address is not local, a new postage fee is charged.
Not all Systems offer Media Mail
Not all online services offer Media Mail as a mail class. Fortunately, postage provider does. But the Postal Service's own Click-N-Ship does not. So, if the sender uses one of these services for all their packages, Media Mail is not an option.
Not always picked up with Carrier pickup
Many shippers now build their business around convenient services offered by the U.S. Postal Service. One such service is Carrier pickup. If you depend on this service, here's something to keep in mind:
If you are already shipping a Priority Mail or Express Mail package in your batch, Carrier Pickup will take your Media Mail also.
If all of your items are Media Mail, you'll have to wait, or take them to the Post Office on your own.
Note that this is not a "show-stopper." But, depending on your business plan, it is a definite consideration.
Can be stated in advance as a shipping option
Okay, now here's a positive consideration. Sellers can offer Media Mail to the buyer along with other shipping options (such as UPS and Priority Mail). All the seller has to do is use eBay's shipping calculator when the item is posted. Then the buyer decides if the slower transit time is worth the savings.
The customer enters their ZIP Code:

The customer sees the shipping options:


Can be added after the auction closes
Perhaps a prospective buyer will notice that an item is a book, software or something else that would qualify as Media Mail. Even if Media Mail is not listed as an option, the buyer might contact the seller (before bidding, of course) and see if this would be an acceptable option.
If the seller agrees, the seller should tell the buyer what the cost would be.
Then, if the prospective buyer is the winner, the seller adds Media Mail as an option when sending out the Invoice.
It's nice to know that the option might be added on later. But, if you're a buyer, remember to ask if Media Mail is a possibility before placing any bids.
So, what have you learned about Media Mail, that modernized "Book Rate"?
COST - Less than other domestic shipping
CONTENT - Playscripts, manuscripts and products that are actual printed, recorded or computer-readable "media"
ENCLOSURES ALLOWED - "Incidental enclosures" (such as a bill or invoice)
WHERE - Domestic U.S. (including U.S. Territories and Possessions)
SPEED - Generally slower than other mail
EXTRA SERVICE OPTIONS - Including Insurance, Delivery Confirmation and others
UNIQUE CHARACTERISTICS - Such as "Open to Inspection" and forwarding costs
You now have the information you needed to know (but didn't even know you could ask).
I can tell you the cost of shipping Media Mail. I can tell you what can be mailed, and how long it might take. I can point out other important considerations regarding Media Mail.
But ultimately, I cannot tell you if Media Mail is right for you.
As a seller, you can determine if you want to offer it as an option.
As a buyer, you can decide if you want to select (or even request) this mail class.
And, as an eBayer, you can choose how to enhance your buying or selling experience.
Until we meet again, in the electronic marketplace.