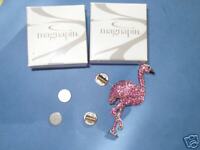 MAGNAPINS~Fasten jewMAGNAPIN FASTENERSelry, pins/brooches/badges/name tags, etc. to ANY fabric without leaving destructive holes, tears and snags in your garments. MAGNAPIN the SUPERIOR WAY TO WEAR YOUR JEWELRY OR BADGES!
Superb fixation to leathers, suedes, velvets, furs, faux furs, cottons, linens, wools, sequined garments, microfibers, cashmere, etc.
This is an unique patened system allows you to securetly fasten any item with a pin type shaft. ANY place! Use them over and over and over they are a very powerful magnetic system specifically designed for this application. Strong nickel-plated these are very well made by the manufacturer.
Use on clothing, suits, jackets, coats, hats, handbags virtually unlimited uses.
The MAGNAPINS deserve 5 star rating. Once you try them you have have a "magnetic attraction to them" and WILL NOT be without them.