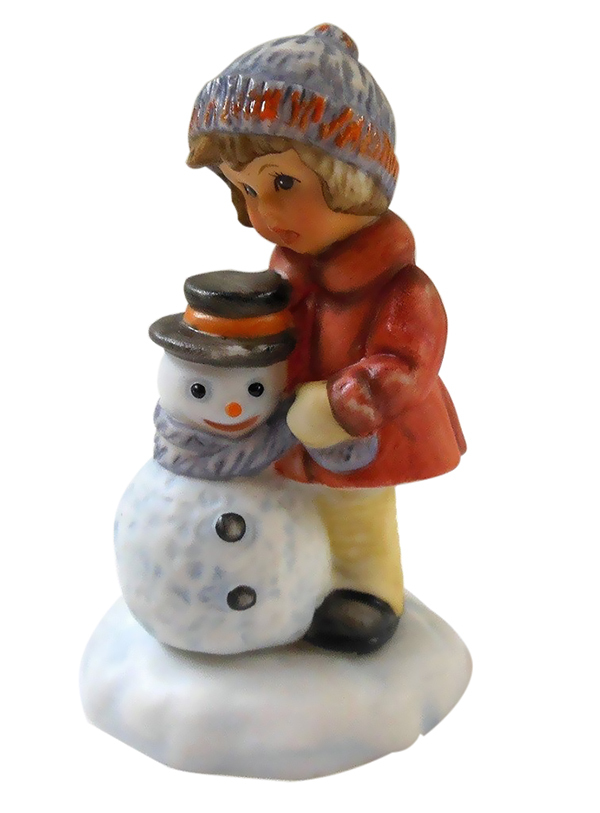 Of all novelty figurines, "Hummels" are amongst the most popular and recognizable around the world. The history of Hummel figurines has its roots in Germany with the nun Sister Maria Innocentia Hummel, who was born in 1909. As a young woman, she went to the esteemed Academy of Applied Arts in Munich. After meeting two Franciscan sisters, she decided to enter the convent. There, she found support from the other nuns to continue her artwork. By the 1930s, Sister Hummel's drawings of sweet, angelic children were being sold as postcards throughout Germany.
The German porcelain maker Franz Goebel saw Hummel's postcards and decided to turn them into sculptures. Production began in 1935, and the figurines were immediately popular in Germany and with German immigrants in the US. After WWII, the popularity of M.I. Hummel figurines grew rapidly and continued to grow over the years. Today, there is a huge demand for M.I. Hummel figurines amongst collectors. Some of these figurines are incredibly valuable, though there are many cheap Hummel figurines available as well. Before buying an M.I. Hummel figurine, buyers will need to educate themselves about the figurines, including the many factors which impact value.

Books about M.I. Hummel Figurines
M.I. Hummel figurines are incredibly popular collector's items, and there are dozens of books about them. Before buying M.I. Hummel figurines (especially as an investment), it is a good idea to purchase a guidebook about the figurines. One of the books that collectors turn to for pricing is The No. 1 Price Guide to M.I. Hummel by Robert L. Miller. Note that there are numerous editions of this book. For the most accurate price appraisals, you should look for the latest edition.
Some other books on Hummel figurines include:
The Official Hummel Price Guide: Figurines and Plates by Heidi Von Recklinghausen
Warman's Hummel Field Guide: Values and Identification by Heidi Von Recklinghausen
Luckey's Hummel Figurines and Plates: Identification and Price Guide by Carl F. Luckey
All of these books have picture of Hummel figurines, information on how to identify genuine Hummel figurines, and price guides.

Identifying M.I. Hummel Figurines
All M.I. Hummel figurines (with the exception of a few very small figurines) will contain three marks which identify them.
M.I. Hummel Signature
The first identifying mark on Hummel figurines is the signature of Sister M.I. Hummel. When the nun agreed to give Franz Goebel the rights to turn her drawings into sculptures, she asked that all the pieces contain her personal stamp of approval.
Goebel Trademark
The second identifying mark is the trademark stamp. The stamp has changed several times over the years, but it will always say Goebel or Manufaktur Rodental. Note that Goebel makes many other porcelain figurines as well. Many people mistakenly think that all figurines bearing the Goebel mark are Hummels, but this is not the case.

| Trademark | Description | Years Used |
| --- | --- | --- |
| | The Goebel mark with a crown above it. | 1935-1950 |
| | A bee flying in a letter V; there are 12 variations of the bee. | 1950-1959 |
| | Like the Full Bee, but the bee has angular wings. | 1960-1972 |
| The Three Lined Mark | The Stylized Bee with the name Goebel and W. Germany positioned to make three lines. | 1972 |
| The Last Bee | The name Goebel with a small Stylized Bee above it and W. Germany underneath. | 1972-1979 |
| The Missing Bee | Only contained Goebel with W. Germany underneath and no bee. | 1979-1991 |
| The Hummel Mark | The name Goebel with Germany underneath and the original crown underneath that. | 1991-2000 |
| The Modern Hummel Goebel Mark | The name Goebel with a large bee above it an Germany written below. | 2000-2008 |
| Current Hummel Mark | A circle with the words Original M.I. Hummel Germany inside and a yellow bee outside; also says Manufaktur Rodental below. | 2008-current |

M.I. Hummel Mold Number
Finally, M.I. Hummel figurines will have a mold number on them. Each figurine is made in a mold and the molds were given numbers. The first three M.I. Hummel figurines made are marked with the mold numbers FF15, FF16 and FF17. After this, an official system was set up for mold numbers. These numbers can be used to identify the figurine, such as finding out its name and when it was made.
Each mold number starts with HUM followed by a number, such as HUM1, HUM2, etc. There is some debate about how many Hummel molds there are. According to The Official Hummel Price Guide by Heidi Von Recklinghausen, collectors used to believe that the mold numbers went into the mid-400s; however, it is now thought that there are well over 2000 Hummel molds, though many of them have not been released yet.
Hummel figurines which were made in multiple sizes will have an additional number or Roman numeral following their mold number. If the figurine is smaller than the standard, it will have a number followed by /0. The higher the top number is, the smaller the figurine is, so 3/0 will be smaller than 2/0. If the figurine is larger than the standard size, the figurine will have a Roman numeral. Higher numerals represent larger sizes.

Hummel Figurine Size Chart
/V (music box size)
/IV (largest size)
/III
/II
/I
/0 (standard size)
1/0
2/0
3/0
4/0

Hummel figurine sets will have a letter following their mold number which indicates that they are part of a set. For example, the pieces of the Nativity Hummel figurine set have the mold numbers 214A, 214B, 214C, etc.

Assessing Value of Hummel Figurines
There are hundreds of M.I. Hummel figurines available, and they can range from being very cheap to incredibly pricy collectors' items. As a general rule, the older Hummel figurines made in the 1930s are the most valuable. Also, there are certain rare Hummel figurines which are considered very valuable, such as "Apple Tree Boy", "Globe Trotter", "Going to Grandmas", and "Little Goat Herder". Buyers will want to consult a Hummel price guide to help them gauge the value of such figurines before they purchase.
Aside from rarity and age, the condition of the figurine is by far the most important factor impacting value. Even if a price guide says that a figurine is especially valuable, its value can drop drastically if the figurine is chipped or damaged in some way. Thus, it is very important to make sure the figurine you are buying is in mint or near-mint condition.
Some other factors can also impact the value of a Hummel figurine. For example, if the figurine is in its original box and has a Certificate of Authenticity from a reputable appraiser, the value can increase.

Tips for Buying M.I. Hummel Figurines on eBay
eBay is the place that many people turn to for buying collectibles. Thus, you can literally find thousands of M.I. Hummel figurines on eBay, including many rare figurines. To find Hummel figurines on eBay, you will want to go to the category for Hummel, Goebel Collectibles, and then select the option for Figurines. From here, you can browse through the options or use the search box to look for specific figurines.
Buying Hummel figurines online can be rather intimidating because they are often so valuable. To make sure you are getting a good deal on the product you want, you should first do some research about the figurine. Then make sure to look at the pictures of the figurine very carefully. Do not buy a Hummel figurine on eBay unless the buyer has posted numerous high-resolution images of it, including close-up images. This way, you can rest assured that there are no chips or cracks in the figurine. If you are unsure of anything, you can always use the Ask the Seller button to contact the seller directly.

Conclusion
M.I. Hummel figurines are very popular collectibles because of their craftsmanship, history, and distinct appearance. Because Hummels can be so valuable, buyers will need to take care to educate themselves about the figurines before they buy. They will particularly need to make sure they understand the marks on the Hummel figurine so they can identify it using a guidebook. Whether you are shopping for Hummel figurines as an investment or for the pure enjoyment of it, many figurines are sure to be found on eBay.